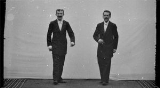 Max Skladanowsky
Max Skladanowsky
was a German inventor and early filmmaker. Along with his brother Emil, he invented the
Bioscop
Bioscop
The Bioscop was a movie projector developed in 1895 by the brothers Emil and Max Skladanowsky in Berlin-Pankow. The Bioscop used two loops of 54-mm films without a side perforation....
, an early
movie projector
Movie projector
A movie projector is an opto-mechanical device for displaying moving pictures by projecting them on a projection screen. Most of the optical and mechanical elements, except for the illumination and sound devices, are present in movie cameras.-Physiology:...
the Skladanowsky brothers used to display the first moving picture show to a paying audience on November 1, 1895, some two months before the public debut of the Lumière Brothers' technically superior
Cinématographe
Cinematographe
A cinematograph is a film camera, which also serves as a film projector and developer. It was invented in the 1890s.Note that this was not the first 'moving picture' device. Louis Le Prince had built early devices in 1886. His 1888 film Roundhay Garden Scene still survives.There is much dispute as...
.
Life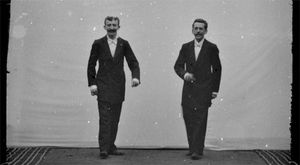 Born in
Berlin
Berlin
Berlin is the capital city of Germany and is one of the 16 states of Germany. With a population of 3.45 million people, Berlin is Germany's largest city. It is the second most populous city proper and the seventh most populous urban area in the European Union...
to a
glazier
Glazier
A Glazier is a construction professional who selects, cuts, installs, replaces, and removes residential, commercial, and artistic glass. Glaziers also install aluminum storefront frames and entrances, glass handrails and balustrades, shower enclosures, curtain wall framing and glass and mirror...
, Skladanowsky was apprenticed as a
photographer
and glass painter, which led to an interest in
magic lantern
Magic lantern
The magic lantern or Laterna Magica is an early type of image projector developed in the 17th century.-Operation:The magic lantern has a concave mirror in front of a light source that gathers light and projects it through a slide with an image scanned onto it. The light rays cross an aperture , and...
s. In 1879, he began to tour Germany and Central Europe with his father Carl and elder brother Emil, giving dissolving magic lantern shows. In the early 1890s he built a film camera along with Emil, and in 1895 the brothers produced the Bioskop. The Bioskop, which was inspired by magic-lantern technology, used two loops of 54mm film, one frame being projected alternately from each. This made it possible for the Bioskop to project at 16 frames per second, a speed sufficient to create the illusion of movement.
A demonstration of the Bioskop in
Pankow
Pankow
Pankow is the third borough of Berlin. In Berlin's 2001 administrative reform it was merged with the former boroughs of Prenzlauer Berg and Weißensee; the resulting borough retained the name Pankow.- Overview :...
, Berlin in July 1895 was witnessed by the directors of the
Wintergarten
Berlin Wintergarten theatre
The Berlin Wintergarten theatre was a large variety theatre in Berlin that opened in approximately 1887 and was destroyed by bombs in June 1944. The name was eventually taken on by a theatre in Potsdamer Strasse in 1992....
music hall
Music hall
Music Hall is a type of British theatrical entertainment which was popular between 1850 and 1960. The term can refer to:# A particular form of variety entertainment involving a mixture of popular song, comedy and speciality acts...
who contracted Skladanowsky for a sum of 2500
Goldmark
German gold mark
The Goldmark was the currency used in the German Empire from 1873 to 1914.-History:Before unification, the different German states issued a variety of different currencies, though most were linked to the Vereinsthaler, a silver coin containing 16⅔ grams of pure silver...
to present his invention as the final act in a variety performance commencing on November 1, 1895. The show was advertised as "the most interesting invention of the modern age" and played to capacity crowds for around four weeks. The show itself consisted of a number of very short films of arounds six seconds each which were rear-projected and repeated a number of times to a specially composed musical accompaniment.
Skladanowsky's invention was booked to play the Folies Bergère in
Paris
Paris
Paris is the capital and largest city in France, situated on the river Seine, in northern France, at the heart of the Île-de-France region...
from January 1896, but after the Lumière Brothers unveiled their technically superior Cinématographe show in December 1895, his contract was cancelled. Skladanowsky witnessed a performance of the Cinématographe and continued to make technical improvements to his projector and camera, touring Germany, the Netherlands, and Scandinavia throughout 1896, presenting his last show in Stettin on March 30, 1897. These later shows used a more sophisticated system with a single band of film and a
geneva drive
Geneva drive
The Geneva drive or Maltese cross is a gear mechanism that translates a continuous rotation into an intermittent rotary motion. The rotating drive wheel has a pin that reaches into a slot of the driven wheel advancing it by one step...
mechanism, but Skladanowsky had to stop exhibiting as the authorities refused to renew his trade licence as "too many film licences were already in circulation"
After this Skladanowsky returned to his former photographic activities including the production of
flip book
Flip book
A flip book or flick book is a book with a series of pictures that vary gradually from one page to the next, so that when the pages are turned rapidly, the pictures appear to animate by simulating motion or some other change. Flip books are often illustrated books for children, but may also be...
s and further magic lantern shows. He also sold amateur film cameras and projectors and produced 3-D
anaglyph image
Anaglyph image
Anaglyph images are used to provide a stereoscopic 3D effect, when viewed with glasses where the two lenses are different colors, such as red and cyan. Images are made up of two color layers, superimposed, but offset with respect to each other to produce a depth effect...
slides. His company
Projektion für Alle
also produced a number of films in the early twentieth century, some directed by Eugen, his younger brother, but with little success. In his later years Skladanowsky was accused in the press of exaggerating his role in the early days of cinema, most notably by the pioneering cameraman
Guido Seeber
Guido Seeber
Guido Seeber was a German cinematographer and pioneer of early cinema.Seeber's father, Clemens, was a photographer and therefore Seeber had experience with photography from an early age. In the summer of 1896, he saw the first films of the Lumière Brothers and became fascinated by this new...
.
Legacy
In 1995, the German filmmaker
Wim Wenders
Wim Wenders
Ernst Wilhelm "Wim" Wenders is a German film director, playwright, author, photographer and producer.-Early life:Wenders was born in Düsseldorf. He graduated from high school in Oberhausen in the Ruhr area. He then studied medicine and philosophy in Freiburg and Düsseldorf...
directed a drama documentary film
Die Gebrüder Skladanowsky
A Trick of Light
A Trick of Light is a 1995 German film directed by Wim Wenders. Its original German title is Die Gebrüder Skladanowsky, the film made with the students of the Munich Film Academy is a combination of docudrama, fictional reenactment, and experimental photography to show the birth of cinema in Berlin...
in collaboration with students of the Munich Academy for Television and Film in which Max Skladanowsky was played by
Udo Kier
Udo Kier
Udo Kier is a German actor, known primarily for his work in horror and exploitation movies.-Early life:...
.