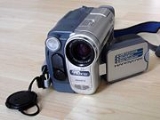 Camcorder
A camcorder is an electronic device that combines a
video camera
Video camera
A video camera is a camera used for electronic motion picture acquisition, initially developed by the television industry but now common in other applications as well. The earliest video cameras were those of John Logie Baird, based on the electromechanical Nipkow disk and used by the BBC in...
and a
video recorder
Video tape recorder
A video tape recorder is a tape recorder that can record video material, usually on a magnetic tape. VTRs originated as individual tape reels, serving as a replacement for motion picture film stock and making recording for television applications cheaper and quicker. An improved form included the...
into one unit. Equipment manufacturers do not seem to have strict guidelines for the term usage. Marketing materials may present a video recording device as a camcorder, but the delivery package would identify content as video camera recorder.
In order to differentiate a camcorder from other devices that are capable of recording video, like
mobile phone
Mobile phone
A mobile phone is a device which can make and receive telephone calls over a radio link whilst moving around a wide geographic area. It does so by connecting to a cellular network provided by a mobile network operator...
s and digital compact cameras, a camcorder is generally identified as a portable, self-contained device having video capture and recording as its primary function.
The earliest camcorders employed analog recording onto
videotape
Videotape
A videotape is a recording of images and sounds on to magnetic tape as opposed to film stock or random access digital media. Videotapes are also used for storing scientific or medical data, such as the data produced by an electrocardiogram...
.