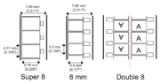 8 mm film
8 mm film
is a
motion picture
Film
A film, also called a movie or motion picture, is a series of still or moving images. It is produced by recording photographic images with cameras, or by creating images using animation techniques or visual effects...
film format
Film format
A film format is a technical definition of a set of standard characteristics regarding image capture on photographic film, for either stills or movies. It can also apply to projected film, either slides or movies. The primary characteristic of a film format is its size and shape.In the case of...
in which the filmstrip is eight millimeters wide. It exists in two main versions: the original standard 8mm film, also known as regular 8 mm or Double 8 mm, and
Super 8
Super 8 mm film
Super 8 mm film is a motion picture film format released in 1965 by Eastman Kodak as an improvement of the older "Double" or "Regular" 8 mm home movie format....
. Although both standard 8 mm and Super 8 are 8 mm wide, Super 8 has a larger image area because of its smaller and more widely spaced perforations.
There are also two other varieties of Super 8 — Single 8 mm and Straight-8 — which require different cameras but which produce a final film with the same dimensions.
The standard 8 mm (also known as regular 8) film format was developed by the
Eastman Kodak
Eastman Kodak
Eastman Kodak Company is a multinational imaging and photographic equipment, materials and services company headquarted in Rochester, New York, United States. It was founded by George Eastman in 1892....
company during the
Great Depression
Great Depression
The Great Depression was a severe worldwide economic depression in the decade preceding World War II. The timing of the Great Depression varied across nations, but in most countries it started in about 1929 and lasted until the late 1930s or early 1940s...
and released on the market in 1932 to create a
home movie
Home movies
A home movie is part of the motion picture filmmaking process made by amateurs, often for viewing by family and friends. When the hobby began, home movies were produced on photographic film, but accessibility of video production with video cameras and low cost data storage devices has made the...
format that was less expensive than 16 mm.