Mount Lycabettus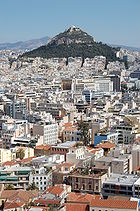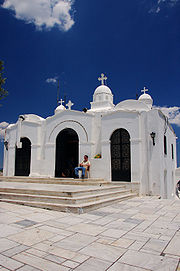 Mount Lycabettus
, also known as
Lycabettos
,
Lykabettos
or
Lykavittos
, is a
Cretaceous
Cretaceous
The Cretaceous , derived from the Latin "creta" , usually abbreviated K for its German translation Kreide , is a geologic period and system from circa to million years ago. In the geologic timescale, the Cretaceous follows the Jurassic period and is followed by the Paleogene period of the...
limestone
Limestone
Limestone is a sedimentary rock composed largely of the minerals calcite and aragonite, which are different crystal forms of calcium carbonate . Many limestones are composed from skeletal fragments of marine organisms such as coral or foraminifera....
hill in
Athens
Athens
Athens , is the capital and largest city of Greece. Athens dominates the Attica region and is one of the world's oldest cities, as its recorded history spans around 3,400 years. Classical Athens was a powerful city-state...
,
Greece
Greece
Greece , officially the Hellenic Republic , and historically Hellas or the Republic of Greece in English, is a country in southeastern Europe....
. At 277 meters (908 feet) above sea level, the hill is the highest point in the city that surrounds it. Pine trees cover its base, and at its peak are the 19th century Chapel of St. George, a theatre, and a restaurant.
The hill is a popular tourist destination and can be ascended by the Lycabettus Funicular, a
funicular railway
Funicular
A funicular, also known as an inclined plane or cliff railway, is a cable railway in which a cable attached to a pair of tram-like vehicles on rails moves them up and down a steep slope; the ascending and descending vehicles counterbalance each other.-Operation:The basic principle of funicular...
which climbs the hill from a lower terminus at
Kolonaki
Kolonaki
Kolonaki , literally "Little Column" is a neighborhood in central Athens, Greece. It is located on the southwestern slopes of Lycabettus hill.Kolonaki is a wealthy, chic and upmarket district, and a fashionable meeting area...
(The railway station can be found at Aristippou street). Lycabettus appears in various legends. Popular stories suggest it was once the refuge of wolves, possibly the origin of its name (which means "the one (the hill) that is walked by wolves"). Mythologically, Lycabettus is credited to
Athena
Athena
In Greek mythology, Athena, Athenê, or Athene , also referred to as Pallas Athena/Athene , is the goddess of wisdom, courage, inspiration, civilization, warfare, strength, strategy, the arts, crafts, justice, and skill. Minerva, Athena's Roman incarnation, embodies similar attributes. Athena is...
, who created it when she dropped a mountain she had been carrying from
Pallene
Pallene
Pallene can refer to:* Pallene , one of the seven Alkyonides, daughters of the giant Alkyoneus in Greek mythology* Pallene , a small moon of Saturn, discovered in 2004*Pallini, a town east of Athens, Greece...
for the construction of the
Acropolis
Acropolis
Acropolis means "high city" in Greek, literally city on the extremity and is usually translated into English as Citadel . For purposes of defense, early people naturally chose elevated ground to build a new settlement, frequently a hill with precipitous sides...
after the box holding
Erichthonius
Erichthonius of Athens
King Erichthonius was a mythological early ruler of ancient Athens, Greece. He was, according to some legends, autochthonous and raised by the goddess Athena. Early Greek texts do not distinguish between him and Erectheus, his grandson, but by the fourth century B.C...
was opened.
The hill also has a large open-air theater at the top, which has housed many Greek and international concerts.