 Erichthonius of Athens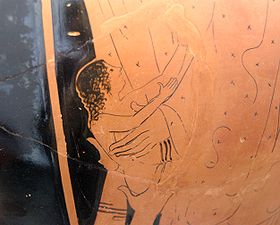 King
Erichthonius
was a mythological early ruler of ancient
Athens
Athens
Athens , is the capital and largest city of Greece. Athens dominates the Attica region and is one of the world's oldest cities, as its recorded history spans around 3,400 years. Classical Athens was a powerful city-state...
,
Greece
Greece
Greece , officially the Hellenic Republic , and historically Hellas or the Republic of Greece in English, is a country in southeastern Europe....
. He was, according to some
legends
Greek mythology
Greek mythology is the body of myths and legends belonging to the ancient Greeks, concerning their gods and heroes, the nature of the world, and the origins and significance of their own cult and ritual practices. They were a part of religion in ancient Greece...
, autochthonous (born of the soil, or Earth) and raised by the goddess
Athena
Athena
In Greek mythology, Athena, Athenê, or Athene , also referred to as Pallas Athena/Athene , is the goddess of wisdom, courage, inspiration, civilization, warfare, strength, strategy, the arts, crafts, justice, and skill. Minerva, Athena's Roman incarnation, embodies similar attributes. Athena is...
. Early Greek texts do not distinguish between him and Erectheus, his grandson, but by the fourth century B.C. during Classical times, they are entirely distinct figures.
His Birth
According to
Apollodorus
Apollodorus
Apollodorus of Athens son of Asclepiades, was a Greek scholar and grammarian. He was a pupil of Diogenes of Babylon, Panaetius the Stoic, and the grammarian Aristarchus of Samothrace...
, Athena visited the smith-god
Hephaestus
Hephaestus
Hephaestus was a Greek god whose Roman equivalent was Vulcan. He is the son of Zeus and Hera, the King and Queen of the Gods - or else, according to some accounts, of Hera alone. He was the god of technology, blacksmiths, craftsmen, artisans, sculptors, metals, metallurgy, fire and volcanoes...
to request some weapons, but Hephaestus was so overcome by desire that he tried to seduce her in his workshop. Determined to maintain her virginity, Athena fled, pursued by Hephaestus. Despite Hephaestus' lameness, he caught Athena and tried to rape her, but she fought him off. During the struggle, his semen fell on her thigh, and Athena, in disgust, wiped it away with a scrap of wool (ἔριον,
erion
) and flung it to the earth (χθών,
chthôn
). As she fled, Erichthonius was born from the semen that fell to the earth. Athena, wishing to raise the child in secret, placed him in a small box.
Athena gave the box to the three daughters of
Cecrops
Cecrops
This name may refer to two legendary kings of Athens:* Cecrops I* Cecrops IIIt more often refers to Cecrops I, who was the better known....
, the king of Athens (
Herse
Herse
Herse is a figure in Greek mythology, daughter of Cecrops, sister to Aglauros and Pandrosos.According to Apollodorus, when Hephaestus unsuccessfully attempted to rape Athena, she wiped his semen off her leg with wool and threw it on the ground, impregnating Gaia...
,
Pandrosus
Pandrosus
Pandrosus was a figure in Greek mythology, and a daughter of Cecrops, sister to Herse and Aglauros....
and Aglaurus), and warned them never to open it. Overcome with curiosity, Aglaurus and Herse opened the box, which contained the infant and future-king, Erichthonius ("troubles born from the earth"). (Sources are unclear whether only one sister or all three participated.) The sisters were terrified by what they saw in the box: either a snake coiled around an infant, or an infant that was half-man and half-serpent. They went insane and threw themselves off the
Acropolis
Acropolis, Athens
Acropolis is a neighborhood of Athens, near the ancient monument of Acropolis, along the Dionysios Areopagitis, courier road. This neighborhood has a significant number of tourists all year round. It is the site of the Museum of Acropolis, opened in 2009....
. Other accounts state that they were killed by the snake.
An alternative version of the story is that Athena left the box with the daughters of Cecrops while she went to fetch a mountain from
Pallene
Pallene
Pallene can refer to:* Pallene , one of the seven Alkyonides, daughters of the giant Alkyoneus in Greek mythology* Pallene , a small moon of Saturn, discovered in 2004*Pallini, a town east of Athens, Greece...
to use in the Acropolis. While she was away, Aglaurus and Herse opened the box. A crow saw them open the box, and flew away to tell Athena, who fell into a rage and dropped the mountain she was carrying (now Mt. Lykabettos). As in the first version, Herse and Aglaurus went insane and threw themselves to their deaths off a cliff.
His Reign
When he grew up, Ericthonius drove out
Amphictyon
Amphictyon
Amphictyon , in Greek mythology, was the second son of Deucalion and Pyrrha, although there was also a tradition that he was autochthonous ; he is also said to be a son of Hellen son of Deucalion and Pyrrha. Amphictyon was king of Thermopylae and married a daughter of Cranaus of Athens...
, who had usurped the throne from
Cranaus
Cranaus
In Greek mythology, Cranaus was the second King of Athens, son of river god Nile and Alkippe, succeeding Cecrops I. He is supposed to have reigned for either nine or ten years....
twelve years earlier, and became king of Athens. He married
Praxithea
Praxithea
- Wife of Erichthonius :Praxithea was a Naiad nymph. According to Apollodorus Praxithea married Erichthonius of Athens and by him had a son named Pandion I...
, a
naiad
Naiad
In Greek mythology, the Naiads or Naiades were a type of nymph who presided over fountains, wells, springs, streams, and brooks....
, and had a son,
Pandion I
Pandion I
In Greek mythology, Pandion I was a legendary king of Athens, the son and heir to Erichthonius of Athens and his wife, the naiad Praxithea. He married a naiad, Zeuxippe, and they had four children, Erechtheus, Butes, Procne, and Philomela. His rule was unremarkable...
. During this time, Athena frequently protected him. He founded the
Panathenaic Festival
Panathenaic Games
The Panathenaic Games were held every four years in Athens in Ancient Greece since 566 BC. They continued into the third century AD. These Games incorporated religious festival, ceremony , athletic competitions, and cultural events hosted within a stadium.-Religious festival:The games were part of...
in the honor of Athena, and set up a wooden statue of her on the Acropolis. According to the
Parian marble
Parian marble
Parian marble is a fine-grained semitranslucent pure-white and entirely flawless marble quarried during the classical era on the Greek island of Paros in the Aegean Sea.It was highly prized by ancient Greeks for making sculptures...
, he taught his people to yoke
horse
Horse
The horse is one of two extant subspecies of Equus ferus, or the wild horse. It is a single-hooved mammal belonging to the taxonomic family Equidae. The horse has evolved over the past 45 to 55 million years from a small multi-toed creature into the large, single-toed animal of today...
s and use them to pull
chariot
Chariot
The chariot is a type of horse carriage used in both peace and war as the chief vehicle of many ancient peoples. Ox carts, proto-chariots, were built by the Proto-Indo-Europeans and also built in Mesopotamia as early as 3000 BC. The original horse chariot was a fast, light, open, two wheeled...
s, to smelt
silver
Silver
Silver is a metallic chemical element with the chemical symbol Ag and atomic number 47. A soft, white, lustrous transition metal, it has the highest electrical conductivity of any element and the highest thermal conductivity of any metal...
, and to till the earth with a
plough
Plough
The plough or plow is a tool used in farming for initial cultivation of soil in preparation for sowing seed or planting. It has been a basic instrument for most of recorded history, and represents one of the major advances in agriculture...
. It was said that Erichthonius was lame of his feet and that he consequently invented the
quadriga
Quadriga
A quadriga is a car or chariot drawn by four horses abreast . It was raced in the Ancient Olympic Games and other contests. It is represented in profile as the chariot of gods and heroes on Greek vases and in bas-relief. The quadriga was adopted in ancient Roman chariot racing...
, or four-horse chariot to get around easier. He is said to have competed often as a chariot driver in games.
Zeus
Zeus
In the ancient Greek religion, Zeus was the "Father of Gods and men" who ruled the Olympians of Mount Olympus as a father ruled the family. He was the god of sky and thunder in Greek mythology. His Roman counterpart is Jupiter and his Etruscan counterpart is Tinia.Zeus was the child of Cronus...
was said to have been so impressed with his skill that he raised him to the heavens to become the constellation of the Charioteer (
Auriga
Auriga (constellation)
Auriga is a constellation in the northern sky. Its name is Latin for 'charioteer' and its stars form a shape that has been associated with the pointed helmet of a charioteer. It was one of the 48 constellations listed by the 2nd century astronomer Ptolemy, and remains among the 88 modern...
) after his death.
Ericthonius was succeeded by his son Pandion I. The snake is his symbol, and he is represented in the statue of Athena in the
Parthenon
Parthenon
The Parthenon is a temple on the Athenian Acropolis, Greece, dedicated to the Greek goddess Athena, whom the people of Athens considered their virgin patron. Its construction began in 447 BC when the Athenian Empire was at the height of its power. It was completed in 438 BC, although...
as the snake hidden behind her shield.