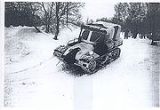 Motorised infantry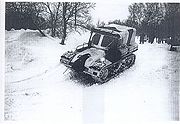 In
NATO
and most other western countries,
motorised infantry
is
infantry
Infantry
Infantrymen are soldiers who are specifically trained for the role of fighting on foot to engage the enemy face to face and have historically borne the brunt of the casualties of combat in wars. As the oldest branch of combat arms, they are the backbone of armies...
which is transported by
truck
Truck
A truck or lorry is a motor vehicle designed to transport cargo. Trucks vary greatly in size, power, and configuration, with the smallest being mechanically similar to an automobile...
s or other motor vehicles. It is distinguished from
mechanized infantry
Mechanized infantry
Mechanized infantry are infantry equipped with armored personnel carriers , or infantry fighting vehicles for transport and combat ....
, which is carried in
armoured personnel carrier
Armoured personnel carrier
An armoured personnel carrier is an armoured fighting vehicle designed to transport infantry to the battlefield.APCs are usually armed with only a machine gun although variants carry recoilless rifles, anti-tank guided missiles , or mortars...
s, infantry combat vehicles, or
infantry fighting vehicle
Infantry fighting vehicle
An infantry fighting vehicle , also known as a mechanized infantry combat vehicle , is a type of armoured fighting vehicle used to carry infantry into battle and provide fire support for them...
s. In
Russia
Russia
Russia or , officially known as both Russia and the Russian Federation , is a country in northern Eurasia. It is a federal semi-presidential republic, comprising 83 federal subjects...
and the former
Soviet Union
Soviet Union
The Soviet Union , officially the Union of Soviet Socialist Republics , was a constitutionally socialist state that existed in Eurasia between 1922 and 1991....
the term
motostrelki
(
Мотострелки
in
Russian
Russian language
Russian is a Slavic language used primarily in Russia, Belarus, Uzbekistan, Kazakhstan, Tajikistan and Kyrgyzstan. It is an unofficial but widely spoken language in Ukraine, Moldova, Latvia, Turkmenistan and Estonia and, to a lesser extent, the other countries that were once constituent republics...
) is used to indicate mechanized infantry, and during the
Korean War
Korean War
The Korean War was a conventional war between South Korea, supported by the United Nations, and North Korea, supported by the People's Republic of China , with military material aid from the Soviet Union...
this usage prevailed in all
Warsaw Pact
Warsaw Pact
The Warsaw Treaty Organization of Friendship, Cooperation, and Mutual Assistance , or more commonly referred to as the Warsaw Pact, was a mutual defense treaty subscribed to by eight communist states in Eastern Europe...
countries.
Motorising infantry is the first stage towards the mechanisation of an army. Civilian
truck
Truck
A truck or lorry is a motor vehicle designed to transport cargo. Trucks vary greatly in size, power, and configuration, with the smallest being mechanically similar to an automobile...
s are readily adaptable to military uses of transporting soldiers, towing guns, and carrying equipment and supplies. This greatly increases the strategic mobility of infantry units, which would otherwise rely on
march
Marching
See also: Loaded marchMarching refers to the organized, uniformed, steady and rhythmic walking forward, usually associated with military troops.Marching is often performed to march music, and often associated with military parades....
es or
railroads
Rail transport
Rail transport is a means of conveyance of passengers and goods by way of wheeled vehicles running on rail tracks. In contrast to road transport, where vehicles merely run on a prepared surface, rail vehicles are also directionally guided by the tracks they run on...
. In practice, armies have found it advantageous to develop trucks to military specifications, such as all-wheel drive, in order to have vehicles that function reliably in extremes of weather and terrain.
Motorisation provides no direct tactical advantage in small unit combat, because
truck
Truck
A truck or lorry is a motor vehicle designed to transport cargo. Trucks vary greatly in size, power, and configuration, with the smallest being mechanically similar to an automobile...
s and
jeep
Jeep
Jeep is an automobile marque of Chrysler . The first Willys Jeeps were produced in 1941 with the first civilian models in 1945, making it the oldest off-road vehicle and sport utility vehicle brand. It inspired a number of other light utility vehicles, such as the Land Rover which is the second...
s are vulnerable to
artillery
Artillery
Originally applied to any group of infantry primarily armed with projectile weapons, artillery has over time become limited in meaning to refer only to those engines of war that operate by projection of munitions far beyond the range of effect of personal weapons...
and
small arms
Small arms
Small arms is a term of art used by armed forces to denote infantry weapons an individual soldier may carry. The description is usually limited to revolvers, pistols, submachine guns, carbines, assault rifles, battle rifles, multiple barrel firearms, sniper rifles, squad automatic weapons, light...
fire. However in larger battles motorized infantry have a crucial edge in mobility, allowing them to move to critical sectors of the battlefield faster, allowing better response to enemy movements, as well as the ability to outmaneuver the enemy. For
winter
Winter
Winter is the coldest season of the year in temperate climates, between autumn and spring. At the winter solstice, the days are shortest and the nights are longest, with days lengthening as the season progresses after the solstice.-Meteorology:...
and mountain use, light tracked vehicles were employed, the Swedish made
Snow Trac
Snow Trac
The Snow Trac is a small personal Snowcat that is roughly the size of a modern compact car.-Origins and description:In 1954, Lars Larsson, the chief design engineer for a Swedish farm equipment company, AB Westeråsmaskiner, decided to develop a tracked vehicle to take him and his brother on fishing...
and
Bandvagn 202
Bandvagn 202
Bandvagn 202 is a tracked, all-terrain vehicle developed by Volvo BM, a subsidiary of Volvo, for the Swedish Army.The vehicle is formed of two rubber Kegresse track units with a multi-directional pivot in between. The front unit contains the engine and gearbox through which power is delivered to...
both found service with the British
Royal Marines
Royal Marines
The Corps of Her Majesty's Royal Marines, commonly just referred to as the Royal Marines , are the marine corps and amphibious infantry of the United Kingdom and, along with the Royal Navy and Royal Fleet Auxiliary, form the Naval Service...
. But it does increase the infantry's flexibility, because motorized elements can travel with their own integral support weapons (heavy machine guns,
mortars
Mortar (weapon)
A mortar is an indirect fire weapon that fires explosive projectiles known as bombs at low velocities, short ranges, and high-arcing ballistic trajectories. It is typically muzzle-loading and has a barrel length less than 15 times its caliber....
and artillery, anti-tank weapons, etc.).
The disadvantage of motorisation is that the formation becomes dependent on supplies of
fuel
Fuel
Fuel is any material that stores energy that can later be extracted to perform mechanical work in a controlled manner. Most fuels used by humans undergo combustion, a redox reaction in which a combustible substance releases energy after it ignites and reacts with the oxygen in the air...
.
The British created the
Experimental Mechanized Force
Experimental Mechanized Force
The Experimental Mechanized Force was a brigade-sized formation of the British Army. It was officially formed on 27 August 1927, and was intended to investigate and develop the techniques and equipment required for armoured warfare. It was renamed the Experimental Armoured Force the following year...
between the wars to test the capabilities of all-arms formations of mechanised units, this included motorised infantry.
The speed advantages of motorised infantry first became important in
World War II
World War II
World War II, or the Second World War , was a global conflict lasting from 1939 to 1945, involving most of the world's nations—including all of the great powers—eventually forming two opposing military alliances: the Allies and the Axis...
in the German
Blitzkrieg
Blitzkrieg
For other uses of the word, see: Blitzkrieg Blitzkrieg is an anglicized word describing all-motorised force concentration of tanks, infantry, artillery, combat engineers and air power, concentrating overwhelming force at high speed to break through enemy lines, and, once the lines are broken,...
. While no more robust than regular infantry moving on foot, its increased speed became decisive in the Blitzkrieg strategy because it could follow the
panzer
Panzer
A Panzer is a German language word that, when used as a noun, means "tank". When it is used as an adjective, it means either tank or "armoured" .- Etymology :...
forces and defend its
flanks
Flanking maneuver
In military tactics, a flanking maneuver, also called a flank attack, is an attack on the sides of an opposing force. If a flanking maneuver succeeds, the opposing force would be surrounded from two or more directions, which significantly reduces the maneuverability of the outflanked force and its...
. Notwithstanding the obvious advantages of motorisation, most countries opted only for partial motorisation of their infantry because of the cost and logistical implications caused by the deployment of so many vehicles. Even large armies were affected by these factors. The bulk of German and Soviet infantry remained on foot, while U.S. infantry divisions could, if needed, redirect the activities of enough trucks to motorise an infantry regiment. Likewise, infantry divisions of the UK Britain and its Empire could motorise chosen subordinate units, but infantry advanced on foot in most cases.
Currently in the post
Cold War
Cold War
The Cold War was the continuing state from roughly 1946 to 1991 of political conflict, military tension, proxy wars, and economic competition between the Communist World—primarily the Soviet Union and its satellite states and allies—and the powers of the Western world, primarily the United States...
world, motorisation of infantry is becoming more popular since humanitarian deployments are more prevalent with troops acting as quasi-police units. There is also a trend for motorised infantry to be
up-armoured
MRAP
MRAP stands for Mouvement contre le racisme et pour l'amitié entre les peuples , and is an anti-racist French NGO, created in 1949...
due to the situation of
insurgency
Iraqi insurgency
The Iraqi Resistance is composed of a diverse mix of militias, foreign fighters, all-Iraqi units or mixtures opposing the United States-led multinational force in Iraq and the post-2003 Iraqi government...
and terrorism in post-invasion Iraq.
See also
Bushmaster Protected Mobility Vehicle - modern vehicle with motorised doctrine in mind
Dragoon

Dragoon

The word dragoon originally meant mounted infantry, who were trained in horse riding as well as infantry fighting skills. However, usage altered over time and during the 18th century, dragoons evolved into conventional light cavalry units and personnel...



Mounted infantry

Mounted infantry

Mounted infantry were soldiers who rode horses instead of marching, but actually fought on foot . The original dragoons were essentially mounted infantry...



Tank desant

Tank desant

Tank desant is a military combined arms tactic, where infantry soldiers ride into an attack on tanks, then dismount to fight on foot in the final phase of the assault...