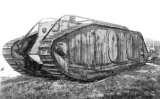 Armoured personnel carrier
An
armoured personnel carrier
(
APC
) is an
armoured fighting vehicle
Armoured fighting vehicle
An armoured fighting vehicle is a combat vehicle, protected by strong armour and armed with weapons. AFVs can be wheeled or tracked....
designed to transport
infantry
Infantry
Infantrymen are soldiers who are specifically trained for the role of fighting on foot to engage the enemy face to face and have historically borne the brunt of the casualties of combat in wars. As the oldest branch of combat arms, they are the backbone of armies...
to the battlefield.
APCs are usually armed with only a
machine gun
Machine gun
A machine gun is a fully automatic mounted or portable firearm, usually designed to fire rounds in quick succession from an ammunition belt or large-capacity magazine, typically at a rate of several hundred rounds per minute....
although variants carry
recoilless rifle
Recoilless rifle
A recoilless rifle or recoilless gun is a lightweight weapon that fires a heavier projectile than would be practical to fire from a recoiling weapon of comparable size. Technically, only devices that use a rifled barrel are recoilless rifles. Smoothbore variants are recoilless guns...
s,
anti-tank guided missile
Anti-tank guided missile
An anti-tank missile , anti-tank guided missile , anti-tank guided weapon or anti-armor guided weapon is a guided missile primarily designed to hit and destroy heavily-armored military vehicles....
s (ATGMs), or
mortars
Mortar (weapon)
A mortar is an indirect fire weapon that fires explosive projectiles known as bombs at low velocities, short ranges, and high-arcing ballistic trajectories. It is typically muzzle-loading and has a barrel length less than 15 times its caliber....
. They are not usually designed to take part in a direct-fire battle, but to carry troops to the battlefield safe from shrapnel and
ambush
Ambush
An ambush is a long-established military tactic, in which the aggressors take advantage of concealment and the element of surprise to attack an unsuspecting enemy from concealed positions, such as among dense underbrush or behind hilltops...
. They may have
wheel
Wheel
A wheel is a device that allows heavy objects to be moved easily through rotating on an axle through its center, facilitating movement or transportation while supporting a load, or performing labor in machines. Common examples found in transport applications. A wheel, together with an axle,...
s or
tracks
Caterpillar track
Continuous tracks or caterpillar tracks are a system of vehicle propulsion in which modular metal plates linked into a continuous band are driven by two or more wheels...
.
Examples include the American
M113
M113 armored personnel carrier
The M113 is a fully tracked armored personnel carrier that has formed the backbone of the United States Army's mechanized infantry units from the time of its first fielding in Vietnam in April 1962. The M113 was the most widely used armored vehicle of the U.S...
(tracked), the British FV 432 (tracked), the French
VAB
Véhicule de l'Avant Blindé
The Véhicule de l'Avant Blindé or VAB is an armoured personnel carrier and support vehicle designed by the Euro Mobilité Division of GIAT Industries of France. It entered service in 1976; around 5,000 were produced.- Design :The VAB was designed as a wheeled troop transporter, complementing the...
(wheeled), the Dutch/German
GTK Boxer
Boxer MRAV
The Boxer is a German-Dutch multirole armoured fighting vehicle designed to accomplish a number of operations through the use of installable mission modules. It is produced by the ARTEC GmbH industrial group, and the programme is being managed by OCCAR...
(wheeled) and the Soviet
BTR
Bronetransporter
A Bronyetransportyor or BTR , literally "armoured transporter" is any of a series of Soviet or post-Soviet military armoured personnel carriers, made for transporting Bronies....
(wheeled).