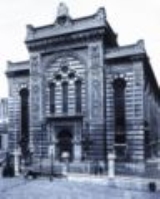 Moorish Revival
Moorish Revival
or
Neo-Moorish
is one of the exotic revival
architectural style
Architectural style
Architectural styles classify architecture in terms of the use of form, techniques, materials, time period, region and other stylistic influences. It overlaps with, and emerges from the study of the evolution and history of architecture...
s that were adopted by architects of Europe and the
Americas
Americas
The Americas, or America , are lands in the Western hemisphere, also known as the New World. In English, the plural form the Americas is often used to refer to the landmasses of North America and South America with their associated islands and regions, while the singular form America is primarily...
in the wake of the Romanticist
fascination with all things oriental
Orientalism
Orientalism is a term used for the imitation or depiction of aspects of Eastern cultures in the West by writers, designers and artists, as well as having other meanings...
. It reached the height of its popularity after the mid-nineteenth century, part of a widening vocabulary of
articulated
Articulation (architecture)
Articulation, in art and architecture, is a method of styling the joints in the formal elements of architectural design. Through degrees of articulation, each part is united with the whole work by means of a joint in such a way that the joined parts are put together in styles ranging from...
decorative ornament drawn from historical sources beyond familiar
classical
Classical architecture
Classical architecture is a mode of architecture employing vocabulary derived in part from the Greek and Roman architecture of classical antiquity, enriched by classicizing architectural practice in Europe since the Renaissance...
and
Gothic modes
Gothic architecture
Gothic architecture is a style of architecture that flourished during the high and late medieval period. It evolved from Romanesque architecture and was succeeded by Renaissance architecture....
. Little distinction was made in European and American practice between motifs drawn from Ottoman Turkey or from
Andalusia
Andalusia
Andalusia is the most populous and the second largest in area of the autonomous communities of Spain. The Andalusian autonomous community is officially recognised as a nationality of Spain. The territory is divided into eight provinces: Huelva, Seville, Cádiz, Córdoba, Málaga, Jaén, Granada and...
.
In Spain, the country conceived as the place of origin of Moorish ornamentation, the interest in this sort of architecture fluctuated from province to province.