 Mobile computing
Mobile computing
is a form of
human–computer interaction
Human–computer interaction
Human–computer Interaction is the study, planning, and design of the interaction between people and computers. It is often regarded as the intersection of computer science, behavioral sciences, design and several other fields of study...
by which a
computer
Computer
A computer is a programmable machine designed to sequentially and automatically carry out a sequence of arithmetic or logical operations. The particular sequence of operations can be changed readily, allowing the computer to solve more than one kind of problem...
is expected to be transported during normal usage. Mobile computing has three aspects: mobile communication, mobile hardware, and mobile software. The first aspect addresses communication issues in ad-hoc and infrastructure networks as well as communication properties, protocols, data formats and concrete technologies. The second aspect is on the hardware, e.g., mobile devices or device components. The third aspect deals with the characteristics and requirements of mobile applications.
Definitions
Mobile computing is "taking a computer and all necessary files and software out into the field."
"Mobile computing: being able to use a computing device even when being mobile and therefore changing location. Portability is one aspect of mobile computing."
"Mobile computing is the ability to use computing capability without a pre-defined location and/or connection to a network to publish and/or subscribe to information ." Uwe Vieille, AMC.org
Devices
Many types of mobile computers have been introduced since the 1990s including the:
Limitations
Insufficient bandwidth: Mobile Internet access is generally slower than direct cable connections, using technologies such as GPRS and EDGE

Edge

- Aviation :* Leading edge, a line connecting the forward-most points of a wing's profile* Trailing edge, the rear edge of the wing* Zivko Edge 540, an aerobatic aircraft- Mathematics, science and technology :...


, and more recently HSDPA and HSUPA 3G

3G

3G or 3rd generation mobile telecommunications is a generation of standards for mobile phones and mobile telecommunication services fulfilling the International Mobile Telecommunications-2000 specifications by the International Telecommunication Union...


networks. These networks are usually available within range of commercial cell phone towers. Higher speed wireless LAN

Wireless LAN

A wireless local area network links two or more devices using some wireless distribution method , and usually providing a connection through an access point to the wider internet. This gives users the mobility to move around within a local coverage area and still be connected to the network...


s are inexpensive but have very limited range.
Security standards: When working mobile, one is dependent on public networks, requiring careful use of VPN. Security is a major concern while concerning the mobile computing standards on the fleet. One can easily attack the VPN through a huge number of networks interconnected through the line.
Power consumption: When a power outlet or portable generator is not available, mobile computers must rely entirely on battery power. Combined with the compact size of many mobile devices, this often means unusually expensive batteries must be used to obtain the necessary battery life.
Transmission interferences: Weather, terrain, and the range from the nearest signal point can all interfere with signal reception. Reception in tunnels, some buildings, and rural areas is often poor.
Potential health hazards: People who use mobile devices while driving are often distracted from driving are thus assumed more likely to be involved in traffic accidents. (While this may seem obvious, there is considerable discussion about whether banning mobile device use while driving reduces accidents or not. .) Cell phones may interfere with sensitive medical devices. There are allegations that cell phone signals may cause health problems.
Human interface with device: Screens and keyboards tend to be small, which may make them hard to use. Alternate input methods such as speech or handwriting recognition require training.
In-vehicle computing and fleet computing
Many commercial and government field forces deploy a ruggedized portable computer such as the Panasonic
Toughbook
Toughbook
Toughbook is a trademarked brand name owned by Panasonic Corporation and refers to its line of rugged computers. The Toughbook is designed to withstand vibration, drops, spills, extreme temperature, and other rough handling....
,
MobileDemand
MobileDemand
MobileDemand is a provider of rugged Tablet PC mobile computer systems headquartered in Hiawatha, Iowa with manufacturing facilities in Taiwan. The products are built for use by mobile workers in harsh environments to survive falls, extreme temperatures and exposure to liquids...
xTablet or larger
rack-mounted
19-inch rack
A 19-inch rack is a standardized frame or enclosure for mounting multiple equipment modules. Each module has a front panel that is wide, including edges or ears that protrude on each side which allow the module to be fastened to the rack frame with screws.-Overview and history:Equipment designed...
computers with their fleet of vehicles. This requires the units to be anchored to the vehicle for driver safety, device security, and
ergonomics
Ergonomics
Ergonomics is the study of designing equipment and devices that fit the human body, its movements, and its cognitive abilities.The International Ergonomics Association defines ergonomics as follows:...
. Ruggedized computers are rated for severe vibration associated with large service vehicles and off-road driving and the harsh environmental conditions of constant professional use such as in
emergency medical services
Emergency medical services
Emergency medical services are a type of emergency service dedicated to providing out-of-hospital acute medical care and/or transport to definitive care, to patients with illnesses and injuries which the patient, or the medical practitioner, believes constitutes a medical emergency...
, fire, and public safety.
Other elements that enable the unit to function in vehicle:
Operating temperature

Operating temperature

An operating temperature is the temperature at which an electrical or mechanical device operates. The device will operate effectively within a specified temperature range which varies based on the device function and application context, and ranges from the minimum operating temperature to the...


: A vehicle cabin can often experience temperature swings from -20F to +140F. Computers typically must be able to withstand these temperatures while operating. Typical fan-based cooling has stated limits of 95F-100F of ambient temperature, and temperatures below freezing require localized heaters to bring components up to operating temperature (based on independent studies by the SRI Group and by Panasonic R&D).
Vibration: Vehicles typically have considerable vibration that can decrease the life expectancy of computer components, notably rotational storage such as HDDs.
Daylight, or sunlight readability: Visibility of standard screens becomes an issue in bright sunlight.
Touchscreens: These enable users to easily interact with the units in the field without removing gloves.
High-temperature battery settings: Lithium ion batteries are sensitive to high temperature conditions for charging. A computer designed for the mobile environment should be designed with a high-temperature charging function that limits the charge to 85% or less of capacity.
External wireless connections, and external GPS antenna connections: Necessary to contend with the typical metal cabins of vehicles and their impact on wireless reception, and to take advantage of much more capable external tranception equipment.
Several specialized manufacturers such as First Mobile Technologies, National Products Inc (
Ram Mounts
Ram Mounts
RAM Mounts is a division of the USA company National Products, Inc. Based in Seattle, Washington, the company was founded by Jeffrey D Carnevali.-Products:...
), Gamber Johnson and LedCo build mounts for vehicle mounting of computer equipment for a wide range of vehicles. The mounts are built to withstand the harsh conditions and maintain ergonomics.
Specialized installation companies specialize in designing the mount design, assembling the parts, and installing them in a safe and consistent manner away from airbags, vehicle HVAC controls, and driver controls. Frequently installations will include a WWAN modem, power conditioning equipment, transceiver antennae mounted external to the vehicle, and WWAN/WLAN/GPS/etc.
Portable computing devices
There are several categories of portable computing devices that can run on batteries but are not usually classified as laptops: portable computers, keyboardless tablet PCs, Internet tablets, PDAs, ultra mobile PCs (UMPCs) and smartphones.
A
portable computer
Portable computer
A portable computer is a computer that is designed to be moved from one place to another and includes a display and keyboard. Portable computers, by their nature, are generally microcomputers. Portable computers, because of their size, are also commonly known as 'Lunchbox' or 'Luggable' computers...
is a general-purpose computer that can be easily moved from place to place, but cannot be used while in transit, usually because it requires some "setting-up" and an AC power source. The most famous example is the
Osborne 1
Osborne 1
The Osborne 1 was the first commercially successful portable microcomputer, released on April 3, 1981 by Osborne Computer Corporation. It weighed 10.7 kg , cost USD$ 1795, and ran the then-popular CP/M 2.2 operating system...
. Portable computers are also called a "transportable" or a "luggable" PC.
A
tablet computer
Tablet computer
A tablet computer, or simply tablet, is a complete mobile computer, larger than a mobile phone or personal digital assistant, integrated into a flat touch screen and primarily operated by touching the screen...
that lacks a keyboard (also known as a non-convertible tablet) is shaped like slate or a paper notebook, features a touchscreen with a stylus and handwriting recognition software. Tablets may not be best suited for applications requiring a physical keyboard for typing, but are otherwise capable of carrying out most tasks that an ordinary laptop would be able to perform.
A
personal digital assistant
Personal digital assistant
A personal digital assistant , also known as a palmtop computer, or personal data assistant, is a mobile device that functions as a personal information manager. Current PDAs often have the ability to connect to the Internet...
(PDA) is a small, usually pocket-sized, computer with limited functionality. It is intended to supplement and to synchronize with a desktop computer, giving access to contacts, address book, notes, e-mail and other features.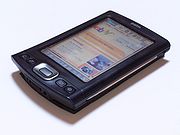 A PDA with a web browser is an
Internet tablet
, an
Internet appliance
Internet appliance
An Internet appliance is a consumer device whose main function is easy access to Internet services such as WWW or e-mail. The term was popularized in the 1990s, when it somewhat overlapped in meaning with an information appliance, Internet computer, network computer, or even thin client, but now it...
in tablet form. Unlike a tablet PC, an Internet tablet does not have much computing power and its applications suite is limited, and it can not replace a general purpose computer. Internet tablets typically feature an MP3 and video player, a web browser, a chat application and a picture viewer.
An ultra mobile PC is a full-featured, PDA-sized computer running a general-purpose operating system.
A
smartphone
Smartphone
A smartphone is a high-end mobile phone built on a mobile computing platform, with more advanced computing ability and connectivity than a contemporary feature phone. The first smartphones were devices that mainly combined the functions of a personal digital assistant and a mobile phone or camera...
has a wide range of features and installable applications.
A
carputer
Carputer
Carputer is the predominant term used to describe a category of mobile computer designed or modified to specifically be installed and run in automobiles...
is a computing device installed in an automobile. It operates as a wireless computer, sound system, GPS, and DVD player. It also contains word processing software and is bluetooth compatible.
A
Fly Fusion Pentop Computer
Fly Fusion Pentop Computer
- The Digital Pen :The FLY Fusion Pentop Computer is the second, newest version of the FLY 1.0 Pentop Computer. This pen, like its predecessor, is included with digitized paper that allows the pen's camera to "read" what you write...
is a computing device the size and shape of a pen. It functions as a writing utensil, MP3 player, language translator, digital storage device, and calculator.
Boundaries that separate these categories are blurry at times. For example, the
OQO
OQO
OQO was a U.S. computer hardware company that was notable for manufacture of handheld computers. Its systems possess the functionality of a tablet PC in a form factor slightly larger than a personal digital assistant . According to Guinness World Records, the "OQO" was the smallest full-powered,...
UMPC is also a PDA-sized tablet PC; the
Apple eMate
EMate 300
The eMate 300 was a personal digital assistant designed, manufactured and sold by Apple to the education market as a low-cost laptop running the Newton operating system...
had the clamshell form factor of a laptop, but ran PDA software. The
HP Omnibook
HP Omnibook
HP OmniBook was a range of laptop personal computers created by Hewlett Packard.The range included:* OmniBook 300 — launched in 1993* OmniBook 425* OmniBook 430* OmniBook 500* OmniBook 510* OmniBook 530* OmniBook 600* OmniBook 800...
line of laptops included some devices small enough to be called ultra mobile PCs. The hardware of the Nokia 770 internet tablet is essentially the same as that of a PDA such as the
Zaurus
Sharp Zaurus
The Sharp Zaurus is the name of a series of Personal Digital Assistant made by Sharp Corporation. The Zaurus was the most popular PDA during the 1990s in Japan and was based on a proprietary operating system. The first Sharp PDA to use the Linux operating system was the SL-5000D, running the...
6000; the only reason it's not called a PDA is that it does not have
PIM
Personal information manager
A personal information manager is a type of application software that functions as a personal organizer. The acronym PIM is now, more commonly, used in reference to Personal information management as a field of study...
software. On the other hand, both the 770 and the Zaurus can run some desktop Linux software, usually with modifications.
Mobile data communication
Wireless
Wireless
Wireless telecommunications is the transfer of information between two or more points that are not physically connected. Distances can be short, such as a few meters for television remote control, or as far as thousands or even millions of kilometers for deep-space radio communications...
data connections used in mobile computing take three general forms.
Cellular
Cellular network
A cellular network is a radio network distributed over land areas called cells, each served by at least one fixed-location transceiver known as a cell site or base station. When joined together these cells provide radio coverage over a wide geographic area...
data service uses technologies such as GSM,
CDMA
Code division multiple access
Code division multiple access is a channel access method used by various radio communication technologies. It should not be confused with the mobile phone standards called cdmaOne, CDMA2000 and WCDMA , which are often referred to as simply CDMA, and use CDMA as an underlying channel access...
or
GPRS
General Packet Radio Service
General packet radio service is a packet oriented mobile data service on the 2G and 3G cellular communication system's global system for mobile communications . GPRS was originally standardized by European Telecommunications Standards Institute in response to the earlier CDPD and i-mode...
, and more recently
3G
3G
3G or 3rd generation mobile telecommunications is a generation of standards for mobile phones and mobile telecommunication services fulfilling the International Mobile Telecommunications-2000 specifications by the International Telecommunication Union...
networks such as
W-CDMA
W-CDMA (UMTS)
W-CDMA , UMTS-FDD, UTRA-FDD, or IMT-2000 CDMA Direct Spread is an air interface standard found in 3G mobile telecommunications networks. It is the basis of Japan's NTT DoCoMo's FOMA service and the most-commonly used member of the UMTS family and sometimes used as a synonym for UMTS...
,
EDGE
Enhanced Data Rates for GSM Evolution
Enhanced Data rates for GSM Evolution is a digital mobile phone technology that allows improved data transmission rates as a backward-compatible extension of GSM...
or
CDMA2000
CDMA2000
CDMA2000 is a family of 3G mobile technology standards, which use CDMA channel access, to send voice, data, and signaling data between mobile phones and cell sites. The set of standards includes: CDMA2000 1X, CDMA2000 EV-DO Rev. 0, CDMA2000 EV-DO Rev. A, and CDMA2000 EV-DO Rev. B...
. These networks are usually available within range of commercial
cell towers
Cell site
A cell site is a term used to describe a site where antennas and electronic communications equipment are placed, usually on a radio mast, tower or other high place, to create a cell in a cellular network...
.
Wi-Fi
Wi-Fi
Wi-Fi or Wifi, is a mechanism for wirelessly connecting electronic devices. A device enabled with Wi-Fi, such as a personal computer, video game console, smartphone, or digital audio player, can connect to the Internet via a wireless network access point. An access point has a range of about 20...
connections offer higher performance, may be either on a private business network or accessed through public
hotspots
Hotspot (Wi-Fi)
A hotspot is a site that offers Internet access over a wireless local area network through the use of a router connected to a link to an Internet service provider...
, and have a typical range of 100 feet indoors and up to 1000 feet outdoors.
Satellite Internet access
Satellite Internet access
Satellite Internet access is Internet access provided through satellites. The service can be provided to users world-wide through low Earth orbit satellites. Geostationary satellites can offer higher data speeds, but their signals can not reach some polar regions of the world...
covers areas where cellular and Wi-Fi are not available and may be set up anywhere the user has a
line of sight
Line-of-sight propagation
Line-of-sight propagation refers to electro-magnetic radiation or acoustic wave propagation. Electromagnetic transmission includes light emissions traveling in a straight line...
to the satellite's location, which for satellites in geostationary orbit means having an unobstructed view of the southern sky. Some enterprise deployments combine networks from multiple cellular networks or use a mix of cellular, Wi-Fi and satellite. When using a mix of networks, a
mobile virtual private network
Mobile virtual private network
A mobile virtual private network provides mobile devices with access to network resources and software applications on their home network, when they connect via other wireless or wired networks....
(
mobile VPN
Mobile virtual private network
A mobile virtual private network provides mobile devices with access to network resources and software applications on their home network, when they connect via other wireless or wired networks....
) not only handles the
security
Computer security
Computer security is a branch of computer technology known as information security as applied to computers and networks. The objective of computer security includes protection of information and property from theft, corruption, or natural disaster, while allowing the information and property to...
concerns, but also performs the multiple network
logins
Login
Login is the method whereby a user obtains access to a computer system.Login may also refer to:*Magazines:** LOGiN, published by Enterbrain** ;login:, published by USENIX* Login, Carmarthenshire, an hamlet in Carmarthenshire...
automatically and keeps the
application
Application software
Application software, also known as an application or an "app", is computer software designed to help the user to perform specific tasks. Examples include enterprise software, accounting software, office suites, graphics software and media players. Many application programs deal principally with...
connections alive to prevent
crashes
Crash (computing)
A crash in computing is a condition where a computer or a program, either an application or part of the operating system, ceases to function properly, often exiting after encountering errors. Often the offending program may appear to freeze or hang until a crash reporting service documents...
or data loss during network transitions or coverage loss.
See also
Enterprise digital assistant

Enterprise digital assistant

An enterprise digital assistant is a handheld computer, born of the personal digital assistant popularity which was adapted for extensive, more robust usage within the SME and Enterprise business applications as a data capture mobile device.Over the years, these business applications have grown...



Location-based service

Location-based service

A Location-Based Service is an information or entertainment service, accessible with mobile devices through the mobile network and utilizing the ability to make use of the geographical position of the mobile device....



Mobile ad-hoc networks
Mobile Computing and Communications Review

Mobile Computing and Communications Review

Mobile Computing and Communications Review is a peer-reviewed quarterly scientific journal published by the Association for Computing Machinery covering mobile computing and networking. The purpose of the journal is the rapid publication of completed or in-progress technical work, including ...



Mobile development

Mobile development

Mobile application development is the process by which application software is developed for small low-power handheld devices such as personal digital assistants, enterprise digital assistants or mobile phones...



Mobile device management

Mobile device management

Mobile Device Management software secures, monitors, manages and supports mobile devices deployed across mobile operators, service providers and enterprises...



Mobile identity management

Mobile identity management

The mobile phone in addition to a wallet and house keys has become one of the essentials to take with you when leaving the house. By storing all the technical necessary applications on a SIM card, the mobile phone has turned into a device for managing each person's digital identity.Mobile Identity...



Mobile software
Mobileer

Mobileer

A mobileer is a person who uses mobile communications, specifically in the form of mobile rigs.Mobile rig devices are a class of device midway between a base station and a portable rig . These devices usually run off 12 volts DC, and are intended to be installed in an automobile, a truck, van, or...


s (users of mobile rigs)
Ubiquitous computing

Ubiquitous computing

Ubiquitous computing is a post-desktop model of human-computer interaction in which information processing has been thoroughly integrated into everyday objects and activities. In the course of ordinary activities, someone "using" ubiquitous computing engages many computational devices and systems...