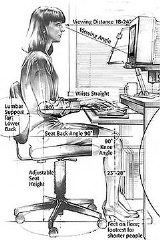 Ergonomics
Ergonomics
is the study of designing equipment and devices that fit the human body, its movements, and its
cognitive
Cognitive science
Cognitive science is the interdisciplinary scientific study of mind and its processes. It examines what cognition is, what it does and how it works. It includes research on how information is processed , represented, and transformed in behaviour, nervous system or machine...
abilities.
The International Ergonomics Association defines ergonomics as follows:
Ergonomics is employed to fulfill the two goals of health and productivity. It is relevant in the design of such things as safe furniture and easy-to-use interfaces to machines and equipment.