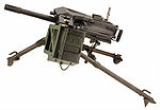 Mk 19 grenade launcher
The
Mk 19 Grenade Launcher
is a 40 mm
belt-fed
Belt (firearm)
A belt or ammunition belt is a device used to retain and feed cartridges into a firearm. Belts and the associated feed systems are typically employed to feed machine guns or other automatic weapons...
automatic
Automatic firearm
An automatic firearm is a firearm that loads another round mechanically after the first round has been fired.The term can be used to refer to semi-automatic firearms, which fire one shot per single pull of the trigger , or fully automatic firearms, which will continue to load and fire ammunition...
grenade launcher
Grenade launcher
A grenade launcher or grenade discharger is a weapon that launches a grenade with more accuracy, higher velocity, and to greater distances than a soldier could throw it by hand....
or grenade machine gun that entered U.S. military service during the
Cold War
Cold War
The Cold War was the continuing state from roughly 1946 to 1991 of political conflict, military tension, proxy wars, and economic competition between the Communist World—primarily the Soviet Union and its satellite states and allies—and the powers of the Western world, primarily the United States...
, first seeing action during the
Vietnam War
Vietnam War
The Vietnam War was a Cold War-era military conflict that occurred in Vietnam, Laos, and Cambodia from 1 November 1955 to the fall of Saigon on 30 April 1975. This war followed the First Indochina War and was fought between North Vietnam, supported by its communist allies, and the government of...
and remaining in service today.
The Mk 19 is a belt fed, blowback operated, air cooled, crew served, fully automatic weapon that is designed not to
cook off
Cooking off
Cooking off refers to ammunition exploding prematurely due to heat in the surrounding environment. It can also refer to a technique used when throwing grenades to achieve a controlled, predictable explosion....
. It fires
40 mm grenade
40 mm grenade
The 40mm grenade is a military grenade caliber for grenade launchers in service with many armed forces. There are two main types in service: the 40×46mm, which is a low-velocity round used in hand-held grenade launchers; and the high-velocity 40×53mm, used in mounted and crew-served weapons. The...
s at a cyclic rate of 325 to 375 rounds per minute, giving a practical rate of fire of 60 rounds per minute (rapid) and 40 rounds per minute (sustained).