 Millicent Hearst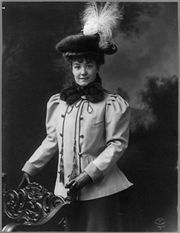 Millicent Hearst
, née Millicent Veronica Willson (July 16, 1882 – December 5, 1974), was the wife of media tycoon
William Randolph Hearst
William Randolph Hearst
William Randolph Hearst was an American business magnate and leading newspaper publisher. Hearst entered the publishing business in 1887, after taking control of The San Francisco Examiner from his father...
. Willson was a
vaudeville
Vaudeville
Vaudeville was a theatrical genre of variety entertainment in the United States and Canada from the early 1880s until the early 1930s. Each performance was made up of a series of separate, unrelated acts grouped together on a common bill...
performer in
New York City
New York City
New York is the most populous city in the United States and the center of the New York Metropolitan Area, one of the most populous metropolitan areas in the world. New York exerts a significant impact upon global commerce, finance, media, art, fashion, research, technology, education, and...
whom Hearst admired, and they married in 1903. The couple had five sons, but began to drift apart in the mid-1920s, when Millicent tired of her husband's longtime affair with the actress
Marion Davies
Marion Davies
Marion Davies was an American film actress. Davies is best remembered for her relationship with newspaper tycoon William Randolph Hearst, as her high-profile social life often obscured her professional career....
.
Biography
The daughter of George Willson and Hannah Murray Willson. Following in the footsteps of their father, a moderately successful vaudevillian, Millicent and her older sister Anita performed on the stage in 1897 as "bicycle girls" in Edward Rice's The Girl from Paris at the Herald Square Theater on Broadway. The 16 year-old beauty caught the eye of the 34 year-old Hearst, a lonely bachelor and notorious stage-door Johnny at the time.
The couple's first dates were chaperoned by her sister Anita. And after a lengthy courtship, on April 28, 1903, the controversial publisher and aspiring politician William Randolph Hearst, married 22 year-old Millicent Willson.
Millicent gave birth to five sons: Born just 5 days before the Hearsts' 1st wedding anniversary, George Randolph Hearst, born on April 23, 1904;
William Randolph Hearst, Jr.
William Randolph Hearst, Jr.
William Randolph Hearst, Jr. was the second son of the publisher William Randolph Hearst. He became editor-in-chief of Hearst Newspapers after the death of his father in 1951. He won a Pulitzer Prize for his interview with Soviet premier, Nikita Khrushchev, and associated commentaries in...
, born on January 27, 1908;
John Randolph Hearst
John Randolph Hearst
John Randolph Hearst was an American business executive and the third son of William Randolph Hearst.He was said by some to have the most executive talent among the sons of William Randolph Hearst, and like his brothers worked for the Hearst Corporation.Any question of his rivaling the non-family...
, born in 1910; and the twins,
Randolph Apperson Hearst
Randolph Apperson Hearst
Randolph Apperson Hearst was the fourth and last surviving son of William Randolph Hearst. His twin brother, David, died in 1986. He was the father of Patty Hearst.-Biography:...
and David Whitmire (née Elbert Willson) Hearst, born on December 2, 1915. Phoebe Apperson Hearst, the very proper mother of William Randolph Hearst, was initially dismayed by Millicent's humble origins, but with the birth of the grandchildren she soon warmed to her daughter-in-law.
Although they remained legally married until Hearst's death in 1951, Millicent established a separate life in New York as a prominent
socialite
Socialite
A socialite is a person who participates in social activities and spends a significant amount of time entertaining and being entertained at fashionable upper-class events....
and
philanthropist
Philanthropist
A philanthropist is someone who engages in philanthropy; that is, someone who donates his or her time, money, and/or reputation to charitable causes...
, and only rarely visited her husband at his
estate
Estate (house)
An estate comprises the houses and outbuildings and supporting farmland and woods that surround the gardens and grounds of a very large property, such as a country house or mansion. It is the modern term for a manor, but lacks the latter's now abolished jurisdictional authority...
in
California
California
California is a state located on the West Coast of the United States. It is by far the most populous U.S. state, and the third-largest by land area...
, often referred to as "
Hearst Castle
Hearst Castle
Hearst Castle is a National Historic Landmark mansion located on the Central Coast of California, United States. It was designed by architect Julia Morgan between 1919 and 1947 for newspaper magnate William Randolph Hearst, who died in 1951. In 1957, the Hearst Corporation donated the property to...
".
Her social activism flowered during World War I when she was appointed by Mayor John Hylan as Chairman of the Mayor's Committee of Women on National Defense. The committee sponsored entertainments for servicemen, operated a canteen, encouraged enlistments, sponsored patriotic rallies and provided staples such as coal, milk, and ice to the needy. Millicent Hearst also served on wartime committees to raise funds for the rebuilding of France and the relief of French orphans.
Millicent Hearst is most distinguished for founding the Free Milk Fund for Babies in 1921. The fund provided free milk to the poor of New York City for decades. The Milk Fund sponsored many fund raising activities such as rodeos and boxing matches. Mrs. William Randolph Hearst hosted charitable fund raisers for a variety of causes including crippled children, unemployed girls, the New York Women's Trade League, the
Democratic National Committee
Democratic National Committee
The Democratic National Committee is the principal organization governing the United States Democratic Party on a day to day basis. While it is responsible for overseeing the process of writing a platform every four years, the DNC's central focus is on campaign and political activity in support...
, the Evening Journal - New York Journal Christmas Fund, and the Village Welfare of
Port Washington, New York
Port Washington, New York
Port Washington is a hamlet and census-designated place in Nassau County, New York on the North Shore of Long Island. As of the United States 2010 Census, the community population was 15,846....
. During the Depression
Eleanor Roosevelt
Eleanor Roosevelt
Anna Eleanor Roosevelt was the First Lady of the United States from 1933 to 1945. She supported the New Deal policies of her husband, distant cousin Franklin Delano Roosevelt, and became an advocate for civil rights. After her husband's death in 1945, Roosevelt continued to be an international...
joined Millicent Hearst at many of these charitable events.
Millicent Willson Hearst died on December 5, 1974, more than two decades after the death of her husband, William Randolph Hearst. She is buried at Woodlawn Cemetery, Bronx, New York. She was 92.
Research resources