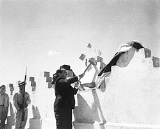 Military of Costa Rica
On December 1, 1948,
President
José Figueres Ferrer
José Figueres Ferrer
José María Hipólito Figueres Ferrer , served as President of Costa Rica on three occasions:1948–1949, 1953–1958, and 1970–1974....
of
Costa Rica
Costa Rica
Costa Rica , officially the Republic of Costa Rica is a multilingual, multiethnic and multicultural country in Central America, bordered by Nicaragua to the north, Panama to the southeast, the Pacific Ocean to the west and the Caribbean Sea to the east....
abolished the
military of Costa Rica
after victory in
the civil war
Costa Rican Civil War
The Costa Rican Civil War was the bloodiest event in 20th century Costa Rican history. It lasted for 44 days , during which approximately 2,000 people are believed to have died...
in that year.
In a ceremony in the
Cuartel Bellavista
, Figueres broke a wall with a
mallet
Mallet
A mallet is a kind of hammer, usually of rubber,or sometimes wood smaller than a maul or beetle and usually with a relatively large head.-Tools:Tool mallets come in different types, the most common of which are:...
symbolizing the end of Costa Rica's military spirit.
In 1949, the abolition of the military was introduced in Article 12 of the Costa Rican Constitution.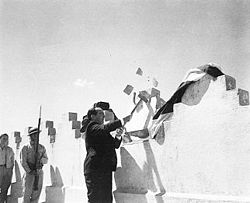 The budget previously dedicated to the military now is dedicated to security, education and culture; the country maintains Police Guard forces.
The museum
Museo Nacional de Costa Rica
was placed in the
Cuartel Bellavista
as a symbol of commitment to culture.
In 1986, President Oscar Arias Sánchez declared December 1 as the
Día de la Abolición del Ejército
(Military abolition day) with Law #8115.
Unlike its neighbours, Costa Rica has not endured a
civil war
Civil war
A civil war is a war between organized groups within the same nation state or republic, or, less commonly, between two countries created from a formerly-united nation state....
since 1948.
Costa Rica maintains small forces capable of law enforcement and foreign peacekeeping, but has no permanent standing army.
Ministry of Public Security's Public Force
During 1996, the Ministry of Public Security established the
Fuerza Pública
or Public Force which reorganized and eliminated the
Civil Guard
Civil Guard (Costa Rica)
Civil Guard of Costa Rica was a gendarmerie type force responsible for both limited national defense and internal security missions....
, Rural Assistance Guard, and Frontier Guards as separate entities; they are now under the Ministry and operate on a geographic command basis performing ground security, law enforcement, counter-narcotics, and border patrol functions.
Outside the
Fuerza Pública
, there is a small Special Forces Unit, the Unidad Especial de Intervencion (UEI) or Special Intervention Unit, which trains with special forces of Israel, and its namesake in Spain and other democratic nations, but is not part of the main police forces. Instead it is part of the Intelligence and Security Directorate (DIS) which reports directly to the Minister of the Presidency.
Weapons and equipment
Rifles:
M16 Rifle
M16 rifle
The M16 is the United States military designation for the AR-15 rifle adapted for both semi-automatic and full-automatic fire. Colt purchased the rights to the AR-15 from ArmaLite, and currently uses that designation only for semi-automatic versions of the rifle. The M16 fires the 5.56×45mm NATO...
5.56x45 M4A1 5.56x45
M14
M14
M14, M-14, or M.14 may refer to:* M-14 , a road connecting Ann Arbor and Detroit* M14 * M14 mine, a United States anti-personnel landmine* AN/M14 incendiary grenade, a United States incendiary grenade...
7.62x51 NATO Galil 5.56x45 FN-FAL 7.62x51 NATO
Sub-Machine Guns:
Heckler & Koch MP5
Heckler & Koch MP5
The Heckler & Koch MP5 is a 9mm submachine gun of German design, developed in the 1960s by a team of engineers from the German small arms manufacturer Heckler & Koch GmbH of Oberndorf am Neckar....
9x19 Parabellum Beretta Model 38 9x19 Parabellum
General Purpose Machine Gun:
M60
M60
M60 or M-60 may refer to:Astronomy:* Messier 60, an elliptical galaxy in the Virgo ClusterComputers:* M60, an Olivetti Zilog Z8001 based computer Firearms and military equipment:...
7.62x51 NATO
Pistols:
M1911
M1911
The M1911 is a single-action, semi-automatic, magazine-fed, and recoil-operated handgun chambered for the .45 ACP cartridge. John M. Browning designed the firearm which was the standard-issue side arm for the United States armed forces from 1911 to 1985. The M1911 is still carried by some U.S....
.45 ACP
.45 ACP
The .45 ACP , also known as the .45 Auto by C.I.P., is a cartridge designed by John Browning in 1904, for use in his prototype Colt semi-automatic .45 pistol and eventually the M1911 pistol adopted by the United States Army in 1911.-Design and history:The U.S...
Aircraft inventory
There are 11 aircraft on government support, law enforcement, and civil duties.
! style="text-align: left; background: #aacccc;"|Aircraft
! style="text-align: left; background: #aacccc;"|Origin
! style="text-align: left; background: #aacccc;"|Type
! style="text-align: left; background: #aacccc;"|Versions
! style="text-align: left; background: #aacccc;"|In service
! style="text-align: left; background: #aacccc;"|Notes
|-----
|
Aero Commander
Aero Commander (aircraft)
The Aero Commander 500 is the first in a series of light-twin piston-engined aircraft originally built by the Aero Design and Engineering Company in the late 1940s. In 1950 it became the Aero Commander company, and a division of Rockwell International from 1965. The initial production version was...
|| || utility transport || 695 || 1 ||
|-----
| Cessna 206 || || utility || 206G || 2 ||
|-----
| Cessna 207 || || utility || || 1 ||
|-----
|
de Havilland Canada DHC-4 Caribou
De Havilland Canada DHC-4 Caribou
The de Havilland Canada DHC-4 Caribou is a Canadian-designed and produced specialized cargo aircraft with short takeoff and landing capability...
|| || tactical transport || || 1 ||
|-----
|
MD Helicopters MD 500
MD Helicopters MD 500
The MD Helicopters MD 500 series is an American family of light utility civilian and military helicopters. The MD 500 was developed from the Hughes 500, a civilian version of the US Army's OH-6A Cayuse/Loach...
|| || utility helicopter || MD 500E || 2 ||
|-----
|
Piper PA-31 Navajo
Piper PA-31 Navajo
The Piper PA-31 Navajo is a family of cabin-class, twin-engine aircraft designed and built by Piper Aircraft for the general aviation market, most using Lycoming engines. It was also licence-built in a number of Latin American countries. Targeted at small-scale cargo and feeder liner operations and...
|| || utility || || 3 ||
|-----
|
Piper PA-34 Seneca
Piper PA-34 Seneca
The Piper PA-34 Seneca is an American twin-engined light aircraft, produced by Piper Aircraft since 1971 and still in production in 2011.The Seneca is primarily used for personal and business flying.-Development:...
|| || utility || PA-34-200T || 1 ||
External links