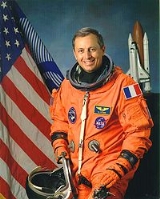 Michel Tognini
Michel Ange-Charles Tognini
(born September 30, 1949, in Vincennes, France) is a
French
France
The French Republic , The French Republic , The French Republic , (commonly known as France , is a unitary semi-presidential republic in Western Europe with several overseas territories and islands located on other continents and in the Indian, Pacific, and Atlantic oceans. Metropolitan France...
test pilot
Test pilot
A test pilot is an aviator who flies new and modified aircraft in specific maneuvers, known as flight test techniques or FTTs, allowing the results to be measured and the design to be evaluated....
, officer in the
French Air Force
French Air Force
The French Air Force , literally Army of the Air) is the air force of the French Armed Forces. It was formed in 1909 as the Service Aéronautique, a service arm of the French Army, then was made an independent military arm in 1933...
, and a former
CNES
CNES
The is the French government space agency . Established under President Charles de Gaulle in 1961, its headquarters are located in central Paris and it is under the supervision of the French Ministries of Defence and Research...
and ESA
astronaut
Astronaut
An astronaut or cosmonaut is a person trained by a human spaceflight program to command, pilot, or serve as a crew member of a spacecraft....
who currently serves as Head of the European Astronaut Centre of the
European Space Agency
European Space Agency
The European Space Agency , established in 1975, is an intergovernmental organisation dedicated to the exploration of space, currently with 18 member states...
. A veteran of two space flights, Tognini has logged a total of 19 days in space. Tognini has 4000 flight hours on 80 types of aircraft (mainly fighter aircraft including the MiG-25, Tupolev 154, Lightning MK-3 and MK-5,
Gloster Meteor
Gloster Meteor
The Gloster Meteor was the first British jet fighter and the Allies' first operational jet. It first flew in 1943 and commenced operations on 27 July 1944 with 616 Squadron of the Royal Air Force...
, and F-104). He is fluent in
English
English language
English is a West Germanic language that arose in the Anglo-Saxon kingdoms of England and spread into what was to become south-east Scotland under the influence of the Anglian medieval kingdom of Northumbria...
and
Russian
Russian language
Russian is a Slavic language used primarily in Russia, Belarus, Uzbekistan, Kazakhstan, Tajikistan and Kyrgyzstan. It is an unofficial but widely spoken language in Ukraine, Moldova, Latvia, Turkmenistan and Estonia and, to a lesser extent, the other countries that were once constituent republics...
.
Biography
Following graduation in 1973 from the
Ecole de l'Air
Salon-de-Provence Air Base
Salon-de-Provence Air Base is a base of the French Air Force located south Salon-de-Provence in southern France.It hosts the training facilities for the officers of the air force:* École de l'Air: for young students** pilot commissioned officers...
(the French Air Force Academy), Tognini was posted to advanced fighter pilot training at a squadron based at
Normandie-Niemen
Normandie-Niemen
The Normandie-Niemen Regiment was a fighter squadron, later regiment of the French Air Force. It served on the Eastern Front of the European Theatre of World War II with the 1st Air Army...
where he served for one year before obtaining his advanced fighter pilot training. From 1974–1981, he served in the French Air Force as an operational fighter pilot (Cambrai Air Base), at the 12th Escadre de Chasse, flying SMB2 and Mirage F1 aircraft. During this tour of duty he served as flight leader in 1976, and flight commander in 1979.
In 1982, he was admitted to the
Empire Test Pilots' School
Empire Test Pilots' School
The Empire Test Pilots' School is a British training school for test pilots and flight test engineers of fixed-wing and rotary-wing aircraft at MoD Boscombe Down in Wiltshire, England. It was established in 1943, the first of its type...
in Boscombe Down,
United Kingdom
United Kingdom
The United Kingdom of Great Britain and Northern IrelandIn the United Kingdom and Dependencies, other languages have been officially recognised as legitimate autochthonous languages under the European Charter for Regional or Minority Languages...
, and later that year was awarded his test pilot diploma. He was awarded his military studies diploma in 1983. Tognini was then posted to the Cazaux Flight Test Center, France, initially as a test pilot and subsequently as chief test pilot. During his time there, he helped test a great deal of French flight hardware. He did the weapon systems testing for the
Mirage 2000-C
Dassault-Breguet Mirage 2000
The Dassault Mirage 2000 is a French multirole, single-engine fourth-generation jet fighter manufactured by Dassault Aviation. It was designed as a lightweight fighter based on the Mirage III in the late 1970s for the French Air Force . The Mirage 2000 evolved into a multirole aircraft with several...
,
Mirage 2000-N
Dassault-Breguet Mirage 2000N and 2000D
The Dassault Mirage 2000N is a variant of the Mirage 2000 designed for nuclear strike. It forms the core of the French air-based tactical nuclear deterrent. The Mirage 2000D is its conventional attack counterpart.-Development:...
, Jaguar ATLIS, and FLIR aircraft, and was also responsible for flight safety for pilots, experimenters and flight engineers.
In 1985, France opened a recruitment program to expand its astronaut corps, and Tognini was one of seven candidates selected by
CNES
CNES
The is the French government space agency . Established under President Charles de Gaulle in 1961, its headquarters are located in central Paris and it is under the supervision of the French Ministries of Defence and Research...
. In July 1986, he was one of four candidates to undergo medical examinations in
Moscow
Moscow
Moscow is the capital, the most populous city, and the most populous federal subject of Russia. The city is a major political, economic, cultural, scientific, religious, financial, educational, and transportation centre of Russia and the continent...
. In August 1986, he was assigned as a back-up crew member for the
Soyuz TM-7
Soyuz TM-7
-Mission parameters:*Mass: 7,000 kg 15,400 lb*Perigee: 194 km *Apogee: 235 km *Inclination: 51.6°*Period: 88.8 minutes-Mission highlights:...
mission. Although Tognini remained a French Air Force officer, he was placed on detachment to
CNES
CNES
The is the French government space agency . Established under President Charles de Gaulle in 1961, its headquarters are located in central Paris and it is under the supervision of the French Ministries of Defence and Research...
for his space flight activities from September 1986 onwards. In November 1986 he reported to the Yuri Gagarin Cosmonaut Training Center,
Star City
Star City, Russia
Star City is a common name of an area in Moscow Oblast, Russia, which has since the 1960s been home to the Yuri Gagarin Cosmonaut Training Center...
,
Russia
Russia
Russia or , officially known as both Russia and the Russian Federation , is a country in northern Eurasia. It is a federal semi-presidential republic, comprising 83 federal subjects...
, for alternate cosmonaut training, including
EVA
Extra-vehicular activity
Extra-vehicular activity is work done by an astronaut away from the Earth, and outside of a spacecraft. The term most commonly applies to an EVA made outside a craft orbiting Earth , but also applies to an EVA made on the surface of the Moon...
, for the Soviet-French ARAGATZ mission.
During 1989–1990 he supported the
Hermes program
Hermes (shuttle)
Hermes was a proposed spaceplane designed by the French Centre National d'Études Spatiales in 1975, and later by the European Space Agency. It was superficially similar to the US X-20. France proposed in January 1985 to go through with Hermes development under the auspices of the ESA. Hermes was...
in Toulouse, France. In 1991 he returned to Star City, Russia, to start prime crew training for the third Soviet-French ANTARES mission. During his stay in Russia, Tognini also gained piloting experience of BURAN simulators (MiG-25, Tupolev 154).
Tognini made his first spaceflight on July 27, 1992, aboard
Soyuz TM-15
Soyuz TM-15
-Crew:-Mission highlights:15th expedition to Mir. Included astronaut Michel Tognini from France.Michel Tognini, passenger aboard Soyuz- TM 15, was the third Frenchman to visit a space station. He conducted ten experiments using 300 kg of equipment delivered by Progress-M flights. Tognini spent...
(returning on
Soyuz TM-14
Soyuz TM-14
-Mission highlights:14th expedition to Mir. Included astronaut from Germany.The First Russian Soyuz mission after the collapse of the Soviet Union....
, August 10). Together with
Anatoly Solovyev
Anatoly Solovyev
Anatoly Yakovlevich Solovyev is a former Soviet pilot, cosmonaut, and Colonel. Solovyev holds the world record on the number of spacewalks performed , and accumulated time spent spacewalking .- Family :...
and
Sergei Avdeyev
Sergei Avdeyev
Sergei Avdeyev is a Russian engineer and cosmonaut.Avdeyev was born in Chapayevsk, Samara Oblast , Russian SFSR. He graduated from in 1979 as an engineer-physicist. From 1979 to 1987 he worked as an engineer for NPO Energiya...
he linked up with
Mir
Mir
Mir was a space station operated in low Earth orbit from 1986 to 2001, at first by the Soviet Union and then by Russia. Assembled in orbit from 1986 to 1996, Mir was the first modular space station and had a greater mass than that of any previous spacecraft, holding the record for the...
(ANTARES mission) and joined the crew of
Alexander Viktorenko
Alexander Viktorenko
Aleksandr Stepanovich Viktorenko is a Soviet cosmonaut. He was born in Olginka, North-Kazakhstan Oblast, Kazakh SSR on March 29, 1947. He is married with two children....
and Alexander Kaleri already on board. They spent 14 days carrying out a program of joint Soviet-French experiments before returning to Earth. He returned to France following the mission. During 1993–94, he attended a training cycle of the French Institute for High Studies of National Defense (IHEDN).
Tognini attended ASCAN Training at the Johnson Space Center during 1995. He was initially assigned to the Operations Planning Branch of the Astronaut Office working technical issues on the
International Space Station
International Space Station
The International Space Station is a habitable, artificial satellite in low Earth orbit. The ISS follows the Salyut, Almaz, Cosmos, Skylab, and Mir space stations, as the 11th space station launched, not including the Genesis I and II prototypes...
, and was subsequently assigned to the Robotics Branch. Tognini was then assigned as ISS CAPCOM in
Mission Control
Mission Control Center
A mission control center is an entity that manages aerospace vehicle flights, usually from the point of lift-off until the landing or the end of the mission. A staff of flight controllers and other support personnel monitor all aspects of the mission using telemetry, and send commands to the...
.
Tognini flew aboard
Space Shuttle Columbia
Space Shuttle Columbia
Space Shuttle Columbia was the first spaceworthy Space Shuttle in NASA's orbital fleet. First launched on the STS-1 mission, the first of the Space Shuttle program, it completed 27 missions before being destroyed during re-entry on February 1, 2003 near the end of its 28th, STS-107. All seven crew...
on
STS-93
STS-93
STS-93 marked the 95th launch of the Space Shuttle, the 26th launch of Columbia, and the 21st night launch of a Space Shuttle. Eileen Collins became the first female shuttle Commander on this flight. Its primary payload was the Chandra X-ray Observatory. It would also be the last mission of...
(July 22–27, 1999). During the five-day mission his primary task was to assist in the deployment of the
Chandra X-Ray Observatory
Chandra X-ray Observatory
The Chandra X-ray Observatory is a satellite launched on STS-93 by NASA on July 23, 1999. It was named in honor of Indian-American physicist Subrahmanyan Chandrasekhar who is known for determining the maximum mass for white dwarfs. "Chandra" also means "moon" or "luminous" in Sanskrit.Chandra...
, and to conduct a spacewalk if needed.
He retired from active astronaut status in May 2003.
Awards and honors
French Aeronautics Medal
Chevalier de Ordre National du Mérite
Commander dans l'Ordre de la Légion d'Honneur
Soviet Order of Friendship between the People
Russian Order of Friendship between the People
External links