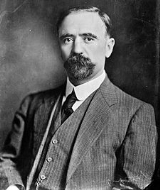 Francisco I. Madero
Francisco Ignacio Madero González
(October 30, 1873 – February 22, 1913) was a politician, writer and
revolutionary
Revolutionary
A revolutionary is a person who either actively participates in, or advocates revolution. Also, when used as an adjective, the term revolutionary refers to something that has a major, sudden impact on society or on some aspect of human endeavor.-Definition:...
who served as
President of Mexico
President of Mexico
The President of the United Mexican States is the head of state and government of Mexico. Under the Constitution, the president is also the Supreme Commander of the Mexican armed forces...
from 1911 to 1913. As a respectable upper-class politician, he supplied a center around which opposition to the dictatorship of
Porfirio Díaz
Porfirio Díaz
José de la Cruz Porfirio Díaz Mori was a Mexican-American War volunteer and French intervention hero, an accomplished general and the President of Mexico continuously from 1876 to 1911, with the exception of a brief term in 1876 when he left Juan N...
could coalesce. However, once Díaz was deposed, Madero proved to be ineffective and the
Mexican Revolution
Mexican Revolution
The Mexican Revolution was a major armed struggle that started in 1910, with an uprising led by Francisco I. Madero against longtime autocrat Porfirio Díaz. The Revolution was characterized by several socialist, liberal, anarchist, populist, and agrarianist movements. Over time the Revolution...
quickly spun out of his control. He was deposed and executed by the Porfirista military and his aides, which he had neglected to replace with revolutionary supporters.