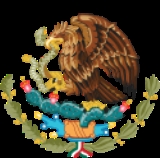 Mexican Air Force
The
Mexican Air Force
is the aviation branch of the
Mexican Army
Mexican Army
The Mexican Army is the combined land and air branch and largest of the Mexican Military services; it also is known as the National Defense Army. It is famous for having been the first army to adopt and use an automatic rifle, , in 1899, and the first to issue automatic weapons as standard issue...
and depends on the National Defense Secretariat (SEDENA). Since 2008, its commander is Gen. Leonardo Gonzáles García.
The official predecessor of the Air Force was the
Army's Auxiliary Aerial Militia Squadron
(
Escuadrilla Aérea de la Milicia Auxiliar del Ejército
), created during the
Mexican Revolution
Mexican Revolution
The Mexican Revolution was a major armed struggle that started in 1910, with an uprising led by Francisco I. Madero against longtime autocrat Porfirio Díaz. The Revolution was characterized by several socialist, liberal, anarchist, populist, and agrarianist movements. Over time the Revolution...
in April 1913 by the Secretary of War and Navy General Manuel Mondragón, who authorized pilots Miguel Lebrija and Juan Guillermo Villasana to bomb targets on Campo de Balbuena, in
Mexico City
Mexico City
Mexico City is the Federal District , capital of Mexico and seat of the federal powers of the Mexican Union. It is a federal entity within Mexico which is not part of any one of the 31 Mexican states but belongs to the federation as a whole...
.
On February 5, 1915, the leader of the
Constitutionalist Army
Constitutional Army
The Constitutional Army was the army that fought against Huerta's Federal Army, and later, against the Villistas and Zapatistas during the Mexican Revolution. It was formed in March 1913 by Venustiano Carranza, so-called "First-Chief" of the army, as a response to the murder of President Francisco I...
,
Venustiano Carranza
Venustiano Carranza
Venustiano Carranza de la Garza, was one of the leaders of the Mexican Revolution. He ultimately became President of Mexico following the overthrow of the dictatorial Huerta regime in the summer of 1914 and during his administration the current constitution of Mexico was drafted...
, founded the
Arma de Aviación Militar
(
Military Aviation Arm
), which would become the current air force.