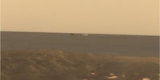 Meridiani Planum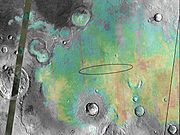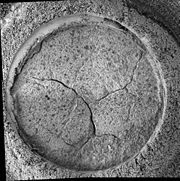 Meridiani Planum
is a plain located 2 degrees south of
Mars
Mars
Mars is the fourth planet from the Sun in the Solar System. The planet is named after the Roman god of war, Mars. It is often described as the "Red Planet", as the iron oxide prevalent on its surface gives it a reddish appearance...
' equator (centered at 0.2°N 357.5°W), in the westernmost portion of Terra Meridiani. It hosts a rare occurrence of gray crystalline
hematite
Hematite
Hematite, also spelled as haematite, is the mineral form of iron oxide , one of several iron oxides. Hematite crystallizes in the rhombohedral system, and it has the same crystal structure as ilmenite and corundum...
. On
Earth
Earth
Earth is the third planet from the Sun, and the densest and fifth-largest of the eight planets in the Solar System. It is also the largest of the Solar System's four terrestrial planets...
, hematite is often formed in
hot spring
Hot spring
A hot spring is a spring that is produced by the emergence of geothermally heated groundwater from the Earth's crust. There are geothermal hot springs in many locations all over the crust of the earth.-Definitions:...
s or in standing pools of
water
Water
Water is a chemical substance with the chemical formula H2O. A water molecule contains one oxygen and two hydrogen atoms connected by covalent bonds. Water is a liquid at ambient conditions, but it often co-exists on Earth with its solid state, ice, and gaseous state . Water also exists in a...
; therefore, many scientists believe that the hematite at Meridiani Planum may be indicative of ancient hot springs or that the environment contained liquid water. The hematite is part of a layered
sedimentary rock
Sedimentary rock
Sedimentary rock are types of rock that are formed by the deposition of material at the Earth's surface and within bodies of water. Sedimentation is the collective name for processes that cause mineral and/or organic particles to settle and accumulate or minerals to precipitate from a solution....
formation about 200 to 800 meters thick. Other features of Meridiani Planum include
volcanic
Volcano
2. Bedrock3. Conduit 4. Base5. Sill6. Dike7. Layers of ash emitted by the volcano8. Flank| 9. Layers of lava emitted by the volcano10. Throat11. Parasitic cone12. Lava flow13. Vent14. Crater15...
basalt
Basalt
Basalt is a common extrusive volcanic rock. It is usually grey to black and fine-grained due to rapid cooling of lava at the surface of a planet. It may be porphyritic containing larger crystals in a fine matrix, or vesicular, or frothy scoria. Unweathered basalt is black or grey...
and
impact crater
Impact crater
In the broadest sense, the term impact crater can be applied to any depression, natural or manmade, resulting from the high velocity impact of a projectile with a larger body...
s.
Mars rover Opportunity
In 2004, Meridiani Planum was the landing site for the second of
NASA
NASA
The National Aeronautics and Space Administration is the agency of the United States government that is responsible for the nation's civilian space program and for aeronautics and aerospace research...
's two Mars Exploration Rovers, named
Opportunity
Opportunity rover
Opportunity, MER-B , is a robotic rover on the planet Mars, active since 2004. It is the remaining rover in NASA's ongoing Mars Exploration Rover Mission...
. It had also been the target landing site for
Mars Surveyor 2001 Lander
Mars Surveyor 2001 Lander
The NASA Mars Surveyor 2001 Lander was a planned Mars probe which was canceled in May 2000 in the wake of the failures of the Mars Climate Orbiter and Mars Polar Lander missions in late 1999...
, which was cancelled after the failures of the
Mars Climate Orbiter
Mars Climate Orbiter
The Mars Climate Orbiter was a 338 kilogram robotic space probe launched by NASA on December 11, 1998 to study the Martian climate, atmosphere, surface changes and to act as the communications relay in the Mars Surveyor '98 program, for Mars Polar Lander...
and
Mars Polar Lander
Mars Polar Lander
The Mars Polar Lander, also referred to as the Mars Surveyor '98 Lander, was a 290-kilogram robotic spacecraft lander, launched by NASA on January 3, 1999, to study the soil and climate of Planum Australe, a region near the south pole on Mars, as part of the Mars Surveyor '98 mission...
missions.
Results from
Opportunity
indicate that its landing site was once saturated for a long period of time with liquid water, possibly of high salinity and acidity. Features that suggest this include cross-bedded sediments, the presence of many small spherical pebbles that appear to be
concretion
Concretion
A concretion is a volume of sedimentary rock in which a mineral cement fills the porosity . Concretions are often ovoid or spherical in shape, although irregular shapes also occur. The word 'concretion' is derived from the Latin con meaning 'together' and crescere meaning 'to grow'...
s,
vug
Vug
Vugs are small to medium-sized cavities inside rock that may be formed through a variety of processes. Most commonly cracks and fissures opened by tectonic activity are partially filled by quartz, calcite, and other secondary minerals. Open spaces within ancient collapse breccias are another...
s inside rocks, and the presence of large amounts of
magnesium sulfate
Magnesium sulfate
Magnesium sulfate is a chemical compound containing magnesium, sulfur and oxygen, with the formula MgSO4. It is often encountered as the heptahydrate epsomite , commonly called Epsom salt, from the town of Epsom in Surrey, England, where the salt was distilled from the springs that arise where the...
and other sulfate-rich minerals such as
jarosite
Jarosite
Jarosite is a basic hydrous sulfate of potassium and iron with a chemical formula of KFe3+362. This sulfate mineral is formed in ore deposits by the oxidation of iron sulfides...
.
Craters within Meridiani Planum
External links