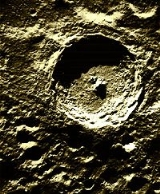 Impact crater
In the broadest sense, the term
impact crater
can be applied to any depression, natural or manmade, resulting from the high velocity impact of a projectile with a larger body. In most common usage, the term is used for the approximately circular
depression
Depression (geology)
A depression in geology is a landform sunken or depressed below the surrounding area. Depressions may be formed by various mechanisms.Structural or tectonic related:...
in the surface of a
planet
Planet
A planet is a celestial body orbiting a star or stellar remnant that is massive enough to be rounded by its own gravity, is not massive enough to cause thermonuclear fusion, and has cleared its neighbouring region of planetesimals.The term planet is ancient, with ties to history, science,...
,
moon
Natural satellite
A natural satellite or moon is a celestial body that orbits a planet or smaller body, which is called its primary. The two terms are used synonymously for non-artificial satellites of planets, of dwarf planets, and of minor planets....
or other solid body in the
Solar System
Solar System
The Solar System consists of the Sun and the astronomical objects gravitationally bound in orbit around it, all of which formed from the collapse of a giant molecular cloud approximately 4.6 billion years ago. The vast majority of the system's mass is in the Sun...
, formed by the
hypervelocity
Hypervelocity
The term hypervelocity usually refers to a very high velocity, approximately over 3,000 meters per second . In particular, it refers to velocities so high that the strength of materials upon impact is very small compared to inertial stresses. Thus, even metals behave like fluids under hypervelocity...
impact
Collision
A collision is an isolated event which two or more moving bodies exert forces on each other for a relatively short time.Although the most common colloquial use of the word "collision" refers to accidents in which two or more objects collide, the scientific use of the word "collision" implies...
of a smaller body with the surface. In contrast to
volcanic crater
Volcanic crater
A volcanic crater is a circular depression in the ground caused by volcanic activity. It is typically a basin, circular in form within which occurs a vent from which magma erupts as gases, lava, and ejecta. A crater can be of large dimensions, and sometimes of great depth...
s, which result from explosion or internal collapse, impact craters typically have raised rims and floors that are lower in elevation than the surrounding terrain.