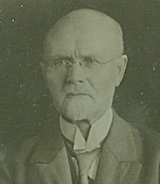 Max Wagenknecht
Max Otto Arnold Wagenknecht
(14 August 1857 – 7 May 1922) was a German
composer
Composer
A composer is a person who creates music, either by musical notation or oral tradition, for interpretation and performance, or through direct manipulation of sonic material through electronic media...
of
organ
Organ (music)
The organ , is a keyboard instrument of one or more divisions, each played with its own keyboard operated either with the hands or with the feet. The organ is a relatively old musical instrument in the Western musical tradition, dating from the time of Ctesibius of Alexandria who is credited with...
and
piano
Piano
The piano is a musical instrument played by means of a keyboard. It is one of the most popular instruments in the world. Widely used in classical and jazz music for solo performances, ensemble use, chamber music and accompaniment, the piano is also very popular as an aid to composing and rehearsal...
music. He was born in
Woldisch Tychow
Tychówko, Świdwin County
Tychówko is a settlement in the administrative district of Gmina Połczyn-Zdrój, within Świdwin County, West Pomeranian Voivodeship, in north-western Poland. It lies approximately north of Połczyn-Zdrój, north-east of Świdwin, and north-east of the regional capital Szczecin.Before 1945 the area...
, Pomerania, Free State of Prussia and spent most of his life in the
Mecklenburg-Western Pomerania
Mecklenburg-Western Pomerania
Mecklenburg-Vorpommern is a federal state in northern Germany. The capital city is Schwerin...
region where he was music teacher at the Franzburg Teachers' College and in his later life
organist
Organist
An organist is a musician who plays any type of organ. An organist may play solo organ works, play with an ensemble or orchestra, or accompany one or more singers or instrumental soloists...
and composer in
Anklam
Anklam
Anklam is a town in the Western Pomerania region of Mecklenburg-Vorpommern, Germany. It is situated on the banks of the Peene river, just 8 km from its mouth in the Kleines Haff, the western part of the Stettin Lagoon. Anklam has a population of 14,603 and was the capital of the former...
. He is most well known for Opus 5, "58 Vor- und Nachspiele", completed in July 1889 in
Franzburg
Franzburg
Franzburg is a municipality in the Vorpommern-Rügen district of Mecklenburg-Vorpommern, Germany. It is situated 20 km southwest of Stralsund...
. The work demonstrates a remarkable gift for melodic organ compositions bridging traditional church music and the late 19th century
romantic music
Romantic music
Romantic music or music in the Romantic Period is a musicological and artistic term referring to a particular period, theory, compositional practice, and canon in Western music history, from 1810 to 1900....
era.
Works
Wagenknecht published an unknown number of musical works. The following have been preserved:
Opus 1: Three Polkas for piano. This work was most likely composed while he was studying at the conservatory in Berlin
Opus 2: "Rheinländer" for violin or flute to the accompaniment of the piano, published by J.P. Lindner Sohn in Stralsund
Opus 3: Three songs with text by Schanz, Kletke and Reinick to the accompaniment of the piano, published by J.P. Lindner Sohn in Stralsund
Opus 5: "58 Vor- und Nachspiele", 58 short pieces of organ music and a Fughette and Fuge, published by J.P. Lindner Sohn in Stralsund (first edition published in July 1889)
Opus 10, 13 and 14: Songs to the accompaniment of the piano. It is unknown whether these works have been published since only the handwritten originals remain.
External links