 Material safety data sheet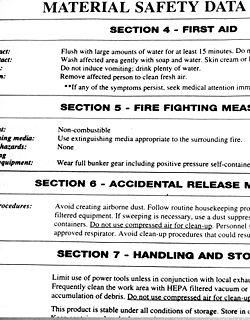 A
Material Safety Data Sheet
(MSDS) (also known as PSDS (Product safety data sheet) or a
COSHH
COSHH
The Control of Substances Hazardous to Health Regulations 2002 is a United Kingdom Statutory Instrument that states general requirements on employers to protect employees and other persons from the hazards of substances used at work by risk assessment, control of exposure, health surveillance and...
data sheet in the United Kingdom) is a form with data regarding the properties of a particular substance.
An important component of
product stewardship
Product stewardship
Product stewardship is a concept whereby environmental protection centers around the product itself, and everyone involved in the lifespan of the product is called upon to take up responsibility to reduce its environmental impact. For manufacturers, this includes planning for, and if necessary,...
and
workplace safety
Workplace safety
Workplace safety & health is a category of management responsibility in places of employment.To ensure the safety and health of workers, managers establish a focus on safety that can include elements such as:* management leadership and commitment...
, it is intended to provide workers and emergency personnel with procedures for handling or working with that substance in a safe manner, and includes information such as physical data (
melting point
Melting point
The melting point of a solid is the temperature at which it changes state from solid to liquid. At the melting point the solid and liquid phase exist in equilibrium. The melting point of a substance depends on pressure and is usually specified at standard atmospheric pressure...
,
boiling point
Boiling point
The boiling point of an element or a substance is the temperature at which the vapor pressure of the liquid equals the environmental pressure surrounding the liquid....
,
flash point
Flash point
The flash point of a volatile material is the lowest temperature at which it can vaporize to form an ignitable mixture in air. Measuring a flash point requires an ignition source...
, etc.),
toxicity
Toxicity
Toxicity is the degree to which a substance can damage a living or non-living organisms. Toxicity can refer to the effect on a whole organism, such as an animal, bacterium, or plant, as well as the effect on a substructure of the organism, such as a cell or an organ , such as the liver...
, health effects,
first aid
First aid
First aid is the provision of initial care for an illness or injury. It is usually performed by non-expert, but trained personnel to a sick or injured person until definitive medical treatment can be accessed. Certain self-limiting illnesses or minor injuries may not require further medical care...
, reactivity, storage, disposal, protective equipment, and spill-handling procedures. MSDS formats can vary from source to source within a country depending on national requirements.
MSDSs are a widely used system for cataloging information on chemicals,
chemical compound
Chemical compound
A chemical compound is a pure chemical substance consisting of two or more different chemical elements that can be separated into simpler substances by chemical reactions. Chemical compounds have a unique and defined chemical structure; they consist of a fixed ratio of atoms that are held together...
s, and chemical
mixture
Mixture
In chemistry, a mixture is a material system made up by two or more different substances which are mixed together but are not combined chemically...
s. MSDS information may include instructions for the safe use and potential hazards associated with a particular material or product. These data sheets can be found anywhere where chemicals are being used.
There is also a duty to properly label substances on the basis of physico-chemical, health and/or environmental risk. Labels can include hazard symbols such as the European Union standard black diagonal cross on an orange background, used to denote a harmful substance.
An MSDS for a substance is not primarily intended for use by the general consumer, focusing instead on the hazards of working with the material in an occupational setting.
In some jurisdictions the MSDS is required to state the chemical's risks, safety, and effect on the environment.
It is important to use an MSDS specific to both country and supplier, as the same product (e.g. paints sold under identical brand names by the same company) can have different formulations in different countries. The formulation and hazard of a product using a generic name (e.g.
sugar soap
Sugar soap
Sugar soap as typically found in Commonwealth countries is a cleaning material of variable composition sold for use on surfaces affected by greasy or tarry deposits which are not easily removed with routine domestic cleaning materials...
) may vary between manufacturers in the same country.
Canada
In
Canada
Canada
Canada is a North American country consisting of ten provinces and three territories. Located in the northern part of the continent, it extends from the Atlantic Ocean in the east to the Pacific Ocean in the west, and northward into the Arctic Ocean...
, the program known as the Workplace Hazardous Materials Information System (WHMIS) establishes the requirements for MSDS's in workplaces and is administered federally by
Health Canada
Health Canada
Health Canada is the department of the government of Canada with responsibility for national public health.The current Minister of Health is Leona Aglukkaq, a Conservative Member of Parliament appointed to the position by Prime Minister Stephen Harper.-Branches, regions and agencies:Health Canada...
under the Hazardous Products Act, Part II, and the Controlled Products Regulations. WHMIS and MSDS requirements are also enforced by provincial Ministries or Departments of Labour.
European Union
Safety data sheets have been made an integral part of the system of Regulation (EC) No 1907/2006 (REACH) . The original requirements of REACH for SDSs have been further adapted to take into account the rules for safety data sheets of the Global Harmonised System (GHS) and the implementation of other elements of the GHS into EU legislation that were introduced by Regulation (EC) No 1272/2008 (CLP) via an update to Annex II of REACH .
The SDS follows a 16 section format which is internationally agreed and for substances especially, the SDS should be followed with an Annex which containes the exposure scenarios of this particular substance.
The SDS must be supplied in an official language of the Member State(s) where the substance or mixture is placed on the market, unless the Member State(s) concerned provide(s) otherwise (Article 31(5) of REACH).
The
European Chemicals Agency
European Chemicals Agency
The European Chemicals Agency is an agency of the European Union which manages the technical, scientific and administrative aspects of the Registration, Evaluation, Authorisation and Restriction of Chemicals system...
(ECHA) has published a Guidance document on the compilation of safety data sheets.
Germany
The German Federal Water Management Act requires that substances be evaluated for negative influence on the physical, chemical or
biological
Biology
Biology is a natural science concerned with the study of life and living organisms, including their structure, function, growth, origin, evolution, distribution, and taxonomy. Biology is a vast subject containing many subdivisions, topics, and disciplines...
characteristics of water. These are classified into numeric water hazard classes (WGK or WHC depending whether you use the German or English abbreviation).
WGK nwg: Non-water polluting substance
WGK 1: Slightly water polluting substance
WGK 2: Water polluting substance
WGK 3: Highly water polluting substance
The Netherlands
Dutch Safety Data Sheets are well known as veiligheidsinformatieblad :nl:Veiligheidsinformatieblad or Chemiekaarten. This is a collection of Safety Data Sheets of the most widely used chemicals. The Chemiekaarten boek is commercially available, but also made available through educational institutes, such as the web site offered by the university of Groningen
United Kingdom
In the
U.K.
United Kingdom
The United Kingdom of Great Britain and Northern IrelandIn the United Kingdom and Dependencies, other languages have been officially recognised as legitimate autochthonous languages under the European Charter for Regional or Minority Languages...
, the Chemicals (Hazard Information and Packaging for Supply) Regulations 2002 - known as CHIP Regulations - impose duties upon suppliers, and importers into the EU, of hazardous materials.
The Control of Substances Hazardous to Health (COSHH) Regulations govern the use of hazardous substances in the workplace in the UK and specifically require an assessment of the use of a substance. Regulation 12 requires that an employer provides employees with information, instruction and training for people exposed to hazardous substances. This duty would be very nearly impossible without the data sheet as a starting point. It is important for employers therefore to insist on receiving a data sheet from a supplier of a substance.
The duty to supply information is not confined to informing only business users of products. MSDSs for retail products sold by large DIY shops are usually obtainable on those companies' web sites.
Web sites of manufacturers and large suppliers do not always include them even if the information is obtainable from retailers but written or telephone requests for paper copies will usually be responded to favourably.
United Nations
The
United Nations
United Nations
The United Nations is an international organization whose stated aims are facilitating cooperation in international law, international security, economic development, social progress, human rights, and achievement of world peace...
(UN) defines certain details used in MSDSs such as the UN numbers used to identify some hazardous materials in a standard form while in international transit.
United States
In the
U.S.
United States
The United States of America is a federal constitutional republic comprising fifty states and a federal district...
, the
Occupational Safety and Health Administration
Occupational Safety and Health Administration
The United States Occupational Safety and Health Administration is an agency of the United States Department of Labor. It was created by Congress of the United States under the Occupational Safety and Health Act, signed by President Richard M. Nixon, on December 29, 1970...
requires that MSDS be available to employees for potentially harmful substances handled in the workplace under the Hazard Communication regulation. The MSDS is also required to be made available to local fire departments and local and state emergency planning officials under Section 311 of the
Emergency Planning and Community Right-to-Know Act
Emergency Planning and Community Right-to-Know Act
The Emergency Planning and Community Right-to-Know Act of 1986 is a United States federal law passed by the 99th United States Congress located at Title 42, Chapter 116 of the U.S. Code, concerned with emergency response preparedness....
. The
American Chemical Society
American Chemical Society
The American Chemical Society is a scientific society based in the United States that supports scientific inquiry in the field of chemistry. Founded in 1876 at New York University, the ACS currently has more than 161,000 members at all degree-levels and in all fields of chemistry, chemical...
defines Chemical Abstracts Service Registry Numbers (CAS numbers) which provide a unique number for each chemical and are also used internationally in MSDSs.
MSDS authoring
Many companies offer the service of collecting, or writing and revising, data sheets to ensure they are up to date and available for their subscribers or users. Some jurisdictions impose an explicit
duty of care
Duty of care
In tort law, a duty of care is a legal obligation imposed on an individual requiring that they adhere to a standard of reasonable care while performing any acts that could foreseeably harm others. It is the first element that must be established to proceed with an action in negligence. The claimant...
that each MSDS be regularly updated (usually every three to five years).
See also
Canadian Centre for Occupational Health and Safety

Canadian Centre for Occupational Health and Safety

The Canadian Centre for Occupational Health and Safety is a Crown corporation owned by the Government of Canada.CCOHS functions as the primary national agency in Canada for the advancement of safe and healthy workplaces and preventing work-related injuries, illnesses and deaths...



European Agency for Safety and Health at Work

European Agency for Safety and Health at Work

The European Agency for Safety and Health at Work was set up in 1996 in Bilbao, Spain. Its mission is "to make Europe's workplaces safer, healthier and more productive...



Fact sheet

Fact sheet

A fact sheet, factsheet or one-sheet is a presentation of data in a format which emphasizes key points concisely. The layout is simple and often standardized, e.g...



Globally Harmonized System of Classification and Labelling of Chemicals
International Chemical Safety Card

International Chemical Safety Card

International Chemical Safety Cards are short summaries of health and safety information about chemical compounds designed to be used by workers handling these chemicals...



Materials database

Materials database

A materials database is a database used to store experimental, standards or design data for materials in such a way that they can be retrieved efficiently by humans or computer programs.- Background :...



Msdsonline

Msdsonline

MSDSonline is a provider of on-demand safety management products and services designed for businesses to access, manage and deploy a compliant material safety data sheet library and manage their various safety compliance programs from an Internet connected computer.-Overview:Founded in 1996,...



Occupational safety and health

Occupational safety and health

Occupational safety and health is a cross-disciplinary area concerned with protecting the safety, health and welfare of people engaged in work or employment. The goal of all occupational safety and health programs is to foster a safe work environment...



Risk and Safety Statements

Risk and Safety Statements

Risk and Safety Statements, also known as R/S statements, R/S numbers, R/S phrases, and R/S sentences, is a system of hazard codes and phrases for labeling dangerous chemicals and compounds. The R/S statement of a compound consists of a risk part and a safety part , each followed by a combination...



UK Health and Safety Executive

Health and Safety Executive

The Health and Safety Executive is a non-departmental public body in the United Kingdom. It is the body responsible for the encouragement, regulation and enforcement of workplace health, safety and welfare, and for research into occupational risks in England and Wales and Scotland...



US Occupational Safety and Health Administration

Occupational Safety and Health Administration

The United States Occupational Safety and Health Administration is an agency of the United States Department of Labor. It was created by Congress of the United States under the Occupational Safety and Health Act, signed by President Richard M. Nixon, on December 29, 1970...



External links