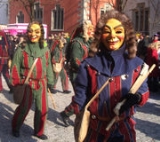 Mask
A
mask
is an article normally worn on the
face
Face
The face is a central sense organ complex, for those animals that have one, normally on the ventral surface of the head, and can, depending on the definition in the human case, include the hair, forehead, eyebrow, eyelashes, eyes, nose, ears, cheeks, mouth, lips, philtrum, temple, teeth, skin, and...
, typically for protection,
disguise
Disguise
A disguise can be anything which conceals or changes a person's physical appearance, including a wig, glasses, makeup, costume or other ways. Camouflage is one type of disguise for people, animals and objects...
,
performance
Performance
A performance, in performing arts, generally comprises an event in which a performer or group of performers behave in a particular way for another group of people, the audience. Choral music and ballet are examples. Usually the performers participate in rehearsals beforehand. Afterwards audience...
or
entertainment
Entertainment
Entertainment consists of any activity which provides a diversion or permits people to amuse themselves in their leisure time. Entertainment is generally passive, such as watching opera or a movie. Active forms of amusement, such as sports, are more often considered to be recreation...
. Masks have been used since antiquity for both
ceremonial
Ceremony
A ceremony is an event of ritual significance, performed on a special occasion. The word may be of Etruscan origin.-Ceremonial occasions:A ceremony may mark a rite of passage in a human life, marking the significance of, for example:* birth...
and
practical
Pragmatism
Pragmatism is a philosophical tradition centered on the linking of practice and theory. It describes a process where theory is extracted from practice, and applied back to practice to form what is called intelligent practice...
purposes. They are usually worn on the face, although they may also be positioned for effect elsewhere on the wearer's body, so in parts of
Australia
Australia
Australia , officially the Commonwealth of Australia, is a country in the Southern Hemisphere comprising the mainland of the Australian continent, the island of Tasmania, and numerous smaller islands in the Indian and Pacific Oceans. It is the world's sixth-largest country by total area...
giant
totem
Totem
A totem is a stipulated ancestor of a group of people, such as a family, clan, group, lineage, or tribe.Totems support larger groups than the individual person. In kinship and descent, if the apical ancestor of a clan is nonhuman, it is called a totem...
masks cover the body, whilst Inuit women use finger masks during storytelling and dancing.
The word "mask" appeared in English in the 1530s, from
Middle French
Middle French
Middle French is a historical division of the French language that covers the period from 1340 to 1611. It is a period of transition during which:...
masque
"covering to hide or guard the face", derived in turn from
Italian
Italian language
Italian is a Romance language spoken mainly in Europe: Italy, Switzerland, San Marino, Vatican City, by minorities in Malta, Monaco, Croatia, Slovenia, France, Libya, Eritrea, and Somalia, and by immigrant communities in the Americas and Australia...
maschera
, from
Medieval Latin
Medieval Latin
Medieval Latin was the form of Latin used in the Middle Ages, primarily as a medium of scholarly exchange and as the liturgical language of the medieval Roman Catholic Church, but also as a language of science, literature, law, and administration. Despite the clerical origin of many of its authors,...
masca
"mask, specter, nightmare".