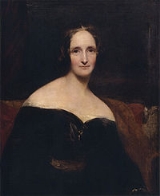 Mary Shelley
Mary Shelley was a British novelist, short story writer, dramatist, essayist, biographer, and
travel writer
Travel literature
Travel literature is travel writing of literary value. Travel literature typically records the experiences of an author touring a place for the pleasure of travel. An individual work is sometimes called a travelogue or itinerary. Travel literature may be cross-cultural or transnational in focus, or...
, best known for her
Gothic novel
Gothic fiction
Gothic fiction, sometimes referred to as Gothic horror, is a genre or mode of literature that combines elements of both horror and romance. Gothicism's origin is attributed to English author Horace Walpole, with his 1764 novel The Castle of Otranto, subtitled "A Gothic Story"...
Frankenstein: or, The Modern Prometheus
Frankenstein
Frankenstein; or, The Modern Prometheus is a novel about a failed experiment that produced a monster, written by Mary Shelley, with inserts of poems by Percy Bysshe Shelley. Shelley started writing the story when she was eighteen, and the novel was published when she was twenty-one. The first...
(1818). She also edited and promoted the works of her husband, the
Romantic poet
Romantic poetry
Romanticism, a philosophical, literary, artistic and cultural era which began in the mid/late-1700s as a reaction against the prevailing Enlightenment ideals of the day , also influenced poetry...
and philosopher
Percy Bysshe Shelley
Percy Bysshe Shelley
Percy Bysshe Shelley was one of the major English Romantic poets and is critically regarded as among the finest lyric poets in the English language. Shelley was famous for his association with John Keats and Lord Byron...
. Her father was the political philosopher
William Godwin
William Godwin
William Godwin was an English journalist, political philosopher and novelist. He is considered one of the first exponents of utilitarianism, and the first modern proponent of anarchism...
, and her mother was the philosopher and feminist
Mary Wollstonecraft
Mary Wollstonecraft
Mary Wollstonecraft was an eighteenth-century British writer, philosopher, and advocate of women's rights. During her brief career, she wrote novels, treatises, a travel narrative, a history of the French Revolution, a conduct book, and a children's book...
.
Mary Godwin's mother died when she was eleven days old; afterwards, she and her older half-sister,
Fanny Imlay
Fanny Imlay
Frances "Fanny" Imlay , also known as Fanny Godwin, was the illegitimate daughter of the British feminist Mary Wollstonecraft and the American commercial speculator Gilbert Imlay.Although Mary Wollstonecraft and Gilbert Imlay lived together happily for brief periods before and after the birth...
, were raised by her father.
The last man! Yes I may well describe that solitary being's feelings, feeling myself as the last relic of a beloved race, my companions extinct before me...

Journal entry on the writing of her science-fiction novel The Last Man|The Last Man (14 May 1824)
At the age of twenty six I am in the condition of an aged person — all my old friends are gone ... & my heart fails when I think by how few ties I hold to the world....

Journal (15 May 1824)
You will rejoice to hear that no disaster has accompanied the commencement of an enterprise which you have regarded with such evil forebodings. I arrived here yesterday, and my first task is to assure my dear sister of my welfare and increasing confidence in the success of my undertaking.

Robert Walton in "Letter 1"
I feel my heart glow with an enthusiasm which elevates me to heaven, for nothing contributes so much to tranquillize the mind as a steady purpose — a point on which the soul may fix its intellectual eye.

Robert Walton in "Letter 1"
I have one want which I have never yet been able to satisfy, and the absence of the object of which I now feel as a most severe evil, I have no friend, Margaret: when I am glowing with the enthusiasm of success, there will be none to participate my joy; if I am assailed by disappointment, no one will endeavour to sustain me in dejection. I shall commit my thoughts to paper, it is true; but that is a poor medium for the communication of feeling.

Robert Walton in "Letter 1"
There is something at work in my soul which I do not understand. I am practically industrious — painstaking, a workman to execute with perseverance and labour — but besides this there is a love for the marvellous, a belief in the marvellous, intertwined in all my projects, which hurries me out of the common pathways of men, even to the wild sea and unvisited regions I am about to explore.

Robert Walton in "Letter 2"
What can stop the determined heart and resolved will of man?

Robert Walton in "Letter 3"
We are unfashioned creatures, but half made up, if one wiser, better, dearer than ourselves — such a friend ought to be — do not lend his aid to perfectionate our weak and faulty natures.

Victor Frankenstein, quoted by Robert Walton in "Letter 4"