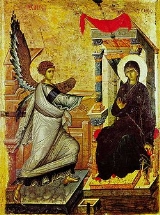 Annunciation
The
Annunciation
, also referred to as the
Annunciation to the Blessed Virgin Mary
or
Annunciation of the Lord
, is the
Christian
Christianity
Christianity is a monotheistic religion based on the life and teachings of Jesus as presented in canonical gospels and other New Testament writings...
celebration of the announcement by the
angel
Angel
Angels are mythical beings often depicted as messengers of God in the Hebrew and Christian Bibles along with the Quran. The English word angel is derived from the Greek ἄγγελος, a translation of in the Hebrew Bible ; a similar term, ملائكة , is used in the Qur'an...
Gabriel
Gabriel
In Abrahamic religions, Gabriel is an Archangel who typically serves as a messenger to humans from God.He first appears in the Book of Daniel, delivering explanations of Daniel's visions. In the Gospel of Luke Gabriel foretells the births of both John the Baptist and of Jesus...
to Virgin Mary, that she would
conceive
Fertilisation
Fertilisation is the fusion of gametes to produce a new organism. In animals, the process involves the fusion of an ovum with a sperm, which eventually leads to the development of an embryo...
and become the mother of
Jesus
Jesus
Jesus of Nazareth , commonly referred to as Jesus Christ or simply as Jesus or Christ, is the central figure of Christianity...
the
Son of God
Son of God
"Son of God" is a phrase which according to most Christian denominations, Trinitarian in belief, refers to the relationship between Jesus and God, specifically as "God the Son"...
. Gabriel told Mary to name her son Jesus, meaning "Saviour". Many Christians observe this event with the
Feast
Calendar of saints
The calendar of saints is a traditional Christian method of organizing a liturgical year by associating each day with one or more saints and referring to the feast day of said saint...
of the Annunciation on 25 March,
nine full months
Incarnation (Christianity)
The Incarnation in traditional Christianity is the belief that Jesus Christ the second person of the Trinity, also known as God the Son or the Logos , "became flesh" by being conceived in the womb of a woman, the Virgin Mary, also known as the Theotokos .The Incarnation is a fundamental theological...
before
Christmas
Christmas
Christmas or Christmas Day is an annual holiday generally celebrated on December 25 by billions of people around the world. It is a Christian feast that commemorates the birth of Jesus Christ, liturgically closing the Advent season and initiating the season of Christmastide, which lasts twelve days...
.