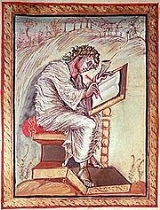 Gospel of Matthew
The Gospel According to Matthew (Gospel of Matthew or simply Matthew) is one of the four canonical gospels, one of the three
synoptic gospels
Synoptic Gospels
The gospels of Matthew, Mark, and Luke are known as the Synoptic Gospels because they include many of the same stories, often in the same sequence, and sometimes exactly the same wording. This degree of parallelism in content, narrative arrangement, language, and sentence structures can only be...
, and the first book of the
New Testament
New Testament
The New Testament is the second major division of the Christian biblical canon, the first such division being the much longer Old Testament....
. It tells of the
life
New Testament view on Jesus' life
The four canonical gospels of the New Testament are the primary sources of information for the doctrinal Christian narrative of the life of Jesus. There is not a single New Testament "view" on the life of Jesus, the four Canonical gospels tell different but connected stories...
,
ministry
Ministry of Jesus
In the Christian gospels, the Ministry of Jesus begins with his Baptism in the countryside of Judea, near the River Jordan and ends in Jerusalem, following the Last Supper with his disciples. The Gospel of Luke states that Jesus was "about 30 years of age" at the start of his ministry...
,
death
Crucifixion of Jesus
The crucifixion of Jesus and his ensuing death is an event that occurred during the 1st century AD. Jesus, who Christians believe is the Son of God as well as the Messiah, was arrested, tried, and sentenced by Pontius Pilate to be scourged, and finally executed on a cross...
, and
resurrection
Resurrection of Jesus
The Christian belief in the resurrection of Jesus states that Jesus returned to bodily life on the third day following his death by crucifixion. It is a key element of Christian faith and theology and part of the Nicene Creed: "On the third day he rose again in fulfillment of the Scriptures"...
of Jesus of Nazareth. The version we have today was written in
Koine Greek
Koine Greek
Koine Greek is the universal dialect of the Greek language spoken throughout post-Classical antiquity , developing from the Attic dialect, with admixture of elements especially from Ionic....
.
"Matthew" probably originated in a Jewish-Christian community in Roman Syria towards the end of the 1st century. The anonymous author probably drew on a number of sources, including the
Gospel of Mark
Gospel of Mark
The Gospel According to Mark , commonly shortened to the Gospel of Mark or simply Mark, is the second book of the New Testament. This canonical account of the life of Jesus of Nazareth is one of the three synoptic gospels. It was thought to be an epitome, which accounts for its place as the second...
, the sayings collection known as the
Q source
Q source
The Q source is a hypothetical written source for the Gospel of Matthew and Gospel of Luke. Q is defined as the "common" material found in Matthew and Luke but not in the Gospel of Mark...
, and material unique to his own community, as well as his own experience.