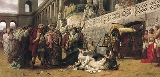 Persecution
Persecution
is the systematic mistreatment of an individual or group by another group. The most common forms are
religious persecution
Religious persecution
Religious persecution is the systematic mistreatment of an individual or group of individuals as a response to their religious beliefs or affiliations or lack thereof....
, ethnic persecution, and political persecution, though there is naturally some overlap between these terms. The inflicting of suffering, harassment, isolation, imprisonment, fear, or pain are all factors that may establish persecution. Even so, not all suffering will necessarily establish persecution.
Christianity has made martyrdom sublime, and sorrow triumphant.

Edwin Hubbell Chapin, reported in Josiah Hotchkiss Gilbert, Dictionary of Burning Words of Brilliant Writers (1895), p. 450.