 Martin Beck (vaudeville)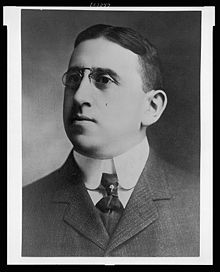 Martin Beck
was a
vaudeville
Vaudeville
Vaudeville was a theatrical genre of variety entertainment in the United States and Canada from the early 1880s until the early 1930s. Each performance was made up of a series of separate, unrelated acts grouped together on a common bill...
theatre
Theatre
Theatre is a collaborative form of fine art that uses live performers to present the experience of a real or imagined event before a live audience in a specific place. The performers may communicate this experience to the audience through combinations of gesture, speech, song, music or dance...
owner who founded
Orpheum Circuit, Inc.
Orpheum Circuit, Inc.
Orpheum Circuit, Inc., was a company started by Martin Beck who owned a series of vaudeville theaters and motion picture theaters.- The company :...
Early Life and Career
Martin Beck was born on 31 July, 1868 at
Liptovský Mikuláš
Liptovský Mikuláš
Liptovský Mikuláš is a town in northern Slovakia, on the Váh River. It lies in the Liptov region, in Liptov Basin near the Low Tatra and Tatra mountains...
, a town in northern
Slovakia
Slovakia
The Slovak Republic is a landlocked state in Central Europe. It has a population of over five million and an area of about . Slovakia is bordered by the Czech Republic and Austria to the west, Poland to the north, Ukraine to the east and Hungary to the south...
that at the time of his birth was ruled by the Austro-Hungarian Empire. Beck secured passage with a troupe of actors on the SS Elbe and set sail from Bremen, Germany to
America
United States
The United States of America is a federal constitutional republic comprising fifty states and a federal district...
in May of 1884 . There he worked as a waiter in a Chicago
beer garden
Beer garden
Beer garden is an open-air area where beer, other drinks and local food are served. The concept originates from and is most common in Southern Germany...
, then went to San Francisco with the Schiller Vaudeville Company in the late 1880s. Beck became friends with the owner of the
Orpheum Theatre
Orpheum Theatre (San Francisco)
The Orpheum Theatre is a performance venue located at 1192 Market at Hyde Street in the Civic Center district of San Francisco, California. The theatre first opened in 1926 as one of the many designed by architect B. Marcus Priteca for theater-circuit owner Alexander Pantages. The interior features...
in San Francisco, and when it was bought by Morris Meyerfeld Jr. in 1899, he helped Morris expand by acquiring other theaters. By 1905, Beck was running the organization, which extended from Chicago to San Francisco.
In 1910 he formed for the Orpheum, the United Booking Offices, Kohl and Castle and others the Beck-Butt Circuit linking America and Europe, joining forces with
Alfred Butt
Alfred Butt
Sir Alfred Butt, 1st Baronet was a British theatre entrepreneur, Conservative politician and racehorse owner and breeder...
, of the
Palace
Palace
A palace is a grand residence, especially a royal residence or the home of a head of state or some other high-ranking dignitary, such as a bishop or archbishop. The word itself is derived from the Latin name Palātium, for Palatine Hill, one of the seven hills in Rome. In many parts of Europe, the...
in London and
Alhambra
Alhambra
The Alhambra , the complete form of which was Calat Alhambra , is a palace and fortress complex located in the Granada, Andalusia, Spain...
in Glasgow, founder chairman of the Variety Theatre Controlling Company in Britain thus creating a booking organisation to engage performers who would have three years without playing the same theater twice. They also opened a vaudeville theater in Berlin in 1914 as part of this international agreement but new theaters in other capitals were shelved because of the outbreak of war. Beck had become a
Naturalized
Naturalization
Naturalization is the acquisition of citizenship and nationality by somebody who was not a citizen of that country at the time of birth....
American citizen
Citizenship in the United States
Citizenship in the United States is a status given to individuals that entails specific rights, duties, privileges, and benefits between the United States and the individual...
in October, 1889 at a swearing in ceremony held in San Francisco.
Houdini
In the spring of 1899, twenty-five-year-old
Harry Houdini
Harry Houdini
Harry Houdini was a Hungarian-born American magician and escapologist, stunt performer, actor and film producer noted for his sensational escape acts...
met Beck at a beer hall in St. Paul, Minnesota where Houdini was performing. Beck telegraphed Houdini from
Chicago
Chicago
Chicago is the largest city in the US state of Illinois. With nearly 2.7 million residents, it is the most populous city in the Midwestern United States and the third most populous in the US, after New York City and Los Angeles...
: "You can open
Omaha
Omaha
Omaha may refer to:*Omaha , a Native American tribe that currently resides in the northeastern part of the U.S. state of Nebraska-Places:United States* Omaha, Nebraska* Omaha, Arkansas* Omaha, Georgia* Omaha, Illinois* Omaha, Texas...
March twenty sixth sixty dollars, will see act probably make you proposition for all next season." Houdini wrote at the bottom of telegram, "This wire changed my whole Life's journey."
Palace Theatre
He built the
Palace Theatre
Palace Theatre, New York
The Palace Theatre is a Broadway theatre located at 1564 Broadway in midtown-Manhattan.-History:Designed by architects Kirchoff & Rose, the theatre was built by Martin Beck a California vaudeville entrepreneur and Broadway impresario. The project experienced a number of business problems before...
in 1913.
Sarah Bernhardt
Sarah Bernhardt
Sarah Bernhardt was a French stage and early film actress, and has been referred to as "the most famous actress the world has ever known". Bernhardt made her fame on the stages of France in the 1870s, and was soon in demand in Europe and the Americas...
's performance here may be credited with the early success of this theatre.
Martin Beck Theater
He was voted out of the presidency of
Orpheum Circuit, Inc.
Orpheum Circuit, Inc.
Orpheum Circuit, Inc., was a company started by Martin Beck who owned a series of vaudeville theaters and motion picture theaters.- The company :...
after it went public in 1923. Martin then opened the Martin Beck Theater in 1924.
Keith-Albee-Orpheum
Orpheum Circuit, Inc. merged with the chain started by
Benjamin Franklin Keith
Benjamin Franklin Keith
Benjamin Franklin Keith was an American vaudeville theatre owner, highly influential in the evolution of variety theater into vaudeville.-Early years:...
and
Edward Franklin Albee II
Edward Franklin Albee II
Edward Franklin Albee II was a vaudeville impresario, and the adoptive grandfather of Edward Franklin Albee III, the playwright.-Biography:He was born on October 8, 1857 in Machias, Maine to Nathaniel Smith Albee....
on January 28, 1928 to form the
Keith-Albee-Orpheum
Keith-Albee-Orpheum
The Keith-Albee-Orpheum Corporation was the owner of a chain of vaudeville and motion picture theatres. It was formed by the merger of the holdings of Benjamin Franklin Keith and Edward Franklin Albee II and Martin Beck's Orpheum Circuit, Inc..-History:...
Corporation. A few months later, Joseph P. Kennedy and
David Sarnoff
David Sarnoff
David Sarnoff was an American businessman and pioneer of American commercial radio and television. He founded the National Broadcasting Company and throughout most of his career he led the Radio Corporation of America in various capacities from shortly after its founding in 1919 until his...
of RCA merged KAO with Film Booking Office of America (FBO) to form the Radio-Keith-Orpheum (RKO) movie studio.
RKO
He returned to vaudeville in 1932, running the booking office at RKO, and in 1934 brought the
D'Oyly Carte Opera Company
D'Oyly Carte Opera Company
The D'Oyly Carte Opera Company was a professional light opera company that staged Gilbert and Sullivan's Savoy operas. The company performed nearly year-round in the UK and sometimes toured in Europe, North America and elsewhere, from the 1870s until it closed in 1982. It was revived in 1988 and...
of London to America for the first time.
Death
He died at
Mount Sinai Hospital
Mount Sinai Hospital, New York
Mount Sinai Hospital, founded in 1852, is one of the oldest and largest teaching hospitals in the United States. In 2011-2012, Mount Sinai Hospital was ranked as one of America's best hospitals by U.S...
in Manhattan on November 16, 1940.