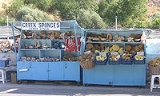 Market stall
For other uses of the term stall, see stall

Stall

In fluid dynamics, a stall is a reduction in the lift coefficient generated by a foil as angle of attack increases. This occurs when the critical angle of attack of the foil is exceeded...


.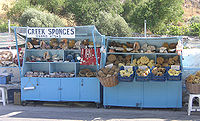 A
market stall
is a typically immobile, temporary structure erected by merchants to display and shelter their merchandise in a
street market
Street market
A street market is an outdoor market such as traditionally held in a market square or in a market town, and often held only on particular days of the week...
or other setting. Stalls are easily erected, taken down or simply moved on wheels. The same type of stall is also used as a display area at
fair
Fair
A fair or fayre is a gathering of people to display or trade produce or other goods, to parade or display animals and often to enjoy associated carnival or funfair entertainment. It is normally of the essence of a fair that it is temporary; some last only an afternoon while others may ten weeks. ...
s and
convention
Convention (meeting)
A convention, in the sense of a meeting, is a gathering of individuals who meet at an arranged place and time in order to discuss or engage in some common interest. The most common conventions are based upon industry, profession, and fandom...
s.
Some commercial
marketplace
Marketplace
A marketplace is the space, actual, virtual or metaphorical, in which a market operates. The term is also used in a trademark law context to denote the actual consumer environment, ie. the 'real world' in which products and services are provided and consumed.-Marketplaces and street markets:A...
s, including
market square
Market square
The market square is a feature of many European and colonial towns. It is an open area where market stalls are traditionally set out for trading, commonly on one particular day of the week known as market day....
s or
flea market
Flea market
A flea market or swap meet is a type of bazaar where inexpensive or secondhand goods are sold or bartered. It may be indoors, such as in a warehouse or school gymnasium; or it may be outdoors, such as in a field or under a tent...
s, may erect (or allow merchants to erect) more permanent stalls.
There are many types of stalls, from carts designed to be pulled by hand or cycles; makeshift structures like tents, or converted tow-
caravan
Travel trailer
A travel trailer or caravan is towed behind a road vehicle to provide a place to sleep which is more comfortable and protected than a tent . It provides the means for people to have their own home on a journey or a vacation, without relying on a motel or hotel, and enables them to stay in places...
s and
motor vehicle
Motor vehicle
A motor vehicle or road vehicle is a self-propelled wheeled vehicle that does not operate on rails, such as trains or trolleys. The vehicle propulsion is provided by an engine or motor, usually by an internal combustion engine, or an electric motor, or some combination of the two, such as hybrid...
s.
Stalls are used throughout the world by vendors selling
street food
Street food
Street food is ready-to-eat food or drink sold in a street or other public place, such as a market or fair, by a hawker or vendor, often from a portable stall. While some street foods are regional, many are not, having spread beyond their region of origin. Most street food are both finger and fast...
.