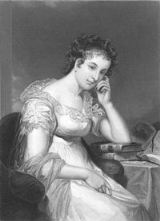 Maria Edgeworth
Maria Edgeworth
was a prolific
Anglo-Irish
Anglo-Irish
Anglo-Irish was a term used primarily in the 19th and early 20th centuries to identify a privileged social class in Ireland, whose members were the descendants and successors of the Protestant Ascendancy, mostly belonging to the Church of Ireland, which was the established church of Ireland until...
writer of adults' and children's literature. She was one of the first realist writers in children's literature and was a significant figure in the evolution of the novel in Europe. She held what were for a woman of her time advanced views on estate management, politics and education and corresponded with some of the leading literary and economic writers, including Sir Walter Scott and
David Ricardo
David Ricardo
David Ricardo was an English political economist, often credited with systematising economics, and was one of the most influential of the classical economists, along with Thomas Malthus, Adam Smith, and John Stuart Mill. He was also a member of Parliament, businessman, financier and speculator,...
.
Early life
Maria Edgeworth was born at
Black Bourton
Black Bourton
Black Bourton is a village and civil parish about south of Carterton, Oxfordshire. The village is on Black Bourton Brook, a tributary of the River Thames.-Churches:...
,
Oxfordshire
Oxfordshire
Oxfordshire is a county in the South East region of England, bordering on Warwickshire and Northamptonshire , Buckinghamshire , Berkshire , Wiltshire and Gloucestershire ....
. She was the third child of
Richard Lovell Edgeworth
Richard Lovell Edgeworth
Richard Lovell Edgeworth was an Anglo-Irish politician, writer and inventor.-Biography:Edgeworth was born in Pierrepont Street, Bath, England, grandson of Sir Salathiel Lovell through his daughter, Jane Lovell....
and Anna Maria Edgeworth (née Elers) and thus an aunt of
Francis Ysidro Edgeworth
Francis Ysidro Edgeworth
Francis Ysidro Edgeworth FBA was an Irish philosopher and political economist who made significant contributions to the methods of statistics during the 1880s...
. Her father fathered twenty-two children by four wives. She spent the first years of her life with her mother's family in England, until her mother's death when Maria was only five years old. On her father's second marriage to Honora Sneyd in 1773, she went with him to
Ireland
Ireland
Ireland is an island to the northwest of continental Europe. It is the third-largest island in Europe and the twentieth-largest island on Earth...
, where she eventually was to settle on his estate,
Edgeworthstown
Edgeworthstown
Edgeworthstown or Mostrim is a town in County Longford, Ireland. The Edgeworthstown name is derived from the Edgeworth Family who have a long association with the town as the family estate of Henry Essex Edgeworth de Firmont was nearby, while Mostrim is an anglicisation of the town's pre-conquest...
, in
County Longford
County Longford
County Longford is a county in Ireland. It is part of the Midlands Region and is also located in the province of Leinster. It is named after the town of Longford.Longford County Council is the local authority for the county...
.
Maria was sent to Mrs. Lattafière's school in Derby after her stepmother Honora fell ill in 1775. When Honora died in 1780, Maria transferred to Mrs. Devis's school in London. Meanwhile her father married Honora's sister Elizabeth (considered somewhat shocking in the moral climate of the time). Richard Edgeworth turned his attention upon Maria after 1781 when she was nearly blinded due to an eye infection. Upon returning home at the age of fourteen, she helped take care of her many younger siblings. She was further educated at home by her father in topics such as law, Irish economics and politics, science and literature. She started corresponding with learned men, mainly members of the Lunar Society, which she kept up all her life.
She became her father's assistant in managing the estate at Edgeworthstown, which had become run-down following the family absence from 1777 to 1782, and where she would live and write for the rest of her life. With their bond strengthened, Maria and her father began a lifelong academic collaboration "of which she was the more able and nimble mind." Present at Edgeworthstown was an extended family, servants and tenants. She observed and recorded the details of daily Irish life, later drawing on this experience for her novels about the Irish. She also mixed with the Anglo-Irish gentry, particularly
Kitty Pakenham
Catherine Wellesley, Duchess of Wellington
Catherine Sarah Dorothea Wellesley, Duchess of Wellington was the wife of the 1st Duke of Wellington. She is commonly known as Kitty Pakenham.-Early Life:...
(later the wife of
Arthur Wellesley, 1st Duke of Wellington
Arthur Wellesley, 1st Duke of Wellington
Field Marshal Arthur Wellesley, 1st Duke of Wellington, KG, GCB, GCH, PC, FRS , was an Irish-born British soldier and statesman, and one of the leading military and political figures of the 19th century...
), Lady Moira, and her aunt Margaret Ruxton of Black Castle. Margaret supplied her with the novels of Anne Radcliffe and
William Godwin
William Godwin
William Godwin was an English journalist, political philosopher and novelist. He is considered one of the first exponents of utilitarianism, and the first modern proponent of anarchism...
and encouraged her in her writing.
Views
Though Maria Edgeworth spent most of her childhood in England, her life in Ireland had profound impacts on both her thinking and Irish culture. Fauske and Kaufman conclude, "[She] used her fiction to address the inherent problems of acts delineated by religious, national, racial, class based, sexual, and gendered identities." Edgeworth used works such
Castle Rackrent
and
Harrington
to express her feelings on controversial issues in Britain.
Ireland
In her works, Edgeworth created a nostalgic past of Ireland in an attempt to celebrate Irish culture and separate it from British Imperialism.
Suvendrini Perera said Edgeworth's novels traced "the gradual anglicanization of feudal Irish society." Edgeworth's goal in her works was to show the Irish as equal to the English, and therefore warranting equal, though not separate, status.
Essay on Irish Bulls
rejects the English stereotype of Irishmen and portrays them accurately in realistic, everyday settings. This is a common theme in her Irish works, combating the caricatured Irish with accurate representations.
Social
Like her father before her, Maria opposed the Act of Union. Concerning education, she thought boys and girls should be educated equally and together, drawing upon Rousseau's ideas.
She believed a woman should only marry someone who suits her in "character, temper, and understanding." Becoming an old maid was preferable to an incompatible union.
The story
Vivian
from
Tales of Fashionable Life
and
Patronage
attack eighteenth-century English Whig governance of Ireland as corrupt and unrepresentative.
Edgeworth strived for the self-realization of women and stressed the importance of the individual. She also wanted greater participation in politics by women. Her work
Helen
clearly demonstrates this point in the passage:
"Women are now so highly cultivated, and political subjects are at present of so much importance, of such high interest, to all human creatures who live together in society, you can hardly expect, Helen, that you, as a rational being, can go through the world as it now is, without forming any opinion on points of public importance. You cannot, I conceive, satisfy yourself with the common namby-pamby little missy phrase, 'ladies have nothing to do with politics'."
She sympathized with Catholics and supported Catholic Emancipation.
Writing
Edgeworth's early literary efforts were melodramatic rather than realistic. She wrote many children's novels that conveyed moral lessons to their audience. One of her schoolgirl novels features a
villain
Villain
A villain is an "evil" character in a story, whether a historical narrative or, especially, a work of fiction. The villain usually is the antagonist, the character who tends to have a negative effect on other characters...
who wore a mask made from the skin of a dead man's face. Edgeworth's first published work was
Letters for Literary Ladies
in 1795. Her work, "An Essay on the Noble Science of Self-Justification" (1795) is written for a female audience in which she convinces women that the fair sex is endowed with an art of self-justification and women should use their gifts to continually challenge the force and power of men, especially their husbands, with wit and intelligence. It humorously and satirically explores the feminine argumentative method. This was followed in 1796 by her first children's book,
The Parent's Assistant
The Parent's Assistant
The Parent's Assistant is the first collection of children's stories by Maria Edgeworth, published by Joseph Johnson in 1796. The first edition had six stories: Lazy Lawrence, Tarlton, The Little Dog Trusty, The Orange Man, The False Key, and the Barring Out...
(which included Edgeworth's celebrated short story
The Purple Jar
The Purple Jar
The Purple Jar is a well-known short story by Maria Edgeworth , an Anglo-Irish writer of novels and stories. "The Purple Jar" first appeared in The Parent's Assistant and reappeared in Rosamond...
).
The Parent's Assistant
was influenced by her father's work and perspectives on childrens education.
Mr. Edgeworth, a well-known author and inventor, encouraged his daughter's career. At the height of her creative endeavors, Maria wrote, "Seriously it was to please my Father I first exerted myself to write, to please him I continued." Though the impetus for Maria's works, Mr. Edgeworth has been criticized for his insistence on approving and editing her work. The tales in
The Parent's Assistant
were approved by her father before he would allow them to be read to her younger siblings. It is speculated that her stepmother and siblings also helped in the editing process of Edgeworth's work.
Practical Education
Practical Education
Practical Education is an educational treatise written by Maria Edgeworth and her father Richard Lovell Edgeworth. Published in 1798, it is a comprehensive theory of education that combines the ideas of philosophers John Locke and Jean-Jacques Rousseau as well as of educational writers such as...
(1798) is a progressive work on education that combines the ideas of Locke and Rousseau with scientific inquiry. Edgeworth asserts that "learning should be a positive experience and that the discipline of education is more important during the formative years than the acquisition of knowledge." The system attempted to "adapt both the curriculum and methods of teaching to the needs of the child; the endeavor to explain moral habits and the learning process through associationism; and most important, the effort to entrust the child with the responsibility for his own mental culture." The ultimate goal of Edgeworth's system was to create an independent thinker who understands the consequences of their actions.
Her first novel,
Castle Rackrent
Castle Rackrent
Castle Rackrent, a short novel by Maria Edgeworth published in 1800, is often regarded as the first historical novel, the first regional novel in English, the first Anglo-Irish novel, the first Big House novel and the first saga novel....
(1800) was written and submitted for anonymous publication in 1800 without her father's knowledge. It was an immediate success and firmly established Edgeworth's appeal. The book is a satire on Anglo-Irish landlords, before the year 1782, showing the need for more responsible management by the Irish landowning class. The story follows four generations of an Irish landholding family, the Rackrents. It is narrated by an Irish catholic worker on the estate, named Thady Quirk, and portrayed the rise of the catholic-Irish middle class.
Belinda
Belinda (Edgeworth novel)
Belinda is an 1801 novel by the Irish writer Maria Edgeworth. It was first published in three volumes by Joseph Johnson of London in 1801, and was later reprinted by Pandora Press in 1986...
(1801), a three volume work published in London, was Maria Edgeworth's first full length novel. It dealt with love, courtship, and marriage, dramatizing the conflicts within her "own personality and environment; conflicts between reason and feeling, restraint and individual freedom, and society and free spirit." Belinda was also notable for its controversial depiction of interracial marriage between an African servant and an English farm-girl. Later editions of the novel, however, removed these sections.
Tales of Fashionable Life
(1809 and 1812) is a two series collection of short stories which often focus on the life of a woman. The second series was particularly well received in England, making her the most commercially successful novelist of her age. After this, Edgeworth was regarded as the preeminent woman writer in England alongside Jane Austen.
Following an anti-Semitic remark in
The Absentee
, Edgeworth received a letter from an American Jewish woman named Rachel Mordecai in 1815 complaining about Edgeworth's depiction of Jews. In response,
Harrington
Harrington (novel)
Harrington is an 1817 novel by British novelist Maria Edgeworth. The novel was written in response to a letter from a Jewish-American reader who complained about Edgeworth's stereotypically anti-semitic portrayals of Jews in Castle Rackrent , Belinda , The Absentee , and her Moral Tales for children...
(1817) was written as an apology to the Jewish community. The novel was a fictitious autobiography about overcoming antisemitism and includes the first sympathetic Jewish character in an English novel.
Helen
Helen (novel)
Helen is a novel by Maria Edgeworth . It was written in 1834, late in the author's life, and was her last work.- Synopsis :Helen tells the story of a young orphan, Helen Stanley, whose guardian, Dean Stanley, has squandered his fortune and left Helen without means of support...
(1834) is Maria Edgeworth's final novel and the only one she wrote after the death of her father. She chose to write a novel focused on the characters and situation, rather than moral lessons. In a letter to her publisher, Maria wrote, "I have been reproached for making
my moral
in some stories too prominent. I am sensible of the inconvenience of this both to reader and writer & have taken much pains to avoid it in
Helen
." Her novel is also set in England, a conscious choice as Edgeworth found Ireland too troubling for a fictitious work in the political climate of the 1830s.
Travel
In 1798 Richard married Frances Beaufort, daughter of Daniel Augustus Beaufort, who instigated the idea of travelling to England and the European continent. Francis was a year younger than Maria and filled the role of lifelong confidante to Maria. The family travelled first to London in 1800.
In 1802 the Edgeworth family made a tour of the English midlands. They then travelled to the continent, first to
Brussels
Brussels
Brussels , officially the Brussels Region or Brussels-Capital Region , is the capital of Belgium and the de facto capital of the European Union...
and then to
Consulate
French Consulate
The Consulate was the government of France between the fall of the Directory in the coup of 18 Brumaire in 1799 until the start of the Napoleonic Empire in 1804...
France
France
The French Republic , The French Republic , The French Republic , (commonly known as France , is a unitary semi-presidential republic in Western Europe with several overseas territories and islands located on other continents and in the Indian, Pacific, and Atlantic oceans. Metropolitan France...
(during the Peace of Amiens, a brief lull in the
Napoleonic Wars
Napoleonic Wars
The Napoleonic Wars were a series of wars declared against Napoleon's French Empire by opposing coalitions that ran from 1803 to 1815. As a continuation of the wars sparked by the French Revolution of 1789, they revolutionised European armies and played out on an unprecedented scale, mainly due to...
). They met all the notables, and Maria received a marriage proposal from a Swedish courtier,
Count Edelcrantz
Abraham Niclas Edelcrantz
Abraham Niclas Edelcrantz was a Finnish born Swedish poet and inventor. He was a member of the Swedish Academy, chair 2, from 1786 to 1821....
. Her letter on the subject seems very cool, but her stepmother assures us in the
Augustus Hare
Augustus Hare
Augustus John Cuthbert Hare was an English writer and raconteur.He was the youngest son of Francis George Hare of Herstmonceux, East Sussex, and Gresford, Flintshire, Wales, and nephew of Augustus William Hare and Julius Hare...
Life and Letters
that Maria loved him very much and did not get over the affair quickly. They came home to Ireland in 1803 on the eve of the resumption of the wars and Maria returned to writing.
Tales of Fashionable Life
,
The Absentee
The Absentee
The Absentee is a novel by Maria Edgeworth, published in 1812 in Tales of Fashionable Life, that expresses the systemic evils of the absentee landlord class of Anglo-Irish and the desperate condition of the Irish peasantry....
and
Ormond
Ormond (novel)
Ormond is a novel by Maria Edgeworth published in June 1817. It tells the story of Harry Ormond, a hero who rises from poverty to wealth. Set both in Ireland and France, the novel uses different places to represent different paths that Ormond might take and different political ideologies. Ireland...
are novels of Irish life. Edgeworth was an extremely popular author who was compared with her contemporary writers
Jane Austen
Jane Austen
Jane Austen was an English novelist whose works of romantic fiction, set among the landed gentry, earned her a place as one of the most widely read writers in English literature, her realism and biting social commentary cementing her historical importance among scholars and critics.Austen lived...
and Sir Walter Scott. She initially earned more than them, and used her income to help her siblings.
On a visit to London in 1813, where she was received as a literary lion, Maria met Lord Byron (whom she didn't like) and
Humphry Davy
Humphry Davy
Sir Humphry Davy, 1st Baronet FRS MRIA was a British chemist and inventor. He is probably best remembered today for his discoveries of several alkali and alkaline earth metals, as well as contributions to the discoveries of the elemental nature of chlorine and iodine...
. She entered into a long correspondence with the ultra-Tory Sir Walter Scott after the publication of
Waverley
Waverley (novel)
Waverley is an 1814 historical novel by Sir Walter Scott. Initially published anonymously in 1814 as Scott's first venture into prose fiction, Waverley is often regarded as the first historical novel. It became so popular that Scott's later novels were advertised as being "by the author of...
in 1814, in which he gratefully acknowledged her influence, and they formed a lasting friendship. She visited him in
Scotland
Scotland
Scotland is a country that is part of the United Kingdom. Occupying the northern third of the island of Great Britain, it shares a border with England to the south and is bounded by the North Sea to the east, the Atlantic Ocean to the north and west, and the North Channel and Irish Sea to the...
at
Abbotsford House
Abbotsford House
Abbotsford is a historic house in the region of the Scottish Borders in the south of Scotland, near Melrose, on the south bank of the River Tweed. It was formerly the residence of historical novelist and poet, Walter Scott...
in 1823, where he took her on a tour of the area. The visit was returned the following year, when Sir Walter visited Edgeworthstown. When passing through the village, one of the party wrote, "We found neither mud hovels nor naked peasantry, but snug cottages and smiles all about." A counterview was provided by another visitor who stated that the residents of Edgeworthstown treated Edgeworth with contempt, refusing even to feign politeness.
Later life
Richard Edgeworth was comparatively fair and forgiving in his dealings with his tenants and was actively involved in the management of the estate. After debating the issue with the economist
David Ricardo
David Ricardo
David Ricardo was an English political economist, often credited with systematising economics, and was one of the most influential of the classical economists, along with Thomas Malthus, Adam Smith, and John Stuart Mill. He was also a member of Parliament, businessman, financier and speculator,...
, Maria came to believe that better management and the further application of science to agriculture would raise food production and lower prices. Both Richard and Maria were also in favour of
Catholic Emancipation
Catholic Emancipation
Catholic emancipation or Catholic relief was a process in Great Britain and Ireland in the late 18th century and early 19th century which involved reducing and removing many of the restrictions on Roman Catholics which had been introduced by the Act of Uniformity, the Test Acts and the penal laws...
, enfranchisement for catholics without property restrictions (although he admitted it was against his own interest), agricultural reform and increased educational opportunities for women. She particularly worked hard to improve the living standards of the poor in Edgeworthstown. In trying to improve conditions in the village she provided schools for the local children of all denominations.
After her father's death in 1817 she edited his memoirs, and extended them with her biographical comments. She was an active writer to the last.
She worked strenuously for the relief of the famine-stricken Irish peasants during the Irish Potato Famine (1845-1849). She wrote
Orlandino
for the benefit of the Relieve Fund. Her letters to the Quaker Relief Committee provide a vivid account of the desperate plight facing the tenants in Edgeworthstown, the extreme conditions under which they lived, and the struggle to obtain whatever aid and assistance she could to alleviate their plight. Through her efforts she received gifts for the poor from America.
During the Irish Famine Edgeworth insisted that only those of her tenants who had paid their rent in full would receive relief. Edgeworth also punished those of her tenants who voted against her Tory preferences.
With the election of Rowan Hamilton to president of the Royal Irish Academy, Maria became a dominant source of advice for Hamilton, particularly on the issue of literature in Ireland. She suggested that women should be allowed to participate in events held by the academy. For her guidance and help, Hamilton made Edgeworth an honorary member of the Royal Irish Academy in 1837, following in the footsteps of Louisa Beaufort, a former member of the academy and a relative of hers.
After a visit to see her relations in Trim, Maria, now in her eighties, began to feel heart pains and died suddenly of a heart attack in Edgeworthstown on May 22, 1849.
Partial list of published works
Letters for Literary Ladies - 1795
An Essay on the Noble Science of Self-Justification - 1795
The Parent's Assistant

The Parent's Assistant

The Parent's Assistant is the first collection of children's stories by Maria Edgeworth, published by Joseph Johnson in 1796. The first edition had six stories: Lazy Lawrence, Tarlton, The Little Dog Trusty, The Orange Man, The False Key, and the Barring Out...


- 1796
Practical Education

Practical Education

Practical Education is an educational treatise written by Maria Edgeworth and her father Richard Lovell Edgeworth. Published in 1798, it is a comprehensive theory of education that combines the ideas of philosophers John Locke and Jean-Jacques Rousseau as well as of educational writers such as...


- 1798 (2 vols; collaborated with her father, Richard Lovell Edgeworth

Richard Lovell Edgeworth

Richard Lovell Edgeworth was an Anglo-Irish politician, writer and inventor.-Biography:Edgeworth was born in Pierrepont Street, Bath, England, grandson of Sir Salathiel Lovell through his daughter, Jane Lovell....


)
Castle Rackrent

Castle Rackrent

Castle Rackrent, a short novel by Maria Edgeworth published in 1800, is often regarded as the first historical novel, the first regional novel in English, the first Anglo-Irish novel, the first Big House novel and the first saga novel....


(1800) (novel)
Early Lessons - 1801
Moral Tales- 1801
Belinda

Belinda (Edgeworth novel)

Belinda is an 1801 novel by the Irish writer Maria Edgeworth. It was first published in three volumes by Joseph Johnson of London in 1801, and was later reprinted by Pandora Press in 1986...


- (1801) (novel)
The Mental Thermometer- 1801
Essay on Irish Bulls - 1802 (political, collaborated with her father)
Popular Tales - 1804
The Modern Griselda - 1804
Moral Tales for Young People - 1805 (6 vols)
Leonora - 1806 (written during the French excursion)
Essays in Professional Education- 1809
Tales of Fashionable Life - 1809 (first in a series, includes The Absentee)
Ennui - 1809 (novel)
The Absentee

The Absentee

The Absentee is a novel by Maria Edgeworth, published in 1812 in Tales of Fashionable Life, that expresses the systemic evils of the absentee landlord class of Anglo-Irish and the desperate condition of the Irish peasantry....


- 1812 (novel)
Patronage

Patronage (novel)

Patronage is a four volume fictional work by Anglo-Irish writer Maria Edgeworth and published in 1814. It is one of her later books, after such successes as Castle Rackrent , Belinda , Leonora and The Absentee in 1812, to name a few. The novel is a long and ambitious one which she began...


- 1814 (novel)
Harrington

Harrington (novel)

Harrington is an 1817 novel by British novelist Maria Edgeworth. The novel was written in response to a letter from a Jewish-American reader who complained about Edgeworth's stereotypically anti-semitic portrayals of Jews in Castle Rackrent , Belinda , The Absentee , and her Moral Tales for children...


- 1817 (novel)
Ormond

Ormond (novel)

Ormond is a novel by Maria Edgeworth published in June 1817. It tells the story of Harry Ormond, a hero who rises from poverty to wealth. Set both in Ireland and France, the novel uses different places to represent different paths that Ormond might take and different political ideologies. Ireland...


- 1817 (novel)
Comic Dramas - 1817
Memoirs of Richard Lovell Edgeworth - 1820 (edited her father's memoirs)
Rosamond: A Sequel to Early Lessons- 1821
Frank: A Sequel to Frank in Early Lessons- 1822
Tomorrow - 1823 (novel)
Helen

Helen (novel)

Helen is a novel by Maria Edgeworth . It was written in 1834, late in the author's life, and was her last work.- Synopsis :Helen tells the story of a young orphan, Helen Stanley, whose guardian, Dean Stanley, has squandered his fortune and left Helen without means of support...


- 1834 (novel)
Orlandino- 1848 (temperance novel)
External links
Sources
Other