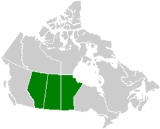 Canadian Prairies
The
Canadian Prairies
is a
region
of
Canada
Canada
Canada is a North American country consisting of ten provinces and three territories. Located in the northern part of the continent, it extends from the Atlantic Ocean in the east to the Pacific Ocean in the west, and northward into the Arctic Ocean...
, specifically in
western Canada
Western Canada
Western Canada, also referred to as the Western provinces and commonly as the West, is a region of Canada that includes the four provinces west of the province of Ontario.- Provinces :...
, which may correspond to several different definitions, natural or political. Notably, the
Prairie provinces
or simply
the Prairies
comprise the
provinces
Provinces and territories of Canada
The provinces and territories of Canada combine to make up the world's second-largest country by area. There are ten provinces and three territories...
of
Alberta
Alberta
Alberta is a province of Canada. It had an estimated population of 3.7 million in 2010 making it the most populous of Canada's three prairie provinces...
,
Saskatchewan
Saskatchewan
Saskatchewan is a prairie province in Canada, which has an area of . Saskatchewan is bordered on the west by Alberta, on the north by the Northwest Territories, on the east by Manitoba, and on the south by the U.S. states of Montana and North Dakota....
, and
Manitoba
Manitoba
Manitoba is a Canadian prairie province with an area of . The province has over 110,000 lakes and has a largely continental climate because of its flat topography. Agriculture, mostly concentrated in the fertile southern and western parts of the province, is vital to the province's economy; other...
, as they are largely covered by
prairie
Prairie
Prairies are considered part of the temperate grasslands, savannas, and shrublands biome by ecologists, based on similar temperate climates, moderate rainfall, and grasses, herbs, and shrubs, rather than trees, as the dominant vegetation type...
. In a more restricted sense, the term may also refer only to the areas of those provinces covered by prairie.