 Manara Clock Tower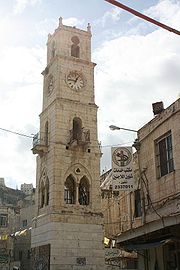 The
Manara Clock Tower
is a
clock tower
Clock tower
A clock tower is a tower specifically built with one or more clock faces. Clock towers can be either freestanding or part of a church or municipal building such as a town hall. Some clock towers are not true clock towers having had their clock faces added to an already existing building...
located in the middle of the central square (
casbah
) in the Old City of
Nablus
Nablus
Nablus is a Palestinian city in the northern West Bank, approximately north of Jerusalem, with a population of 126,132. Located in a strategic position between Mount Ebal and Mount Gerizim, it is the capital of the Nablus Governorate and a Palestinian commercial and cultural center.Founded by the...
next to the Nasr Mosque in the
Palestinian territories
Palestinian territories
The Palestinian territories comprise the West Bank and the Gaza Strip. Since the Palestinian Declaration of Independence in 1988, the region is today recognized by three-quarters of the world's countries as the State of Palestine or simply Palestine, although this status is not recognized by the...
.
Five stories high, it was erected in 1906 on the orders of the
Ottoman
Ottoman Empire
The Ottoman EmpireIt was usually referred to as the "Ottoman Empire", the "Turkish Empire", the "Ottoman Caliphate" or more commonly "Turkey" by its contemporaries...
sultan
Abdul Hamid II
Abdul Hamid II
His Imperial Majesty, The Sultan Abdülhamid II, Emperor of the Ottomans, Caliph of the Faithful was the 34th sultan of the Ottoman Empire...
to celebrate thirty years of his reign. The tower is similar to those also built by Sultan Abdul Hamid in
Tripoli
Tripoli, Lebanon
Tripoli is the largest city in northern Lebanon and the second-largest city in Lebanon. Situated 85 km north of the capital Beirut, Tripoli is the capital of the North Governorate and the Tripoli District. Geographically located on the east of the Mediterranean, the city's history dates back...
and
Haifa
Haifa
Haifa is the largest city in northern Israel, and the third-largest city in the country, with a population of over 268,000. Another 300,000 people live in towns directly adjacent to the city including the cities of the Krayot, as well as, Tirat Carmel, Daliyat al-Karmel and Nesher...
. The Manara Clock Tower has an ode to the sultan in elaborate Arabic calligraphy.
The Manara Clock Tower is currently the symbol of the Municipality of Nablus, established as such after the
Palestinian
Palestinian people
The Palestinian people, also referred to as Palestinians or Palestinian Arabs , are an Arabic-speaking people with origins in Palestine. Despite various wars and exoduses, roughly one third of the world's Palestinian population continues to reside in the area encompassing the West Bank, the Gaza...
organization
Hamas
Hamas
Hamas is the Palestinian Sunni Islamic or Islamist political party that governs the Gaza Strip. Hamas also has a military wing, the Izz ad-Din al-Qassam Brigades...
won the local elections in that city.