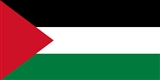 Palestinian territories
The
Palestinian territories
comprise the
West Bank
West Bank
The West Bank ) of the Jordan River is the landlocked geographical eastern part of the Palestinian territories located in Western Asia. To the west, north, and south, the West Bank shares borders with the state of Israel. To the east, across the Jordan River, lies the Hashemite Kingdom of Jordan...
and the
Gaza Strip
Gaza Strip
thumb|Gaza city skylineThe Gaza Strip lies on the Eastern coast of the Mediterranean Sea. The Strip borders Egypt on the southwest and Israel on the south, east and north. It is about long, and between 6 and 12 kilometres wide, with a total area of...
. Since the
Palestinian Declaration of Independence
Palestinian Declaration of Independence
The Palestinian Declaration of Independence is a statement written by Palestinian poet Mahmoud Darwish and proclaimed by Yasser Arafat on 15 November 1988. It had previously been adopted by the Palestinian National Council, the legislative body of the Palestine Liberation Organization , by a vote...
in 1988, the region is today recognized by three-quarters of the world's countries as the
State of Palestine
State of Palestine
Palestine , officially declared as the State of Palestine , is a state that was proclaimed in exile in Algiers on 15 November 1988, when the Palestine Liberation Organization's National Council adopted the unilateral Palestinian Declaration of Independence...
or simply
Palestine
, although this status is not recognized by the
United Nations
United Nations
The United Nations is an international organization whose stated aims are facilitating cooperation in international law, international security, economic development, social progress, human rights, and achievement of world peace...
,
Israel
Israel
The State of Israel is a parliamentary republic located in the Middle East, along the eastern shore of the Mediterranean Sea...
and major
Western nations
Western world
The Western world, also known as the West and the Occident , is a term referring to the countries of Western Europe , the countries of the Americas, as well all countries of Northern and Central Europe, Australia and New Zealand...
such as the
United States
United States
The United States of America is a federal constitutional republic comprising fifty states and a federal district...
. The UN and international legal bodies often refer to the region as the
Occupied Palestinian Territories
.
From the 1948 Arab–Israeli War until the 1967 Six Day War, the West Bank was occupied by
Jordan
Jordan
Jordan , officially the Hashemite Kingdom of Jordan , Al-Mamlaka al-Urduniyya al-Hashemiyya) is a kingdom on the East Bank of the River Jordan. The country borders Saudi Arabia to the east and south-east, Iraq to the north-east, Syria to the north and the West Bank and Israel to the west, sharing...
and the Gaza Strip by
Egypt
Egypt
Egypt , officially the Arab Republic of Egypt, Arabic: , is a country mainly in North Africa, with the Sinai Peninsula forming a land bridge in Southwest Asia. Egypt is thus a transcontinental country, and a major power in Africa, the Mediterranean Basin, the Middle East and the Muslim world...
.