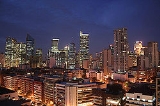 Makati City
The
City of Makati
is one of the 17
cities
Cities of the Philippines
A city is a tier of local government in the Philippines. All Philippine cities are chartered cities, whose existence as corporate and administrative entities is governed by their own specific charters in addition to the Local Government Code of 1991, which specifies the administrative structure...
that make up
Metro Manila
Metro Manila
Metropolitan Manila , the National Capital Region , or simply Metro Manila, is the metropolitan region encompassing the City of Manila and its surrounding areas in the Philippines...
, one of the
most populous metropolitan area
s in the world. Makati is the financial center of the Philippines and one of the major financial, commercial and economic hubs in
Asia
Asia
Asia is the world's largest and most populous continent, located primarily in the eastern and northern hemispheres. It covers 8.7% of the Earth's total surface area and with approximately 3.879 billion people, it hosts 60% of the world's current human population...
. As the host of various embassies, it is also an important center for international affairs.
With a population of 510,383, Makati is the 16th largest city in the country and ranked as the 44th most
densely populated city
in the world with 18,654 inhabitants per km.
Makati was founded by Spaniard
Miguel López de Legazpi
Miguel López de Legazpi
Miguel López de Legazpi , also known as El Adelantado and El Viejo , was a Spanish conquistador who established one of the first European settlements in the East Indies and the Pacific Islands in 1565. He is the first Governor-General in the Philippines...
, who dismissed Makati as a worthless
swamp
Swamp
A swamp is a wetland with some flooding of large areas of land by shallow bodies of water. A swamp generally has a large number of hammocks, or dry-land protrusions, covered by aquatic vegetation, or vegetation that tolerates periodical inundation. The two main types of swamp are "true" or swamp...
.