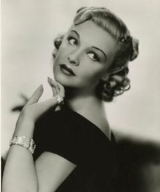 Madeleine Carroll
Edith Madeleine Carroll
(26 February 1906 – 2 October 1987) was an English actress, popular in the 1930s and 1940s.
Early life
Carroll was born at 32 Herbert Street (now number 44) in
West Bromwich
West Bromwich
West Bromwich is a town within the Metropolitan Borough of Sandwell, in the West Midlands, England. It is north west of Birmingham lying on the A41 London-to-Birkenhead road. West Bromwich is part of the Black Country...
,
England
England
England is a country that is part of the United Kingdom. It shares land borders with Scotland to the north and Wales to the west; the Irish Sea is to the north west, the Celtic Sea to the south west, with the North Sea to the east and the English Channel to the south separating it from continental...
. She graduated from the
University of Birmingham
University of Birmingham
The University of Birmingham is a British Redbrick university located in the city of Birmingham, England. It received its royal charter in 1900 as a successor to Birmingham Medical School and Mason Science College . Birmingham was the first Redbrick university to gain a charter and thus...
,
England
England
England is a country that is part of the United Kingdom. It shares land borders with Scotland to the north and Wales to the west; the Irish Sea is to the north west, the Celtic Sea to the south west, with the North Sea to the east and the English Channel to the south separating it from continental...
with a B.A. degree. She once taught in a girl's public school.
Acting career
Carroll made her stage debut with a touring company in
The Lash
. Widely recognized as one of the most beautiful women in films (she won a film beauty competition to start herself off in the business), Carroll's aristocratic blonde allure and sophisticated style were first glimpsed by British movie audiences in
The Guns of Loos
The Guns of Loos
The Guns of Loos is a silent British war film directed by Sinclair Hill and starring Henry Victor, Madeleine Carroll, and Bobby Howes.-Plot:A blind veteran of the First World War returns home to run his family's industrial empire....
in 1928. Rapidly rising to stardom in England, she graced such popular films of the early '30s as
Young Woodley
Young Woodley
Young Woodley is a 1930 British drama film directed by Thomas Bentley and starring Madeleine Carroll, Frank Lawton and Sam Livesey, based on the controversial 1925 play Young Woodley by John Van Druten. Bentley had previously directed a 1928 silent version, but the film was never released, and he...
,
Atlantic
Atlantic (1929 film)
Atlantic is a British black-and-white film, directed and produced by Ewald André Dupont and starring Franklin Dyall and Madeleine Carroll. Three versions were made, one in the United Kingdom, one in Germany, and one in France...
,
The School for Scandal
The School for Scandal
The School for Scandal is a play written by Richard Brinsley Sheridan. It was first performed in London at Drury Lane Theatre on May 8, 1777.The prologue, written by David Garrick, commends the play, its subject, and its author to the audience...
and
I Was a Spy
I Was a Spy
I Was a Spy is a 1933 British thriller film directed by Victor Saville and starring Madeleine Carroll, Herbert Marshall and Conrad Veidt. A Belgian woman who nurses injured German soldiers during World War I passes intelligence to the British....
. She played the title role in the play
Little Catherine
. Abruptly, she announced plans to retire from films to devote herself to a private life with her husband, the first of four.
Carroll attracted the attention of
Alfred Hitchcock
Alfred Hitchcock
Sir Alfred Joseph Hitchcock, KBE was a British film director and producer. He pioneered many techniques in the suspense and psychological thriller genres. After a successful career in British cinema in both silent films and early talkies, Hitchcock moved to Hollywood...
and, in 1935, starred as one of the director's earliest prototypical cool, glib, intelligent blondes in
The 39 Steps
The 39 Steps (1935 film)
The 39 Steps is a British thriller film directed by Alfred Hitchcock, loosely based on the adventure novel The Thirty-nine Steps by John Buchan. The film stars Robert Donat and Madeleine Carroll....
based on the espionage novel by
John Buchan
John Buchan, 1st Baron Tweedsmuir
John Buchan, 1st Baron Tweedsmuir was a Scottish novelist, historian and Unionist politician who served as Governor General of Canada, the 15th since Canadian Confederation....
. The film became a sensation and with it, so did Carroll. Cited by the
New York Times
for a performance that was "charming and skillful", Carroll became very much in demand thanks, in part, to director Hitchcock, who later admitted that he worked very hard with her to bring out the vivacious and sexy qualities she possessed offscreen, but which sometimes vanished when cameras rolled. Of Hitchcock's heroines, as exemplified by Carroll, film critic
Roger Ebert
Roger Ebert
Roger Joseph Ebert is an American film critic and screenwriter. He is the first film critic to win a Pulitzer Prize for Criticism.Ebert is known for his film review column and for the television programs Sneak Previews, At the Movies with Gene Siskel and Roger Ebert, and Siskel and Ebert and The...
once wrote that they "reflected the same qualities over and over again: They were blonde. They were icy and remote. They were imprisoned in costumes that subtly combined fashion with fetishism. They mesmerized the men, who often had physical or psychological handicaps."
The director wanted to re-team Carroll with her
39 Steps
co-star
Robert Donat
Robert Donat
Robert Donat was an English film and stage actor. He is best-known for his roles in Alfred Hitchcock's The 39 Steps and Goodbye, Mr...
the following year in
Secret Agent
, a spy thriller based on a work by
W. Somerset Maugham
W. Somerset Maugham
William Somerset Maugham , CH was an English playwright, novelist and short story writer. He was among the most popular writers of his era and, reputedly, the highest paid author during the 1930s.-Childhood and education:...
. However, Donat's recurring health problems prevented him from accepting the role and, instead, Hitchcock paired Carroll with
John Gielgud
John Gielgud
Sir Arthur John Gielgud, OM, CH was an English actor, director, and producer. A descendant of the renowned Terry acting family, he achieved early international acclaim for his youthful, emotionally expressive Hamlet which broke box office records on Broadway in 1937...
.
Poised for international stardom, Carroll was the first British beauty to be offered a major American film contract; she accepted a lucrative deal with
Paramount Pictures
Paramount Pictures
Paramount Pictures Corporation is an American film production and distribution company, located at 5555 Melrose Avenue in Hollywood. Founded in 1912 and currently owned by media conglomerate Viacom, it is America's oldest existing film studio; it is also the last major film studio still...
. She starred opposite
Gary Cooper
Gary Cooper
Frank James Cooper, known professionally as Gary Cooper, was an American film actor. He was renowned for his quiet, understated acting style and his stoic, but at times intense screen persona, which was particularly well suited to the many Westerns he made...
in the adventure
The General Died at Dawn
The General Died at Dawn
The General Died at Dawn is a 1936 film that tells the story of a mercenary who meets a beautiful girl while trying to keep arms from getting to a vicious warlord in war-torn China. The movie was written by Charles G. Booth and Clifford Odets, and directed by Lewis Milestone.It stars Gary Cooper,...
and with
Ronald Colman
Ronald Colman
Ronald Charles Colman was an English actor.-Early years:He was born in Richmond, Surrey, England, the second son and fourth child of Charles Colman and his wife Marjory Read Fraser. His siblings included Eric, Edith, and Marjorie. He was educated at boarding school in Littlehampton, where he...
in the 1937 box-office success
The Prisoner of Zenda
The Prisoner of Zenda (1937 film)
The Prisoner of Zenda is a 1937 black-and-white adventure film based on the Anthony Hope 1894 novel of the same name and the 1896 play. Of the many film adaptations, this is considered by many to be the definitive version....
. She tried a big musical
On the Avenue
On the Avenue
On the Avenue is a 1937 American musical film directed by Roy Del Ruth and starring Dick Powell, Madeleine Carroll, and Alice Faye. All of the songs in this film were composed by Irving Berlin.-Plot:...
(1937) opposite
Dick Powell
Dick Powell
Richard Ewing "Dick" Powell was an American singer, actor, producer, director and studio boss.Despite the same last name he was not related to William Powell, Eleanor Powell or Jane Powell.-Biography:...
, but others of her films, including
One Night in Lisbon
(1941), and
My Favorite Blonde
My Favorite Blonde
My Favorite Blonde is a 1942 American comedy film starring Bob Hope and Madeleine Carroll.The movie depicts a vaudeville performer who gets mixed up with British and German secret agents in the days just before America enters World War II.-Cast:...
(1942) with
Bob Hope
Bob Hope
Bob Hope, KBE, KCSG, KSS was a British-born American comedian and actor who appeared in vaudeville, on Broadway, and in radio, television and movies. He was also noted for his work with the US Armed Forces and his numerous USO shows entertaining American military personnel...
, were less prestigious. She made her final film for director
Otto Preminger
Otto Preminger
Otto Ludwig Preminger was an Austro–Hungarian-American theatre and film director.After moving from the theatre to Hollywood, he directed over 35 feature films in a five-decade career. He rose to prominence for stylish film noir mysteries such as Laura and Fallen Angel...
,
The Fan
The Fan (1949 film)
The Fan is a 1949 American drama film directed by Otto Preminger. The screenplay by Dorothy Parker, Walter Reisch, and Ross Evans is based on the 1892 play Lady Windermere's Fan by Oscar Wilde...
, adapted from Oscar Wilde's
Lady Windermere's Fan
Lady Windermere's Fan
Lady Windermere's Fan, A Play About a Good Woman is a four act comedy by Oscar Wilde, first produced 22 February 1892 at the St James's Theatre in London. The play was first published in 1893...
, in 1949.
For her contribution to the motion picture industry, Madeleine Carroll has a star on the
Hollywood Walk of Fame
Hollywood Walk of Fame
The Hollywood Walk of Fame consists of more than 2,400 five-pointed terrazzo and brass stars embedded in the sidewalks along fifteen blocks of Hollywood Boulevard and three blocks of Vine Street in Hollywood, California...
at 6707 Hollywood Blvd. A commemorative monument and plaques were unveiled in her birthplace, West Bromwich, to mark the centenary of her birth. Her story is also of her rare courage and dedication when at the height of her career, she "gave it all up" during WWII after her sister was killed by a
German
Germany
Germany , officially the Federal Republic of Germany , is a federal parliamentary republic in Europe. The country consists of 16 states while the capital and largest city is Berlin. Germany covers an area of 357,021 km2 and has a largely temperate seasonal climate...
air raid, to work in the line of fire on troop trains for the Red Cross in Italy – for which she was awarded the American Medal of Freedom. She was also awarded the Legion of Honour by France, for her tireless work in fostering relations after the war between France and the USA.
Personal life
After her only sister Marguerite was killed in
the Blitz
The Blitz
The Blitz was the sustained strategic bombing of Britain by Nazi Germany between 7 September 1940 and 10 May 1941, during the Second World War. The city of London was bombed by the Luftwaffe for 76 consecutive nights and many towns and cities across the country followed...
, she radically shifted her priorities from acting to working in field hospitals as a Red Cross nurse during
World War II
World War II
World War II, or the Second World War , was a global conflict lasting from 1939 to 1945, involving most of the world's nations—including all of the great powers—eventually forming two opposing military alliances: the Allies and the Axis...
. She served in the 61st Station Hospital, Foggia, Italy in 1944, where many wounded American airmen flying out of air bases around
Foggia
Foggia
Foggia is a city and comune of Apulia, Italy, capital of the province of Foggia. Foggia is the main city of a plain called Tavoliere, also known as the "granary of Italy".-History:...
were hospitalized. During WWII, Madeleine Carroll donated her chateau outside Paris to more than 150 "adopted" orphans. She also arranged groups of young people in California to knit clothing for them. In a
RKO-Pathe News
Pathe News
Pathé Newsreels were produced from 1910 until the 1970s, when production of newsreels was in general stopped. Pathé News today is known as British Pathé and its archive of over 90,000 reels is fully digitised and online.-History:...
bulletin, she was filmed at the chateau with the children and staff wearing the clothes, where she thanked people who had contributed. She was awarded the
Legion d'Honneur
Légion d'honneur
The Legion of Honour, or in full the National Order of the Legion of Honour is a French order established by Napoleon Bonaparte, First Consul of the Consulat which succeeded to the First Republic, on 19 May 1802...
for bravery in France.
She became a naturalized citizen of the United States in 1943.
Madeleine Carroll died on October 2, 1987 from
pancreatic cancer
Pancreatic cancer
Pancreatic cancer refers to a malignant neoplasm of the pancreas. The most common type of pancreatic cancer, accounting for 95% of these tumors is adenocarcinoma, which arises within the exocrine component of the pancreas. A minority arises from the islet cells and is classified as a...
in
Marbella
Marbella
Marbella is a town in Andalusia, Spain. It is situated on the Mediterranean Sea, in the province of Málaga, beneath the La Concha mountain. In 2000 the city had 98,823 inhabitants, in 2004, 116,234, in 2010 approximately 135,000....
,
Spain
Spain
Spain , officially the Kingdom of Spain languages]] under the European Charter for Regional or Minority Languages. In each of these, Spain's official name is as follows:;;;;;;), is a country and member state of the European Union located in southwestern Europe on the Iberian Peninsula...
aged 81, exactly one week after her
The Prisoner of Zenda
co-star
Mary Astor
Mary Astor
Mary Astor was an American actress. Most remembered for her role as Brigid O'Shaughnessy in The Maltese Falcon with Humphrey Bogart, Astor began her long motion picture career as a teenager in the silent movies of the early 1920s.She eventually made a successful transition to talkies, but almost...
died. She was initially interred in
Fuengirola
Fuengirola
Fuengirola, in ancient times known as Suel and then Suhayl, is a large town and municipality on the Costa del Sol in the province of Málaga, autonomous community of Andalusia in southern Spain. It is a major tourist resort, with more than 8 km of beaches, and home to a mediæval Moorish fortress...
,
Málaga
Málaga
Málaga is a city and a municipality in the Autonomous Community of Andalusia, Spain. With a population of 568,507 in 2010, it is the second most populous city of Andalusia and the sixth largest in Spain. This is the southernmost large city in Europe...
, Spain but in 1998 was reburied in the cemetery of Sant Antoni de Calonge in
Catalonia
Catalonia
Catalonia is an autonomous community in northeastern Spain, with the official status of a "nationality" of Spain. Catalonia comprises four provinces: Barcelona, Girona, Lleida, and Tarragona. Its capital and largest city is Barcelona. Catalonia covers an area of 32,114 km² and has an...
, Spain.
Filmography
The Guns of Loos

The Guns of Loos

The Guns of Loos is a silent British war film directed by Sinclair Hill and starring Henry Victor, Madeleine Carroll, and Bobby Howes.-Plot:A blind veteran of the First World War returns home to run his family's industrial empire....


(1928)
Pas si bête (1928)
The First Born

The First Born

The First Born is a British silent film drama, directed by Miles Mander for Gainsborough Pictures and starring Mander and Madeleine Carroll.-Production background:The screenplay was also written by Mander in conjunction with Alma Reville...


(1928)
What Money Can Buy

What Money Can Buy

What Money Can Buy is a 1928 British silent drama film directed by Edwin Greenwood and starring Madeleine Carroll, Humberston Wright and John Longden...


(1928)
The Crooked Billet

The Crooked Billet

The Crooked Billet is a 1929 British drama film directed by Adrian Brunel and starring Madeleine Carroll, Carlyle Blackwell and Miles Mander.-Cast:* Carlyle Blackwell - Dietrich Hebburn* Madeleine Carroll - Joan Easton* Miles Mander - Guy Morrow...


(1929)
The American Prisoner

The American Prisoner (film)

The American Prisoner is a 1929 British drama film directed by Thomas Bentley and starring Carl Brisson, Madeleine Carroll and Cecil Barry. It was adapted from the 1904 novel The American Prisoner by Eden Phillpotts. An American sailor imprisoned on Dartmoor during the Napoleonic Wars manages to...


(1929)
Atlantic

Atlantic (1929 film)

Atlantic is a British black-and-white film, directed and produced by Ewald André Dupont and starring Franklin Dyall and Madeleine Carroll. Three versions were made, one in the United Kingdom, one in Germany, and one in France...


(1929)
L'instinct (1930)
The W Plan

The W Plan

The W Plan is a British spy film directed by Victor Saville and starring Brian Aherne, Madeleine Carroll, Austin Trevor, George Merritt, and Milton Rosmer. -External links:**...


(1930)
Young Woodley

Young Woodley

Young Woodley is a 1930 British drama film directed by Thomas Bentley and starring Madeleine Carroll, Frank Lawton and Sam Livesey, based on the controversial 1925 play Young Woodley by John Van Druten. Bentley had previously directed a 1928 silent version, but the film was never released, and he...


(1930)
French Leave (1930)
Escape

Escape (1930 film)

Escape is a 1930 British crime film directed by Basil Dean and starring Gerald du Maurier, Edna Best, Gordon Harker and Austin Trevor. A man escapes from Dartmoor Prison and is hunted across the moors by policemen to whom it is an unpleasant reminder of their experiences during the First World War....


(1930)
School for Scandal

School for Scandal (film)

School for Scandal is a 1930 British comedy film directed by Thorold Dickinson and Maurice Elvey and starring Basil Gill, Madeleine Carroll and Ian Fleming. It is based on the play School for Scandal by Richard Brinsley Sheridan.-Cast:...


(1930)
Kissing Cup's Race (1930)
Madame Guillotine

Madame Guillotine

Madame Guillotine is a 1931 British historical romance film directed by Reginald Fogwell and starring Madeleine Carroll, Brian Aherne and Henry Hewitt. During the French Revolution, a revolutionary falls in love with and marries an aristocratic woman....


(1931)
Fascination (1931)
The Written Law

The Written Law

The Written Law is a 1931 British drama film directed by Reginald Fogwell and starring Madeleine Carroll, Percy Marmont and Henry Hewitt. A man is cured of blindness but conceals his recovery from his wife.-Main cast:...


(1931)
I Was a Spy

I Was a Spy

I Was a Spy is a 1933 British thriller film directed by Victor Saville and starring Madeleine Carroll, Herbert Marshall and Conrad Veidt. A Belgian woman who nurses injured German soldiers during World War I passes intelligence to the British....


(1933)
Sleeping Car

Sleeping Car (film)

Sleeping Car is a 1933 British comedy film directed by Anatole Litvak and starring Madeleine Carroll, Ivor Novello Stanley Holloway and Laddie Cliff.-Cast:* Madeleine Carroll - Anne* Ivor Novello - Gaston* Laddie Cliff - Pierre* Kay Hammond - Simone...


(1933)
The World Moves On

The World Moves On

-Plot:The story opens 185 years ago when two families, cotton merchants in England and America, with branches in France and Prussia swear to stand by each other in a belief that a great business firmly established in four countries will be able to withstand even such another calamity as the...


(1934)
The 39 Steps

The 39 Steps (1935 film)

The 39 Steps is a British thriller film directed by Alfred Hitchcock, loosely based on the adventure novel The Thirty-nine Steps by John Buchan. The film stars Robert Donat and Madeleine Carroll....


(1935)
The Dictator

The Dictator (film)

The Dictator is a 1935 British historical drama film directed by Victor Saville and starring Clive Brook, Madeleine Carroll, Emlyn Williams and Helen Haye...


(1935)
The Story of Papworth, the Village of Hope (1936, short)
Secret Agent (1936)
The General Died at Dawn

The General Died at Dawn

The General Died at Dawn is a 1936 film that tells the story of a mercenary who meets a beautiful girl while trying to keep arms from getting to a vicious warlord in war-torn China. The movie was written by Charles G. Booth and Clifford Odets, and directed by Lewis Milestone.It stars Gary Cooper,...


(1936)
Lloyd's of London

Lloyd's of London (film)

Lloyd's of London is a 1936 American drama film directed by Henry King. It stars Tyrone Power, Madeleine Carroll, and Guy Standing. The supporting cast includes Freddie Bartholomew, George Sanders, Virginia Field, and C. Aubrey Smith. Loosely based on history, the film follows the dealings of a man...


(1936)
The Case Against Mrs. Ames (1936)
On the Avenue

On the Avenue

On the Avenue is a 1937 American musical film directed by Roy Del Ruth and starring Dick Powell, Madeleine Carroll, and Alice Faye. All of the songs in this film were composed by Irving Berlin.-Plot:...


(1937)
It's All Yours (1937)
The Prisoner of Zenda

The Prisoner of Zenda (1937 film)

The Prisoner of Zenda is a 1937 black-and-white adventure film based on the Anthony Hope 1894 novel of the same name and the 1896 play. Of the many film adaptations, this is considered by many to be the definitive version....


(1937)
Blockade

Blockade (1938 film)

Blockade is a 1938 American drama film directed by William Dieterle and starring Madeleine Carroll, Henry Fonda and Leo Carrillo. During the Spanish Civil War a farmer takes up arms to fight for the Republican side.-Cast:* Madeleine Carroll - Norma...


(1938)
Cafe Society (1939)
Honeymoon in Bali

Honeymoon in Bali

Honeymoon in Bali is a 1939 American romantic comedy film. It is also known by the alternative title Husbands or Lovers and My Love For Yours.-Plot:...


(1939)
My Son, My Son!

My Son, My Son!

My Son, My Son! is a 1940 drama film based on a novel by the same name written by Howard Spring and directed by Charles Vidor. It was nominated for an Academy Award for Best Art Direction by John DuCasse Schulze.-Cast:* Madeleine Carroll - Livia Vaynol...


(1940)
Safari

Safari (1940 film)

Safari is a 1940 American adventure film directed by Edward H. Griffith and starring Douglas Fairbanks Jr., Madeleine Carroll and Tullio Carminati. An ambitious young woman goes on a safari hunt with a millionaire in the hope of convincing him to marry her, but falls in love with the chief hunter...


(1940)
Northwest Mounted Police (1940)
Virginia (1941)
One Night in Lisbon (1941)
Bahama Passage (1941)
My Favorite Blonde

My Favorite Blonde

My Favorite Blonde is a 1942 American comedy film starring Bob Hope and Madeleine Carroll.The movie depicts a vaudeville performer who gets mixed up with British and German secret agents in the days just before America enters World War II.-Cast:...


(1942)
White Cradle Inn

White Cradle Inn

White Cradle Inn is a 1947 British drama film directed by Harold French and starring Madeleine Carroll, Ian Hunter and Michael Rennie. In Switzerland after the Second World War a French evacuee boy wants to stay there rather than return home leading to a moral dilemma.-Cast:* Madeleine Carroll -...


(1947)
An Innocent Affair (1948)
The Fan

The Fan (1949 film)

The Fan is a 1949 American drama film directed by Otto Preminger. The screenplay by Dorothy Parker, Walter Reisch, and Ross Evans is based on the 1892 play Lady Windermere's Fan by Oscar Wilde...


(1949)
External links