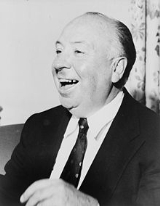 Alfred Hitchcock
Sir Alfred Joseph Hitchcock
,
KBE
Order of the British Empire
The Most Excellent Order of the British Empire is an order of chivalry established on 4 June 1917 by George V of the United Kingdom. The Order comprises five classes in civil and military divisions...
(13 August 1899 – 29 April 1980) was a British film director and producer. He pioneered many techniques in the
suspense
Suspense
Suspense is a feeling of uncertainty and anxiety about the outcome of certain actions, most often referring to an audience's perceptions in a dramatic work. Suspense is not exclusive to fiction, though. Suspense may operate in any situation where there is a lead-up to a big event or dramatic...
and
psychological thriller
Psychological thriller
Psychological thriller is a specific sub-genre of the broad ranged thriller with heavy focus on characters. However, it often incorporates elements from the mystery and drama genre, along with the typical traits of the thriller genre...
genres. After a successful career in
British cinema
Cinema of the United Kingdom
The United Kingdom has had a major influence on modern cinema. The first moving pictures developed on celluloid film were made in Hyde Park, London in 1889 by William Friese Greene, a British inventor, who patented the process in 1890. It is generally regarded that the British film industry...
in both
silent film
Silent film
A silent film is a film with no synchronized recorded sound, especially with no spoken dialogue. In silent films for entertainment the dialogue is transmitted through muted gestures, pantomime and title cards...
s and early
talkies
Sound film
A sound film is a motion picture with synchronized sound, or sound technologically coupled to image, as opposed to a silent film. The first known public exhibition of projected sound films took place in Paris in 1900, but decades would pass before sound motion pictures were made commercially...
, Hitchcock moved to
Hollywood
Cinema of the United States
The cinema of the United States, also known as Hollywood, has had a profound effect on cinema across the world since the early 20th century. Its history is sometimes separated into four main periods: the silent film era, classical Hollywood cinema, New Hollywood, and the contemporary period...
. In 1956 he became an American citizen, whilst remaining a British subject.
Over a career spanning more than half a century, Hitchcock fashioned for himself a distinctive and recognisable directorial style.
Never turn your back on a friend.

Alfred Hitchcock Presents|Alfred Hitchcock Presents
I am a typed director. If I made Cinderella|Cinderella, the audience would immediately be looking for a body in the coach.

Newsweek (11 June 1956)
Television has done much for psychiatry by spreading information about it, as well as contributing to the need for it.

Alfred Hitchcock Presents|Alfred Hitchcock Presents. 1960
I'm frightened of eggs, worse than frightened, they revolt me. That white round thing without any holes … have you ever seen anything more revolting than an egg yolk breaking and spilling its yellow liquid? Blood is jolly, red. But egg yolk is yellow, revolting. I've never tasted it.

News summaries (31 December 1963)
One of television's great contributions is that it brought murder back into the home, where it belongs.

National Observer (15 August 1966)
Seeing a murder on television can … help work off one's antagonisms. And if you haven't any antagonisms, the commercials will give you some.

National Observer (15 August 1966)
Dialogue should simply be a sound among other sounds, just something that comes out of the mouths of people whose eyes tell the story in visual terms.

As quoted in Hitchcock (1967) by Francois Truffaut
Give them pleasure — the same pleasure they have when they wake up from a nightmare.

on audiences, Asbury Park NJ Press, 13 Aug. 1974