 Ludovico Antonio Muratori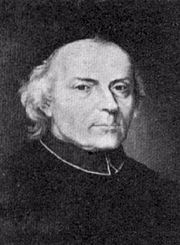 Ludovico Antonio Muratori
(October 21, 1672 – January 23, 1750) was an
Italian
Italy
Italy , officially the Italian Republic languages]] under the European Charter for Regional or Minority Languages. In each of these, Italy's official name is as follows:;;;;;;;;), is a unitary parliamentary republic in South-Central Europe. To the north it borders France, Switzerland, Austria and...
historian
Historian
A historian is a person who studies and writes about the past and is regarded as an authority on it. Historians are concerned with the continuous, methodical narrative and research of past events as relating to the human race; as well as the study of all history in time. If the individual is...
, notable as a leading scholar of his age, and for his discovery of the
Muratorian fragment
Muratorian fragment
The Muratorian fragment is a copy of perhaps the oldest known list of the books of the New Testament. The fragment, consisting of 85 lines, is a 7th-century Latin manuscript bound in an eighth or 7th century codex that came from the library of Columban's monastery at Bobbio; it contains internal...
, the earliest known list of
New Testament
New Testament
The New Testament is the second major division of the Christian biblical canon, the first such division being the much longer Old Testament....
books.
Born to a poor family in
Vignola
Vignola
Vignola is a city and comune in the province of Modena , Italy.Its economy is based on the cultivation of fruit, but mechanical industries and services companies are present....
, near
Modena
Modena
Modena is a city and comune on the south side of the Po Valley, in the Province of Modena in the Emilia-Romagna region of Italy....
, he was first instructed by the Jesuits, studied law, philosophy, and theology at the University of Modena, and was ordained a
priest
Priest
A priest is a person authorized to perform the sacred rites of a religion, especially as a mediatory agent between humans and deities. They also have the authority or power to administer religious rites; in particular, rites of sacrifice to, and propitiation of, a deity or deities...
in 1694. The following year, Count Charles Borromeo called him to the college of "Dottori" at the Ambrosian Library in Milan, where he immediately started collecting unedited ancient writings of various kinds. His first publication was the
Anecdota Latina ex Ambrosianæ Bibliothecæ codicibus
(2 vols., Milan, 1697–98), followed by two other volumes (Padua, 1713).
Duke Rinaldo I (1700) appointed him archivist and librarian in Modena's Ducal library, which position he held until his death in that city. In 1716 Muratori became, in addition, provost of St. Maria della Pomposa, and conducted this
parish
Parish
A parish is a territorial unit historically under the pastoral care and clerical jurisdiction of one parish priest, who might be assisted in his pastoral duties by a curate or curates - also priests but not the parish priest - from a more or less central parish church with its associated organization...
until 1733. He continued publishing unedited writings, first among which was a volume,
Anecdota græca
(Padua, 1709). At the same time he cultivated literature, as is shown by his works,
Della perfetta poesia italiana
(Modena, 1706) and
Riflessioni sopra il buon gusto nelle scienze e nelle arti
(Venice, 1708). He even intended to establish something like a general society of Italian literature, and as early as 1703 published for this purpose, under the pseudonym "Lamindo Pritanio", a plan
Primi disegni della republica letteraria d'Italia
.
In 1708 a quarrel broke out between the
Holy See
Holy See
The Holy See is the episcopal jurisdiction of the Catholic Church in Rome, in which its Bishop is commonly known as the Pope. It is the preeminent episcopal see of the Catholic Church, forming the central government of the Church. As such, diplomatically, and in other spheres the Holy See acts and...
(aided by the emperor) and the Dukes of
Este
Este
The House of Este is a European princely dynasty. It is split into two branches; the elder is known as the House of Welf-Este or House of Welf historically rendered in English, Guelf or Guelph...
, over the possession of
Comacchio
Comacchio
Comacchio is a town and comune of Emilia Romagna, Italy, in the province of Ferrara, 48 km from the provincial capital Ferrara.-Geography:...
, which involved the sovereignty of the district of
Ferrara
Ferrara
Ferrara is a city and comune in Emilia-Romagna, northern Italy, capital city of the Province of Ferrara. It is situated 50 km north-northeast of Bologna, on the Po di Volano, a branch channel of the main stream of the Po River, located 5 km north...
. Muratori supported the claims of his sovereign and of the house of Este against the pope by means of numerous historical researches, which he later on utilized in the preparation of a historical work,
Antichità Estensi ed Italiane
(2 vols., Modena: 1st vol., 1717; 2nd vol., 1740). He continued studying the sources for a history of Italy, and as a fruit of his untiring researches there appeared the large work,
Rerum italicarum Scriptores ab anno æræ christianæ 500 ad annum 1500
(Writers on Italy, 500-1500). It was published in twenty-eight folio volumes with the assistance of the
Società Palatina
of Milan (Milan, 1723–51). An edition was published in the early 20th Century in
Città di Castello
.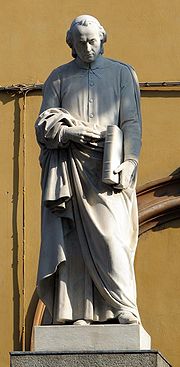 At the same time Muratori edited a collection of seventy-five essays on different historical themes, entitled
Antiquitates italicæ medii ævi
(6 vols. fols., Milan, 1738–42), as an elucidation and supplement to his work on the sources. In the third volume of this collection there is found the Muratorian Canon which is significant to the history of the
New Testament
New Testament
The New Testament is the second major division of the Christian biblical canon, the first such division being the much longer Old Testament....
canon. In order to render these researches accessible to greater masses of his countrymen, he himself published a new edition in Italian,
Dissertazioni sopra le Antichità italiane
(3 vols., Milan, 1751). Other publications of sources are his collections of ancient inscriptions (
Novus thesaurus veterum inscriptionum
, 4 vols., Milan, 1739–42), the fourth volume containing also the ancient Christian inscriptions; and the edition of the Roman Sacramentaries (
Liturgia romana vetus
, 2 vols., Venice, 1748), of value to this day. He wrote a chronological representation of Italian history (
Annali d'Italia
, 12 vols.,
quarto
Quarto
Quarto could refer to:* Quarto, a size or format of a book in which four leaves of a book are created from a standard size sheet of paper* For specific information about quarto texts of William Shakespeare's works, see:...
, Milan, 1744–49), based upon the numerous sources which he published or which otherwise were known. After his death this work was re-edited and continued (Milan, 1753-56 in 17 vols., new edition in 18 vols., 1818–21).
He also published a work, which attracted considerable attention, on the question as to how far freedom of thinking might go in religious matters,
De ingeniorum moderatione in religionis negotio
(Paris, 1714). Many of his views and opinions were openly challenged; for instance those concerning the
Immaculate Conception
Immaculate Conception
The Immaculate Conception of Mary is a dogma of the Roman Catholic Church, according to which the Virgin Mary was conceived without any stain of original sin. It is one of the four dogmata in Roman Catholic Mariology...
of the Virgin Mary and the manner of worshipping the saints. Another work, which touches upon religious questions,
Della regolata divozione de' Cristiani
(Venice, 1723), also came under attack. He defended himself in his work,
De superstitione vitanda
(Milan, 1742). In the quarrel about the ideas of George Hermes, his book,
De ingeniorum moderatione
, was translated into German by Biunde and Braun (Coblenz, 1837) in the interest of the followers of the Hermesian doctrines. In his
Della carità cristiana
(Modena, 1723), he discusses Christian charity.
He still continued his literary studies, as is shown by his works on
Petrarch
Petrarch
Francesco Petrarca , known in English as Petrarch, was an Italian scholar, poet and one of the earliest humanists. Petrarch is often called the "Father of Humanism"...
(
Vita e rime di F. Petrarca
, Modena, 1711) and
Lodovico Castelvetro
Lodovico Castelvetro
Lodovico Castelvetro was an important figure in the development of neo-classicism, especially in drama. It was his reading of Aristotle that led to a widespread adoption of a tight version of the Three Unities, as a dramatic standard....
(
Vita ed opere di L. Castelvetro
, Milan, 1727). On philosophy he wrote
Filosofia morale esposta
(Venice, 1735),
Delle forze dell' intendimento umano
(Venice, 1735), and
Delle forze della fantasia
(Venice, 1745). Law and politics are treated in
Governo della Peste politico, medico ed ecclesiastico
(Modena, 1714; frequently reprinted),
Defetti della Giurisprudenza
(1741),
Della pubblica felicità
(1749). He corresponded with a large circle of acquaintances, and a collection of his letters by Selmi appeared in Venice (2 vols., 1789); another by Ceruti in Modena (1885). In spite of many attacks which he suffered for his religious views, and notwithstanding many of his opinions regarding ecclesiastical politics were not approved of in Rome, he was highly esteemed in high circles of the Catholic Church, as is shown in letters sent to him by Benedict XIV and Cardinal Ganganelli, later on Clement XIV.
He was also member of the first
learned society
Learned society
A learned society is an organization that exists to promote an academic discipline/profession, as well a group of disciplines. Membership may be open to all, may require possession of some qualification, or may be an honor conferred by election, as is the case with the oldest learned societies,...
in lands ruled by the Austrian Habsburgs, the
Societas eruditorum incognitorum in terris Austriacis
Societas eruditorum incognitorum in terris Austriacis
Societas eruditorum incognitorum in terris Austriacis was the first learned society in the lands under control of Austrian Habsburgs. It was established, formally, in 1746 at the university and episcopal town of Olomouc in order to spread Enlightenment ideas...
and was publishing in the society's journal.
In 1950, Italy issued a
postage stamp
Postage stamp
A postage stamp is a small piece of paper that is purchased and displayed on an item of mail as evidence of payment of postage. Typically, stamps are made from special paper, with a national designation and denomination on the face, and a gum adhesive on the reverse side...
honoring him on the 200th anniversary of his death.