 Lucena City
Metro Lucena has an estimated population of 700,000 which is mostly concentrated in the flat south-central portion of Quezon, which includes the cities of Lucena and Tayabas, Sariaya, Candelaria, Lucban & Pagbilao . The people are often characterized as friendly and hardworking. It is the center of commerce and tourism in Quezon Province.
Government
Although Lucena is a
highly urbanized city
Cities of the Philippines
A city is a tier of local government in the Philippines. All Philippine cities are chartered cities, whose existence as corporate and administrative entities is governed by their own specific charters in addition to the Local Government Code of 1991, which specifies the administrative structure...
, its charter permits its citizens to vote for provincial elective officials (provincial governor, vice governor, and board).
Barangays
Lucena is politically subdivided into 33
barangay
Barangay
A barangay is the smallest administrative division in the Philippines and is the native Filipino term for a village, district or ward...
s.



Barangay 1 (Pob.)
Barangay 2 (Pob.)
Barangay 3 (Pob.)
Barangay 4 (Pob.)
Barangay 5 (Pob.)
Barangay 6 (Pob.)
Barangay 7 (Pob.)
Barangay 8 (Pob.)
Barangay 9 (Pob.)
Barangay 10 (Pob.)




Barangay 11 (Pob.)
Barra
Bocohan
Mayao Castillo
Cotta
Gulang-Gulang
Dalahican
Domoit
Ibabang Dupay (Pob.)
Ibabang Iyam




Ibabang Talim
Ilayang Dupay
Ilayang Iyam
Ilayang Talim
Isabang
Mayao Crossing
Mayao Kanluran
Mayao Parada
Mayao Silangan
Ransohan




Salinas
Talao-Talao
Market View (Pob.)



Economic activities
Economic activities in Lucena are heavily concentrated in the
poblacion
and other sub-urban barangays where the highly dense and constricted Central Business District (CBD) is home to a large cluster of different business enterprises. As population grows in tandem with new and promising business prospects, business activities spill over adjoining barangays, thus forming mini satellite commercial areas.
Other commercial strips are located at 10 suburban barangays where both retail and wholesale trade, including other essential services, are being engaged in. Big commercial depots and warehouses in these suburban barangays do business in sales, distribution, and transport of assorted business products in bulk.
Of the total 8,316.90 hectare land area of Lucena City, 19 percent or 1,651.77 hectares cover the existing built up area. Almost 3% of this or 46.62 hectares cover the industrial section, located in different barangays of the city. These areas are home to significant industrial and manufacturing activities.
Industry in Lucena produces a sustainable amount of agro-industrial based products, dried and smoked fish, distilled liquors, bamboo and rattan furniture, ornamental flowers/plants, vegetable as well as meat products.
Lucena is also known as the "Cocopalm City of the South". Nestled amidst a wide expanse of coconut lands, Lucena has coconut oil mills which produce oil-based household products like cooking oil, soap, lard, margarine, and oil based medicines.The well known JnJ Oil, Exora cooking oil and Vegetable lard, Miyami Cooking Oil are proudly made in this city. Car assembly/manufacturing plants have also established in the city turning out quality vehicles and accessories while Manila-based car shops are starting to put up some branches.
Road network provides access from all key cities and towns in the island of Luzon to this highly urbanized capital. Well-paved radial and by-pass routes criss-crossing in and out of the city facilitate the transport of unlimited assortment of merchandise, supplies, and raw materials to and from the city on a round-the-clock basis.
Over the years, it was observed that a growing number of visitors from other places come to Lucena. Travelers of various types and sizes are drawn to Lucena because of modern facilities and good amenities that could be found in the city such as Quezon Convention Center, Kalilayan Civic Centre, Sentro Pastoral Auditorium, Alcala Sports Complex a two time host of a Palarong Pambansa, Manuel S. Enverga Gymnasium, and Sacred Heart College Gym and Marcial Punzalan Gymnasium.
Shopping Malls/Shopping Centers
SM City Lucena

SM City Lucena

SM City Lucena is a shopping mall owned and developed by SM Prime Holdings, the largest mall operator in the Philippines. It is located in Maharlika Highway corner Dalahican Road, Brgy. Ibabang Dupay, Lucena City, Quezon. It is the first SM Supermall in the province of Quezon and...



Metro Gaisano
Pacific Mall Lucena
UNITOP
Carlos City Center
SM Hypermarket

SM Hypermarket

SM Hypermarket was started by the Sy family back in the late '90s in response to the growing needs of the market for more convenience. The hypermarket, a new retail format of combining a supermarket with a department store providing one-stop shopping concept was newly accepted by Filipino...


Former AGORA
Places of Interest
Perez Park
Saint Ferdinand Cathedral
Talao-Talao Beach
Quezon Convention Center

Quezon Convention Center

The Quezon Convention Center is a multi-purpose convention center in Quezon located near the Provincial Capitol in Lucena, Quezon, Philippines. The venue has hosted local and regional basketball competitions, concerts, and conferences....



Alcala Sports Complex
Yoga Learning Center
Kalilayan Civic Centre
Sentro Pastoral Auditorium
St. Alphonsus Seminary
Our Lady of Carmelite Monastery
Botanical Garden
Dalahican Fish Port Complex
Lucena Grand Central Terminal
Lucena City Hall
Camp Guillermo Nakar
Country Flowers
Pasayahan (Chami Festival)
Pasayahan (Chami Festival) is one of the most famous festivals in
Quezon
Quezon
-History:Originally, what now forms Quezon was divided among the provinces of Batangas, Laguna, and Nueva Ecija. The area was first explored by Juan de Salcedo in 1571-1572, during his expedition from Laguna to Camarines provinces....
. It always celebrates every last week of the month of May.
Transportation
Lucena City has a central transportation hub aptly called the Lucena Grand Central Terminal located in Barangay Ilayang Dupay, just midway through the
Bicol Region
Bicol Region
The Bicol Region or Bicolandia is one of the 17 regions of the Philippines. Its regional center is Legazpi City...
and back. New and modern buses ply the route Baguio-Lucena, Buendia/LRT-Lucena, EDSA Pasay-Lucena, Cubao/Kamias-Lucena and Alabang/Starmall-Lucena. It serves not only
Manila
Manila
Manila is the capital of the Philippines. It is one of the sixteen cities forming Metro Manila.Manila is located on the eastern shores of Manila Bay and is bordered by Navotas and Caloocan to the north, Quezon City to the northeast, San Juan and Mandaluyong to the east, Makati on the southeast,...
or Baguio-bound buses but also buses going toward the upland and far-flung areas of Quezon province, particularly Bondoc Peninsula towns. Bus companies such as JAC Liner, Lucena Lines, JAM Liner, DLTBCo, A&B, BALGCO, Raymond Transportation, Superlines, ALPS, Philtranco, Penafrancia, Isarog, Cagsawa, and Dela Rosa Bus Lines bring back and forth passengers to Manila and Lucena.
Lucena also has a wide network of jeepney routes, all emanating from the city proper (
Bayan
) and reaching out to the major barangays of the city, as well as nearby towns. Thousand of tricycles also roam the streets of the city, bringing passengers right at their point of destination. These tricycles usually are the mode of transport when night falls.
The Philippine National Railways is on the process of rehabilitating the Existing Manila-Bicol and Baguio-Bicol Railway Line, which includes stops in Quezon province, including Lucena, which traditionally then is a major loading & pick-up point for passengers and cargoes alike when the railway system was once the primary transportation mode going to Manila. Modern air-conditioned coaches will ply this route.
Education facilities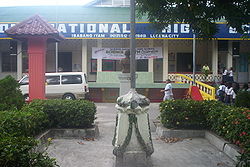 In 2006, the city had a literacy rate of 98.6 percent. It has eight tertiary and 14 secondary schools including public and private.
The tertiary education system in Lucena provides instruction and training in fields of study, both for baccalaureate degrees and vocational courses. Institutions offering degree programs including liberal arts, arts and sciences, engineering, and information technology are the
Alpha Centauri Educational System, Inc.
, ABE International College of Business and Economics along Quezon Avenue, Calayan Educational Foundation, Inc.(CEFI), City College of Lucena along the Maharlika Highway, Columbus College-Lucena, Catholic institutions of Sacred Heart College, being the oldest Catholic school in Lucena, on Merchan Street,
Maryhill College
(formerly Marknoll Academy), which is found at the heart of the city (next to St. Ferdinand Cathedral),
Manuel S. Enverga University Foundation
, Southern Luzon State University - Lucena Dual Training and Livelihood Center at the City Hall Annex with soon-to-open SLSU College of Medicine to be built at the Quezon Medical Center Compound, the Baptist Voice Bible College on Edano Street, Quezon Center for Research & Studies - Institute of Management (QCRS-IM).
The Inter-Global Maritime College in Barangay Bocohan provides programs in the maritime sciences. St. Anne College in Barangay Gulang-gulang is known for its BSHRM course, St. Augustine School of Nursing at Carlos City Center, AMA School of Nursing in front of Quezon Medical Center offers degrees in the allied medical sciences. The AMA Computer College-Lucena on M.L. Tagarao Street in Iyam, Informatics Lucena - Granja Street, Metro Data Computer Learning Center, Datamex Computer Studies -Enriquez Street, United Computer Educational Institute - Quezon Avenue, and STI College at the corner of Enriquez and Profugo Streets, Infra Comm Asia at Ocean Palace Mall are institutions for higher education that provide computer-related courses.
Aside from tertiary schools, the city also has a expanse footprint on the pre-school, primary and secondary levels of education, both in public and private schools. There are numerous day-care centers found all over the city.
Maryhill College (formerly Marknoll Academy)
AMA Lucena
St. Augustine Lucena
Columbus College
Inter-Global College Foundation
Southern Luzon State University - Lucena
ABE College
Television Networks
TV Natin
AksyonTV

AksyonTV

AksyonTV is a 24-hour non-stop news and sports-related channel in the Philippines. Owned and operated by Associated Broadcasting Company, it occupies the frequency previously used by MTV Philippines, a subsidiary of Nation Broadcasting Corporation...


(Channel 20)
Star Channel 8

ConAmor Broadcasting Systems

ConAmor Broadcasting Systems is a TV and radio network in the Philippines. This stations studios are located at Barangay Ibabang Dupay, Lucena City.-History:...



TV5

Associated Broadcasting Company

The Associated Broadcasting Company, Inc is a television network in the Philippines, with main broadcast facilities and transmitter located at 762 Quirino Highway, San Bartolome, Novaliches, Quezon City. The network was previously known as the , Associated Broadcasting Company remains the legal...


(Channel 13)
ABS-CBN Lucena

ABS-CBN

ABS–CBN Corporation is a Philippine-based media conglomerate. It is the Philippines' largest media and entertainment conglomerate. The corporation was the merger of Alto Broadcasting System which at that time owned by James Lindenberg and Antonio Quirino, and the Chronicle Broadcasting Network ...


(Channel 24)
SMNI Lucena (Channel 28)
GMA Lucena

GMA Network

GMA Network is a major commercial television & radio network in the Philippines. GMA Network is owned by GMA Network, Inc. a publicly listed company...


(Channel 12)
Studio 23

Studio 23

Studio 23 is a Filipino television network owned by the ABS-CBN Corporation. The network is named for its flagship station in Metro Manila, DWAC-TV, which is carried on UHF channel 23...



Hospitals
Lucena has private and public hospitals that are capable of providing most common and advanced medical services, as well as in handling medical emergencies. Both types of institutions are considered to provide the same standard of healthcare and services, differing mainly with the medical and diagnostic facilities at hand.
These are staffed with qualified medical practitioners that are well-versed in English. The doctors are graduates of the many top reputable medical schools in the Philippines; most have pursued further studies and training in the United States. Likewise, the nurses are the products of the many credible nursing schools in the country. These same institutions have produced the many Filipino nurses working in the United States, Europe, Middle East, and other parts of the world.
Lucena United Memorial District Hospital, 178 Merchan Street
Lucena MMG General Hospital, Maharlika Highway, Ibabang Dupay
Mt. Carmel Diocesan General Hospital, Allarey Extension
Lucena United Doctors Hospital, Barangay Isabang
St. Anne General Hospital, 51 Gomez Street
Quezon Medical Center (Quezon Memorial Hospital), QMC Compound, Quezon Avenue
St. Mary's Hospital, Quezon Avenue
Quezon MMG Medical Plaza, Quezon Avenue
External links