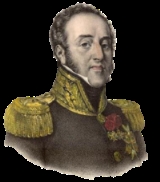 Louis Gabriel Suchet
Louis Gabriel Suchet
,
1st Duc d'Albufera

Albufera

The Albufera is a saltwater lagoon and estuary on the Gulf of Valencia coast of the Valencian Community in eastern Spain. It is the main porton of the Parc Natural de l'Albufera , with a surface area of...



(2 March 1770 – 3 January 1826) was a
Marshal of France
Marshal of France
The Marshal of France is a military distinction in contemporary France, not a military rank. It is granted to generals for exceptional achievements...
and one of Napoleon's most brilliant generals.
Early career
He was the son of a
silk
Silk
Silk is a natural protein fiber, some forms of which can be woven into textiles. The best-known type of silk is obtained from the cocoons of the larvae of the mulberry silkworm Bombyx mori reared in captivity...
manufacturer at
Lyon
Lyon
Lyon , is a city in east-central France in the Rhône-Alpes region, situated between Paris and Marseille. Lyon is located at from Paris, from Marseille, from Geneva, from Turin, and from Barcelona. The residents of the city are called Lyonnais....
, where he was born, originally intended to follow his father's business; but having in 1792 served as volunteer in the cavalry of the national guard at Lyon, he manifested military abilities which secured his rapid promotion. As
chef de bataillon
he was present at the
Siege of Toulon
Siege of Toulon
The Siege of Toulon was an early Republican victory over a Royalist rebellion in the Southern French city of Toulon. It is also often known as the Fall of Toulon.-Context:...
in 1793, where he took
General O'Hara
Charles O'Hara
General Charles O'Hara was a British military officer who served in the Seven Years War, American War of Independence, and French Revolutionary War, and later served as Governor of Gibraltar...
prisoner.
During the Italian campaign of 1796 he was severely wounded at the battle of
Cerea
Cerea
Cerea is a town and comune in the province of Verona, Veneto, northern Italy.-History:From 923 AD until 1223 Cerea was a castrum . On 1223 Cerea it became a "comune" but, a year after, it was plundered because of the war between Mantua and Verona. A period of decadence followed, also because of the...
on 11 October. In October 1797 he was appointed to the command of a
demi-brigade
, and his services, under
Joubert
Barthélemy Catherine Joubert
Barthélemy Catherine Joubert was a French general. He joined the royal French army in 1784 and rose rapidly in rank during the French Revolutionary Wars. Napoleon Bonaparte recognized his talents and gave him increased responsibilities...
in the
Tirol
Tyrol (state)
Tyrol is a state or Bundesland, located in the west of Austria. It comprises the Austrian part of the historical region of Tyrol.The state is split into two parts–called North Tyrol and East Tyrol–by a -wide strip of land where the state of Salzburg borders directly on the Italian province of...
in that year, and in Switzerland under
Brune
Guillaume Marie Anne Brune
Guillaume Marie Anne Brune, 1st Comte Brune was a French soldier and political figure who rose to Marshal of France....
in 1797-98, were recognized by his promotion to the rank of général de brigade.
He took no part in the
Egypt
Egypt
Egypt , officially the Arab Republic of Egypt, Arabic: , is a country mainly in North Africa, with the Sinai Peninsula forming a land bridge in Southwest Asia. Egypt is thus a transcontinental country, and a major power in Africa, the Mediterranean Basin, the Middle East and the Muslim world...
ian campaign, but in August was made chief of the staff to General Brune, and restored the efficiency and discipline of the army in Italy. In July 1799 he was promoted to général de division and chief of staff to Joubert in Italy. In 1800 he was named by
Masséna
André Masséna
André Masséna 1st Duc de Rivoli, 1st Prince d'Essling was a French military commander during the Revolutionary and Napoleonic Wars....
to be his second in command. His dexterous resistance to the superior forces of the Austrians with the left wing of Masséna's army, when the right and centre were shut up in
Genoa
Genoa
Genoa |Ligurian]] Zena ; Latin and, archaically, English Genua) is a city and an important seaport in northern Italy, the capital of the Province of Genoa and of the region of Liguria....
, not only prevented the invasion of France from this direction but contributed to the success of Napoleon's crossing the
Alps
Alps
The Alps is one of the great mountain range systems of Europe, stretching from Austria and Slovenia in the east through Italy, Switzerland, Liechtenstein and Germany to France in the west....
, which culminated in the battle of Marengo on 14 June. He took a prominent part in the Italian campaign until the
armistice
Armistice
An armistice is a situation in a war where the warring parties agree to stop fighting. It is not necessarily the end of a war, but may be just a cessation of hostilities while an attempt is made to negotiate a lasting peace...
of
Treviso
Treviso
Treviso is a city and comune in Veneto, northern Italy. It is the capital of the province of Treviso and the municipality has 82,854 inhabitants : some 3,000 live within the Venetian walls or in the historical and monumental center, some 80,000 live in the urban center proper, while the city...
.
Napoleonic wars
In the campaigns of 1805 and 1806 he greatly enhanced his reputation at
Austerlitz
Battle of Austerlitz
The Battle of Austerlitz, also known as the Battle of the Three Emperors, was one of Napoleon's greatest victories, where the French Empire effectively crushed the Third Coalition...
,
Saalfeld
Battle of Saalfeld
The Battle of Saalfeld saw Marshal Lannes and a division of his V Corps defeat 8,300 Prussians under Prince Louis Ferdinand.-Battle:Prince Louis Ferdinand was one of the principal advocates of resuming war against the French....
,
Jena
Battle of Jena-Auerstedt
The twin battles of Jena and Auerstedt were fought on 14 October 1806 on the plateau west of the river Saale in today's Germany, between the forces of Napoleon I of France and Frederick William III of Prussia...
, Pułtusk and
Ostrolenka
Battle of Ostrołęka (1807)
The Battle of Ostrołęka was fought on 16 February 1807 between First French Empire troops under General of Division Anne Jean Marie René Savary and Russian soldiers under Lieutenant General Ivan Essen. The French defeated the Russians and forced them to retreat to the east...
, where he commanded an infantry division. He obtained the title of
count
Count
A count or countess is an aristocratic nobleman in European countries. The word count came into English from the French comte, itself from Latin comes—in its accusative comitem—meaning "companion", and later "companion of the emperor, delegate of the emperor". The adjective form of the word is...
on 19 March 1808, married on 16 November of the same year Mlle. Honorine Anthoine de Saint-Joseph (
Marseille
Marseille
Marseille , known in antiquity as Massalia , is the second largest city in France, after Paris, with a population of 852,395 within its administrative limits on a land area of . The urban area of Marseille extends beyond the city limits with a population of over 1,420,000 on an area of...
, 26 February 1790 – Paris, 13 April 1884), a niece of
Julie Clary
Julie Clary
Marie Julie Bonaparte was Queen consort of Spain and the Indies, Naples and Sicily as the spouse of King Joseph Bonaparte, who was King of Naples and Sicily from January 1806 to June 1808, and later King of Spain and the Spanish West Indies from 25 June 1808 to June 1813.- Background:Julie Clary...
, the wife of
Joseph Bonaparte
Joseph Bonaparte
Joseph-Napoléon Bonaparte was the elder brother of Napoleon Bonaparte, who made him King of Naples and Sicily , and later King of Spain...
, by whom he had issue, and soon afterwards was ordered to Spain. Here, after taking part in the
Siege of Saragossa
Siege of Saragossa (1808)
The First Siege of Saragossa was a bloody struggle in the Peninsular War. A French army under General Jean-Antoine Verdier besieged, repeatedly stormed, and was repulsed from the Spanish city of Saragossa over the summer of 1808....
, he was named commander of the army of
Aragon
Aragon
Aragon is a modern autonomous community in Spain, coextensive with the medieval Kingdom of Aragon. Located in northeastern Spain, the Aragonese autonomous community comprises three provinces : Huesca, Zaragoza, and Teruel. Its capital is Zaragoza...
and governor of that region, which he by wise, unlike that of most of the French generals, and adroit administration no less than by his brilliant valour, in two years brought into complete submission. Beaten by the Spanish at
Alcañiz
Battle of Alcañiz
The Battle of Alcañiz resulted in the defeat of Major-General Louis Gabriel Suchet's French army on May 23, 1809 by a Spanish force under General Joaquín Blake y Joyes....
, he sprung back and soundly defeated the army of
Blake
Joaquín Blake y Joyes
Joaquín Blake y Joyes was a Spanish military officer who served with distinction in the French Revolutionary and Peninsular wars.-Early military career:...
at
María
Battle of María
The Battle of María, also known as the Battle of Belchite, resulted in the defeat of part of General Blake's Spanish army by a French force under General Suchet on June 15, 1809.-External links:**...
on 14 June 1809, and on 22 April 1810 defeated
Henry Joseph O'Donnell, Count of La Bisbal
Henry Joseph O'Donnell, Count of La Bisbal
Don Henry Joseph O'Donnell y Mareschal , 1st Count of la Bisbal , Spanish soldier, was descended from Joseph O'Donnell y O´ Donnell, Colonel of the Spanish Regiment Irlanda, Lieu - Tenant General of the Spanish Army.O'Donnell was the brother of Carlos O´Donnell y...
at
Lleida
Lleida
Lleida is a city in the west of Catalonia, Spain. It is the capital city of the province of Lleida, as well as the largest city in the province and it had 137,387 inhabitants , including the contiguous municipalities of Raimat and Sucs. The metro area has about 250,000 inhabitants...
.
He was made marshal of France (8 July 1811). In 1812 he captured
Valencia
Valencia (city in Spain)
Valencia or València is the capital and most populous city of the autonomous community of Valencia and the third largest city in Spain, with a population of 809,267 in 2010. It is the 15th-most populous municipality in the European Union...
, for which he was rewarded with the ducal
victory title
Victory title
A victory title is an honorific title adopted by a successful military commander to commemorate his defeat of an enemy nation. This practice was first used by Ancient Rome and is still most commonly associated with the Romans, but it has also been adopted as a practice by many modern empires,...
(honorary, not attached to an actual fief) of
duc d'Albufera da Valencia
in 1813. When the tide turned against France, Suchet defended his conquests one by one until compelled to withdraw from Spain, after which he took part in
Soult
Nicolas Jean de Dieu Soult
Nicolas Jean-de-Dieu Soult, 1st Duke of Dalmatia , the Hand of Iron, was a French general and statesman, named Marshal of the Empire in 1804. He was one of only six officers in French history to receive the distinction of Marshal General of France...
's defensive campaign of 1814.
The restored Bourbon king
Louis XVIII
Louis XVIII of France
Louis XVIII , known as "the Unavoidable", was King of France and of Navarre from 1814 to 1824, omitting the Hundred Days in 1815...
made him a peer of France on 4 June, with a seat in the upper house, but, having commanded one of Napoleon's
armies on the Alpine frontier
Minor campaigns of 1815
On 1 March 1815 Napoleon Bonaparte escaped from his imprisonment on the isle of Elba, and launched a bid to recover his empire. A confederation of European powers pledged to stop him. During the period known as the Hundred Days Napoleon chose to confront the armies of Prince Blücher and the Duke of...
during the
Hundred Days
Hundred Days
The Hundred Days, sometimes known as the Hundred Days of Napoleon or Napoleon's Hundred Days for specificity, marked the period between Emperor Napoleon I of France's return from exile on Elba to Paris on 20 March 1815 and the second restoration of King Louis XVIII on 8 July 1815...
, he was deprived of his peerage on 24 July 1815. He died near
Marseille
Marseille
Marseille , known in antiquity as Massalia , is the second largest city in France, after Paris, with a population of 852,395 within its administrative limits on a land area of . The urban area of Marseille extends beyond the city limits with a population of over 1,420,000 on an area of...
on 3 January 1826.
Personal life
He married in 1808 Honorine de Saint-Joseph (1790 – 1884) and had 3 children:
Louise-Honorine (1811 – 1885)
Louis-Napoleon (1813 – 1877)
Anne-Marie (1820 – 1835)
Writings and other sources
Suchet wrote his Mémoires dealing with the Peninsular War

Peninsular War

The Peninsular War was a war between France and the allied powers of Spain, the United Kingdom, and Portugal for control of the Iberian Peninsula during the Napoleonic Wars. The war began when French and Spanish armies crossed Spain and invaded Portugal in 1807. Then, in 1808, France turned on its...


, which were left by the marshal in an unfinished condition, and the two volumes with an atlas appeared in 1829-1834 under the editorship of his former chief staff officer, Baron St. Cyr-Nogues. An English translation appeared in 1829, a version of which has been reprinted, see below.
C.H. Barault-Roullon, Le Marechal Suchet (Paris, 1854); *Choumara, Considerations militaires sur les memoires du Marechal Suchet (Paris, 1840), a controversial work on the last events of the Peninsular War, inspired, it is supposed, by Soult
Lieutenant-General Lamarque's obituary notice in the Spectateur militaire (1826).
Further reading
Alexander, Don W. Rod of Iron: French Counterinsurgency Policy in Aragon During the Peninsular War (SR Books, 1985) ISBN 084202218X.
Bukhari, Emir Napoleon's Marshals Osprey Publishing, 1979, ISBN 0850453054.
Chandler, David Napoleon's Marshals Macmillan Pub Co, 1987, ISBN 0029059305.
Connelly, Owen, Blundering to Glory: Napoleon's Military Campaigns SR Books, 1999, ISBN 0842027807.
Elting, John R. Swords Around a Throne: Napoleon's Grande Armée Weidenfeld & Nicholson, 1997, ISBN 0029095018.
Haythornthwaite, Philip

Philip Haythornthwaite

Philip J. Haythornthwaite is a military historian and author, with a particular interest in the Napoleonic Wars. He has written over 40 books.-References:...


Napoleon's Commanders (2): c.1809-15 Osprey Publishing, 2002, ISBN 1841763454.
Humble, Richard Napoleon's Peninsular marshals: A reassessment Taplinger Pub., 1975, ISBN 0800854659.
Linck, Tony Napoleon's Generals Combined Publishing, 1994, ISBN 0962665584.
Macdonell, A. G. Napoleon and His Marshals Prion, 1997, ISBN 1853752223.
Suchet, Marshal Duke D'Albufera Memoirs of the War in Spain Pete Kautz, 2007, 2 volumes: ISBN 1858184770 & ISBN 1858184762.