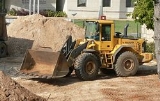 Loader (equipment)
A
loader
is a heavy equipment machine often used in
construction
Construction
In the fields of architecture and civil engineering, construction is a process that consists of the building or assembling of infrastructure. Far from being a single activity, large scale construction is a feat of human multitasking...
, primarily used to load material (such as
asphalt
Asphalt
Asphalt or , also known as bitumen, is a sticky, black and highly viscous liquid or semi-solid that is present in most crude petroleums and in some natural deposits, it is a substance classed as a pitch...
, demolition debris,
dirt
Dirt
Dirt is unclean matter, especially when in contact with a person's clothes, skin or possessions when they are said to become dirty. Common types of dirt include:* dust — a general powder of organic or mineral matter...
,
snow
Snow
Snow is a form of precipitation within the Earth's atmosphere in the form of crystalline water ice, consisting of a multitude of snowflakes that fall from clouds. Since snow is composed of small ice particles, it is a granular material. It has an open and therefore soft structure, unless packed by...
,
feed
Compound feed
Compound feeds are feedstuffs that are blended from various raw materials and additives. These blends are formulated according to the specific requirements of the target animal...
,
gravel
Gravel
Gravel is composed of unconsolidated rock fragments that have a general particle size range and include size classes from granule- to boulder-sized fragments. Gravel can be sub-categorized into granule and cobble...
,
log
Logging
Logging is the cutting, skidding, on-site processing, and loading of trees or logs onto trucks.In forestry, the term logging is sometimes used in a narrow sense concerning the logistics of moving wood from the stump to somewhere outside the forest, usually a sawmill or a lumber yard...
s, raw
mineral
Mineral
A mineral is a naturally occurring solid chemical substance formed through biogeochemical processes, having characteristic chemical composition, highly ordered atomic structure, and specific physical properties. By comparison, a rock is an aggregate of minerals and/or mineraloids and does not...
s, recycled material,
rock
Rock (geology)
In geology, rock or stone is a naturally occurring solid aggregate of minerals and/or mineraloids.The Earth's outer solid layer, the lithosphere, is made of rock. In general rocks are of three types, namely, igneous, sedimentary, and metamorphic...
,
sand
Sand
Sand is a naturally occurring granular material composed of finely divided rock and mineral particles.The composition of sand is highly variable, depending on the local rock sources and conditions, but the most common constituent of sand in inland continental settings and non-tropical coastal...
, and
woodchip
Woodchipping
Woodchipping is the act and industry of chipping wood for pulp, processed wood products, and mulch.-Papermaking:Timber is converted to woodchips and sold, primarily, for pulp production used in paper manufacture...
s) into or onto another type of machinery (such as a
dump truck
Dump truck
A dump truck is a truck used for transporting loose material for construction. A typical dump truck is equipped with a hydraulically operated open-box bed hinged at the rear, the front of which can be lifted up to allow the contents to be deposited on the ground behind the truck at the site of...
,
conveyor belt
Conveyor belt
A conveyor belt consists of two or more pulleys, with a continuous loop of material - the conveyor belt - that rotates about them. One or both of the pulleys are powered, moving the belt and the material on the belt forward. The powered pulley is called the drive pulley while the unpowered pulley...
, feed-hopper, or
railcar
Railcar
A railcar, in British English and Australian English, is a self-propelled railway vehicle designed to transport passengers. The term "railcar" is usually used in reference to a train consisting of a single coach , with a driver's cab at one or both ends. Some railways, e.g., the Great Western...
).
A loader (also known as:
bucket loader
,
front loader
,
front end loader
,
payloader
,
scoop loader
,
shovel
,
skip loader
, and/or
wheel loader
) is a type of
tractor
Tractor
A tractor is a vehicle specifically designed to deliver a high tractive effort at slow speeds, for the purposes of hauling a trailer or machinery used in agriculture or construction...
, usually wheeled, sometimes on tracks, that has a front mounted square wide
bucket
Bucket (machine part)
A bucket is a specialized container attached to a machine, as compared to a bucket adapted to the form of a human being...
connected to the end of two booms (arms) to scoop up loose material from the ground, such as dirt, sand or gravel, and move it from one place to another without pushing the material across the ground.