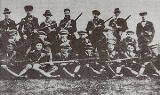 Irish War of Independence
The
Irish War of Independence
,
Anglo-Irish War
,
Black and Tan War
, or
Tan War
was a guerrilla war mounted by the
Irish Republican Army
Irish Republican Army
The Irish Republican Army was an Irish republican revolutionary military organisation. It was descended from the Irish Volunteers, an organisation established on 25 November 1913 that staged the Easter Rising in April 1916...
(IRA) against the
British government
United Kingdom of Great Britain and Ireland
The United Kingdom of Great Britain and Ireland was the formal name of the United Kingdom during the period when what is now the Republic of Ireland formed a part of it....
and its forces in
Ireland
Ireland
Ireland is an island to the northwest of continental Europe. It is the third-largest island in Europe and the twentieth-largest island on Earth...
. It began in January 1919, following the
Irish Republic
Irish Republic
The Irish Republic was a revolutionary state that declared its independence from Great Britain in January 1919. It established a legislature , a government , a court system and a police force...
's
declaration of independence
Declaration of Independence (Ireland)
The Declaration of Independence was a document adopted by Dáil Éireann, the revolutionary parliament of the Irish Republic, at its first meeting in the Mansion House, Dublin, on 21 January 1919. It followed from the Sinn Féin election manifesto of December 1918...
. Both sides agreed to a
ceasefire
Ceasefire
A ceasefire is a temporary stoppage of a war in which each side agrees with the other to suspend aggressive actions. Ceasefires may be declared as part of a formal treaty, but they have also been called as part of an informal understanding between opposing forces...
(or "truce") in July 1921. The post-ceasefire talks led to the December 1921
Anglo-Irish Treaty
Anglo-Irish Treaty
The Anglo-Irish Treaty , officially called the Articles of Agreement for a Treaty Between Great Britain and Ireland, was a treaty between the Government of the United Kingdom of Great Britain and Ireland and representatives of the secessionist Irish Republic that concluded the Irish War of...
. This treaty ended British rule in most of Ireland and, after a ten-month transitional period overseen by a provisional government, the
Irish Free State
Irish Free State
The Irish Free State was the state established as a Dominion on 6 December 1922 under the Anglo-Irish Treaty, signed by the British government and Irish representatives exactly twelve months beforehand...
was established.