 List of grenade launchers
This page lists all forms of
grenade launcher
Grenade launcher
A grenade launcher or grenade discharger is a weapon that launches a grenade with more accuracy, higher velocity, and to greater distances than a soldier could throw it by hand....
s around the world, that is to say
weapons
Weapon
A weapon, arm, or armament is a tool or instrument used with the aim of causing damage or harm to living beings or artificial structures or systems...
that launch
grenades
Grenade
A grenade is a small explosive device that is projected a safe distance away by its user. Soldiers called grenadiers specialize in the use of grenades. The term hand grenade refers any grenade designed to be hand thrown. Grenade Launchers are firearms designed to fire explosive projectile grenades...
with more accuracy, a higher velocity and to greater distances than a soldier could.
Single Shot

Name/
designation
Year of
intro
Country of
origin
Primary
cartridge
Type
AG36
 Germany
40mm
Underslung
BTS-203

BTS-203

The BTS-203 is a single shot grenade launcher of Thai origin. It is based on the M203 using the same 40mm grenade and is installed on the Type 11 assault rifle.-External Links:**...



 Thailand
40mm
Underslung
CIS 40 GL

CIS 40 GL

The CIS 40 GL is a 40 mm autonomous grenade launcher, developed in the late 1980s and produced by the Singaporean defense firm CIS - Chartered Industries of Singapore . The launcher is employed primarily by the Singapore Armed Forces and the police and security forces of several other...



 Singapore
40mm
Underslung
GP-25
1978
 Soviet Union
40mm
Underslung
K201
 South Korea
40mm
Underslung
M203

M203 grenade launcher

The M203 is a single shot 40 mm grenade launcher designed to attach to a rifle. It uses the same rounds as the older M79 break-action grenade launcher, which utilize the High-Low Propulsion System to keep recoil forces low. Though versatile, and compatible with many rifle models, the M203 was...



1969
 United States
40mm
Underslung
M79

M79 grenade launcher

The M79 grenade launcher is a single-shot, shoulder-fired, break-action grenade launcher that fires a 40x46mm grenade which used what the US Army called the High-Low Propulsion System to keep recoil forces low, and first appeared during the Vietnam War...



1961
 United States
40mm
Dedicated
Multishot

Name/
designation
Year of
intro
Country of
origin
Primary
cartridge
Type
DP-64

DP-64

The DP-64 is a Russian special-purpose double-barreled over/under grenade launcher designed to protect ships, dockyards, water development works, and other coastal installations from combat swimmers and naval special forces. The weapon is breech-loading and operates much like a large shotgun with a...



 Russia
45mm
Dual barrel
M234

M234

The M234 Riot Control Launcher is an M16 series rifle attachment firing a M755 blank round. The M234 mounts on the front sight post of the M16 and fires either the M734 64 mm Kinetic Riot Control Round or the M742 64 mm CSI Riot Control Round. It is usable in temperatures 20 degrees Fahrenheit ...



1978
 United States
64mm
MGL-MK1
1983
 South Africa
40mm
Rotary
XM25
2010
 United States
25mm
Air burst
Automatic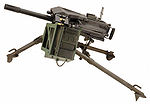 Name/
designation
Year of
intro
Country of
origin
Primary
cartridge
Type
AGS-17

AGS-17

The AGS-17 Plamya is a Soviet-designed automatic grenade launcher currently in production in the Russian Federation and in service worldwide.-Description:...



1970s
 Soviet Union
30mm
Belt-fed
CIS 40 AGL

CIS 40 AGL

The CIS 40 AGL is a 40 mm automatic grenade launcher, developed in the late 1980s and produced by the Singaporean defence firm − Chartered Industries of Singapore...



1991
 Singapore
40mm
Belt-fed
K4
 South Korea
40mm
Belt-fed
Mk 19

Mk 19 grenade launcher

The Mk 19 Grenade Launcher is a 40 mm belt-fed automatic grenade launcher or grenade machine gun that entered U.S. military service during the Cold War, first seeing action during the Vietnam War and remaining in service today.-Overview:...



1968
 United States
40mm
Belt-fed
SB LAG 40

SB LAG 40

The SB-40 LAG is a 40 mm automatic grenade launcher developed and produced in Spain by the Empresa Nacional Santa Bárbara company .-See also:...



 Spain
40mm
Belt-fed
Vektor Y3 AGL

Vektor Y3 AGL

The Y3 is a South African automatic grenade launcher manufactured by Denel Land Systems. It fires 40x53mm grenades at a rate of 280–320 rounds per minute.It can be vehicle mounted using a special bracket or used with a tripod....



 South Africa
40mm
Belt-fed
Rocket Propelled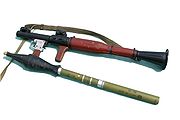 Name/
designation
Year of
intro
Country of
origin
Primary
cartridge
Type
M1

Bazooka

Bazooka is the common name for a man-portable recoilless rocket antitank weapon, widely fielded by the U.S. Army. Also referred to as the "Stovepipe", the innovative bazooka was amongst the first-generation of rocket propelled anti-tank weapons used in infantry combat...



1942
 United States
60mm
Recoilless
M2GC

Carl Gustav recoilless rifle

The Carl Gustav is the common name for the 84 mm man-portable reusable multi-role recoilless rifle produced by Saab Bofors Dynamics in Sweden...



1948
 Sweden
84mm
Recoilless
Panzerfaust

Panzerfaust

The Panzerfaust was an inexpensive, recoilless German anti-tank weapon of World War II. It consisted of a small, disposable preloaded launch tube firing a high explosive anti-tank warhead, operated by a single soldier...



1943
 Nazi Germany
150mm
Recoilless
PIAT

PIAT

The Projector, Infantry, Anti Tank was a British hand-held anti-tank weapon developed during the Second World War. The PIAT was designed in 1942 in response to the British Army's need for a more effective infantry anti-tank weapon, and entered service in 1943.The PIAT was based on the spigot...



1942
 United Kingdom
86mm
RPG-7

RPG-7

The RPG-7 is a widely-produced, portable, unguided, shoulder-launched, anti-tank rocket-propelled grenade launcher. Originally the RPG-7 and its predecessor, the RPG-2, were designed by the Soviet Union, and now manufactured by the Bazalt company...



1961
 Soviet Union
40mm
RPG-76
1961
 Poland
68mm
Other grenade launcher models
AP/AV 700 multiple grenade launcher (Italy)
Carcano rifle grenade launcher (Italy)
26 mm RGA-86

RGA-86

The RGA-86 is a Polish 26 mm revolver shotgun, developed between 1983 and 1986 at the Wojskowa Akademia Techniczna state research institute by a team consisting of: S. Ciepielski, M. Czaladzki, S. Derecki, H. Głowicki, W. Koperski, J. Pawłowski and R. Wójcik....


semi-automatic grenade launcher (Poland)
GrB 39 rifle grenade launcher (Germany)
35 mm Type 91 grenade launcher

Type 91 Grenade Launcher

The Type 91 Grenade Launcher is a Chinese grenade launcher used to launch 35mm non-lethal grenades. It may come in shoulder-launched, rifle-attached, and vehicle-mounted variants. -Shoulder-Fired:...


(People's Republic of China)
37 mm Federal grenade launcher, fires tear gas grenades
40 mm HK GMG Grenade Machine Gun (Germany)
40 mm MM-1 semi-automatic grenade launcher (United States)
40 mm M129

M129 grenade launcher

The M129 is a 40mm automatic grenade launcher that was used as an aircraft weapon in United States service. It was developed from the earlier M75 and was capable of using both the high-velocity 40x53mm grenade and the lower velocity 40x46mm grenade....


cam operated electric driven aircraft weapon (United States)
40 mm Multi Grenade Launcher (India)
40 mm RAG-30

RAG-30

The RAG-30 is an automatic grenade launcher of Czech origin. The weapon fires 30 mm grenades. It is fed from a 5-round detachable box magazine located at the top of the housing.The SAG-30 is a semi-automatic variant that fires from a closed bolt....


(Czech Republic)
40 mm Under Barrel Grenade Launcher (India)
40 mm Pallad grenade launcher

Pallad grenade launcher

The Pallad is a 40 mm Polish under-slung grenade launcher, developed for use with the AKM assault-rifle and intended to replace the kbkg wz. 1960 grenade-launcher rifle. The name of the weapon reflects the Polish-language word for palladium.The development of the weapon drew on concepts...


(Poland)
40 mm GSBO-40 grenade launcher (Poland)
Type 2 anti-tank grenade launcher (Japan)
63.5 mm Northover Projector

Northover projector

The Projector, 2.5 inch—more commonly known as the Northover Projector—was an ad hoc anti-tank weapon used by the British Army and Home Guard during the Second World War...


(United Kingdom)
140 mm Rifleman's Assault Weapon

Rifleman's Assault Weapon

The Rifleman's Assault Weapon is a close-support rocket-propelled grenade developed around 1977 and put into limited service by the United States Marine Corps in the 1990s. It was developed in response to a military requirement for a multi-purpose close support weapon...


(United States)
150 mm PT-100 (Poland)
PMR grenade launcher

PMR grenade launcher

The PMR grenade launcher is a muzzle inserted grenade projector of Transnistrian origin. The device is inserted on the muzzles of AKS-74U rifles....


(Transnistria)
6G30 Revolver-Type Weapon used by Special Forces

Special forces

Special forces, or special operations forces are terms used to describe elite military tactical teams trained to perform high-risk dangerous missions that conventional units cannot perform...


(Russia)
MM-1 Revolver-Type Weapon (United States)
OCSW

OCSW

The OCSW was a U.S. Military arms program started in the 1980s that led to a hybrid smaller prototype automatic autocannon developed by General Dynamics Armament Systems...


(United States - Canceled)
XM29 OICW

XM29 OICW

The XM29 OICW was a series of prototypes of a new type of battle rifle that fired 20 mm HE airbursting projectiles. The prototypes were developed as part of the Objective Individual Combat Weapon program in the 1990s...


(United States/Germany - Canceled)
K11 OICW (South Korea)
See also