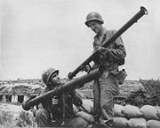 Bazooka
Bazooka
is the common name for a man-portable recoilless rocket antitank weapon, widely fielded by the U.S. Army. Also referred to as the "Stovepipe", the innovative bazooka was amongst the first-generation of
rocket propelled
Rocket propelled grenade
A rocket-propelled grenade is a shoulder-fired, anti-tank weapon system which fires rockets equipped with an explosive warhead. These warheads are affixed to a rocket motor and stabilized in flight with fins. Some types of RPG are reloadable while others are single-use. RPGs, with the exception of...
anti-tank weapons used in
infantry
Infantry
Infantrymen are soldiers who are specifically trained for the role of fighting on foot to engage the enemy face to face and have historically borne the brunt of the casualties of combat in wars. As the oldest branch of combat arms, they are the backbone of armies...
combat. Featuring a solid rocket motor for propulsion, it allowed for
high-explosive anti-tank
Heat
In physics and thermodynamics, heat is energy transferred from one body, region, or thermodynamic system to another due to thermal contact or thermal radiation when the systems are at different temperatures. It is often described as one of the fundamental processes of energy transfer between...
(HEAT) warheads to be delivered against armored vehicles,
machine gun
Machine gun
A machine gun is a fully automatic mounted or portable firearm, usually designed to fire rounds in quick succession from an ammunition belt or large-capacity magazine, typically at a rate of several hundred rounds per minute....
nests, and fortified
bunker
Bunker
A military bunker is a hardened shelter, often buried partly or fully underground, designed to protect the inhabitants from falling bombs or other attacks...
s at ranges beyond that of a standard thrown
grenade
Grenade
A grenade is a small explosive device that is projected a safe distance away by its user. Soldiers called grenadiers specialize in the use of grenades. The term hand grenade refers any grenade designed to be hand thrown. Grenade Launchers are firearms designed to fire explosive projectile grenades...
or
mine
Land mine
A land mine is usually a weight-triggered explosive device which is intended to damage a target—either human or inanimate—by means of a blast and/or fragment impact....
.