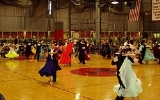 List of DanceSport dances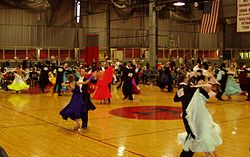 The dances that make up the list of DanceSport dances are performed competitively at amateur and professional levels throughout the world. Ten international style ballroom dance

Ballroom dance

Ballroom dance refers to a set of partner dances, which are enjoyed both socially and competitively around the world. Because of its performance and entertainment aspects, ballroom dance is also widely enjoyed on stage, film, and television....


s—five Standard and five Latin—are defined by the World Dance Council

World Dance Council

The World Dance Council Ltd , is a registered limited company, and the legal successor to the International Council of Ballroom Dancing, and was established at a meeting organised by P.J.S Richardson on 22 September 1950 in Edinburgh...


(WDC), which has world-wide membership of all countries taking part in ballroom competitions.

The WDC incorporates various groupings and former titles, such as the World Dance and DanceSport Council (former title). The WDC is the governing body for international professional and amateur DanceSport. The International DanceSport Federation

International DanceSport Federation

The World DanceSport Federation , formerly the International DanceSport Federation , is the international governing body of dancesport and Wheelchair DanceSport, as recognised by the International Olympic Committee and the International Paralympic Committee .Originally founded in 1957 as the...


is, to some extent, a rival body which issues rules for amateur competitions. The list is supplemented by nine American style dances—four Smooth and five Rhythm—which are defined by United States dance organizations, such as USA Dance, (formerly USABDA, the United States Amateur Ballroom Dancers Association).

Besides determining which dances are performed, these organizations specify many other aspects of their competitions, for instance, the tempo

Tempo

In musical terminology, tempo is the speed or pace of a given piece. Tempo is a crucial element of any musical composition, as it can affect the mood and difficulty of a piece.-Measuring tempo:...


of music allowed and the duration of each competition round.

WDC International style dances
Within World Dance Council international competitions are two categories of dances, Ballroom (also called Standard or Modern) and Latin. In England (e.g. at the Blackpool Dance Festival

Blackpool Dance Festival

The 8-day Blackpool Dance Festival is the world's first and most famous annual ballroom dance competition of international significance, held in the Empress Ballroom at the Winter Gardens, Blackpool, England since 1920. It is also the largest ballroom competition: in 2003, 1539 couples from 54...


), the categories are traditionally called Ballroom and Latin American dances respectively. In the Ballroom dances, men typically wear evening dress

Formal wear

Formal wear and formal dress are the general terms for clothing suitable for formal social events, such as a wedding, formal garden party or dinner, débutante cotillion, dance, or race...


(coattails, waistcoats and white bow ties

White tie

White tie is the most formal evening dress code in Western fashion. It is worn to ceremonial occasions such as state dinners in some countries, as well as to very formal balls and evening weddings...


), while women wear gowns. Partners remain in closed position

Closed position

In partner dancing, closed position is a category of positions in which partners hold each other while facing at least approximately toward each other....


throughout the dance, and movements tend to be elegant and sweeping. The ballroom dances are progressive, moving anti-clockwise round the floor.

The Latin dances are more overtly sensual, with skimpy costumes for women and tight-fitting ones for men. More variation in movement is allowed than in the Standard dances. Close, semi-open and open figures are danced. Choreography

Choreography

Choreography is the art of designing sequences of movements in which motion, form, or both are specified. Choreography may also refer to the design itself, which is sometimes expressed by means of dance notation. The word choreography literally means "dance-writing" from the Greek words "χορεία" ...


is now extremely important. Hip action is common; and athletic and balletic maneuvers are common. Two latin dances are progressive (samba and paso doble), but there is no obligation to move in any pre-set manner round the floor.

Ballroom
Name
IDSF tempo (MPM)
WDC tempo (MPM)
IDSF dancing time (seconds)
WDC dancing time (seconds)
Waltz

Waltz (International Standard)

Waltz is one of the five dances in the Standard category of the International Style ballroom dances. It was previously referred to as Slow Waltz or English Waltz....



28–30
30
90–120
90–120
Tango

Tango (ballroom)

Ballroom Tango is a ballroom dance that branched away from its original Argentine roots by allowing European, American, Hollywood, and competitive influences into the style and execution of the dance....



31–33
33
90–120
90–120
Viennese Waltz

Viennese Waltz

Viennese Waltz is the genre of a ballroom dance. At least three different meanings are recognized. In the historically first sense, the name may refer to several versions of the waltz, including the earliest waltzes done in ballroom dancing, danced to the music of Viennese Waltz.What is now called...



58–60
58–60
60–90
90–120
Slow Foxtrot

Foxtrot (Dance)

The foxtrot is a smooth progressive dance characterized by long, continuous flowing movements across the dance floor. It is danced to big band music, and the feeling is one of elegance and sophistication...



28–30
30
90–120
90–120
Quickstep

Quickstep

The quickstep is a light-hearted member of the standard ballroom dances. The movement of the dance is fast and powerfully flowing and sprinkled with syncopations. The upbeat melodies that quickstep is danced to make it suitable for both formal and informal events...



50–52
50
90–120
90–120
Latin
Name
IDSF tempo (MPM)
WDC tempo (MPM)
IDSF dancing time (seconds)
WDC dancing time (seconds)
Cha-cha-cha

Cha-cha-cha (dance)

The Cha-cha-cha is the name of a dance of Cuban origin.It is danced to the music of the same name introduced by Cuban composer and violinist Enrique Jorrín in 1953...



30–32
30
90–120
90–120
Samba

Samba (ballroom)

Among ballroom dances, samba is a lively, rhythmical one. It is related to the traditional samba styles of Brazil, but differs from them considerably. Its music is in 2/4 or 4/4 time.-Origins:...



50–52
50
90–120
90–120
Rumba

Rumba (dance)

Rumba is a dance term with two quite different meanings.In some contexts, "rumba" is used as shorthand for Afro-Cuban rumba, a group of dances related to the rumba genre of Afro-Cuban music. The most common Afro-Cuban rumba is the guaguancó...



25–27
27
90–120
90–120
Paso Doble
60–62
62
90–120
90–120
Jive

Jive (dance)

In Ballroom dancing, Jive is a dance style in 4/4 time that originated in the United States from African-Americans in the early 1930s. It was originally presented to the public as 'Jive' in 1934 by Cab Calloway. It is a lively and uninhibited variation of the Jitterbug, a form of Swing dance...



42–44
44
60–90
90–120
American style
The Smooth and Rhythm categories of American style DanceSport roughly correspond to the Standard and Latin categories of International style. In Smooth, dancers wear costumes not greatly dissimilar to those worn by their counterparts in Standard---Standard dresses often have prominent floats embellishing the arms and fuller skirts which are typically absent in Smooth, due to the open movement and changing arm positions requiring less restriction on the body; however, the dances themselves are significantly different as a result of influence by dancers like Fred Astaire

Fred Astaire

Fred Astaire was an American film and Broadway stage dancer, choreographer, singer and actor. His stage and subsequent film career spanned a total of 76 years, during which he made 31 musical films. He was named the fifth Greatest Male Star of All Time by the American Film Institute...


and Arthur Murray

Arthur Murray

Arthur Murray was a dance instructor and businessman, whose name is most often associated with the dance studio chain that bears his name....


in the years following World War II

World War II

World War II, or the Second World War , was a global conflict lasting from 1939 to 1945, involving most of the world's nations—including all of the great powers—eventually forming two opposing military alliances: the Allies and the Axis...


. While elegance and flow remain the goal, as in International Standard, dancers do not remain in closed position

Closed position

In partner dancing, closed position is a category of positions in which partners hold each other while facing at least approximately toward each other....


exclusively, instead breaking away from each other periodically and experimenting with open footwork. The Rhythm dances were also influenced by American dancers of the post-WWII era, but the differences between it and International Latin are more subtle. Costumes are similar, and while step patterns are not identical, movements are as free and explicitly sensual as in Latin.

Smooth
Name
USABDA tempo (MPM)
USABDA dancing time (seconds)
Waltz

Waltz

The waltz is a ballroom and folk dance in time, performed primarily in closed position.- History :There are several references to a sliding or gliding dance,- a waltz, from the 16th century including the representations of the printer H.S. Beheim...



28–30
90–120
Tango

Tango (ballroom)

Ballroom Tango is a ballroom dance that branched away from its original Argentine roots by allowing European, American, Hollywood, and competitive influences into the style and execution of the dance....



30–32
90–120
Foxtrot

Foxtrot (Dance)

The foxtrot is a smooth progressive dance characterized by long, continuous flowing movements across the dance floor. It is danced to big band music, and the feeling is one of elegance and sophistication...



30–32
90–120
Viennese Waltz

Viennese Waltz

Viennese Waltz is the genre of a ballroom dance. At least three different meanings are recognized. In the historically first sense, the name may refer to several versions of the waltz, including the earliest waltzes done in ballroom dancing, danced to the music of Viennese Waltz.What is now called...



54
90
Rhythm
Name
USABDA tempo (MPM)
USABDA dancing time (seconds)
Cha-cha-cha

Cha-cha-cha (dance)

The Cha-cha-cha is the name of a dance of Cuban origin.It is danced to the music of the same name introduced by Cuban composer and violinist Enrique Jorrín in 1953...



30
90–120
Rumba

Rumba (dance)

Rumba is a dance term with two quite different meanings.In some contexts, "rumba" is used as shorthand for Afro-Cuban rumba, a group of dances related to the rumba genre of Afro-Cuban music. The most common Afro-Cuban rumba is the guaguancó...



32–36
90–120
East Coast Swing

East Coast Swing

East Coast Swing is a form of social partner dance. It belongs to the group of swing dances. It is danced under fast swing music, including rock and roll and boogie-woogie....



34–36
90–120
Bolero

Bolero

Bolero is a form of slow-tempo Latin music and its associated dance and song. There are Spanish and Cuban forms which are both significant and which have separate origins.The term is also used for some art music...



24–26
90–120
Mambo

Mambo (dance)

Mambo .In the late 1940s, Perez Prado came up with the dance for the mambo music and became the first person to market his music as "mambo". After Havana, Prado moved his music to Mexico, where his music and the dance was adopted. The original mambo dance was characterized by freedom and...



47–51
90–120