 Liberal arts college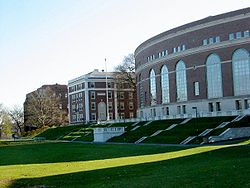 A
liberal arts college
is one with a primary emphasis on undergraduate study in the
liberal arts
Liberal arts
The term liberal arts refers to those subjects which in classical antiquity were considered essential for a free citizen to study. Grammar, Rhetoric and Logic were the core liberal arts. In medieval times these subjects were extended to include mathematics, geometry, music and astronomy...
and sciences.
Students in the liberal arts generally major in a particular discipline while receiving exposure to a wide range of academic subjects, including sciences as well as the traditional humanities subjects taught as liberal arts.
A "liberal arts" institution can be defined as a "
college
College
A college is an educational institution or a constituent part of an educational institution. Usage varies in English-speaking nations...
or
university
University
A university is an institution of higher education and research, which grants academic degrees in a variety of subjects. A university is an organisation that provides both undergraduate education and postgraduate education...
curriculum
Curriculum
See also Syllabus.In formal education, a curriculum is the set of courses, and their content, offered at a school or university. As an idea, curriculum stems from the Latin word for race course, referring to the course of deeds and experiences through which children grow to become mature adults...
aimed at imparting broad general knowledge and developing general intellectual capacities, in contrast to a professional,
vocational
Vocational education
Vocational education or vocational education and training is an education that prepares trainees for jobs that are based on manual or practical activities, traditionally non-academic, and totally related to a specific trade, occupation, or vocation...
, or technical curriculum." Although what is known today as the liberal arts college began in
Europe
Europe
Europe is, by convention, one of the world's seven continents. Comprising the westernmost peninsula of Eurasia, Europe is generally 'divided' from Asia to its east by the watershed divides of the Ural and Caucasus Mountains, the Ural River, the Caspian and Black Seas, and the waterways connecting...
, the term is commonly associated with the
United States
United States
The United States of America is a federal constitutional republic comprising fifty states and a federal district...
. Prominent examples in the US include the so-called
Little Three
Little Three
The "Little Three" is an unofficial athletic conference of three elite liberal arts colleges in New England, United States. The "Little Three" are:* Amherst College in Amherst, Massachusetts* Wesleyan University in Middletown, Connecticut...
,
Colby-Bates-Bowdoin
Colby-Bates-Bowdoin
The Colby-Bates-Bowdoin is an athletic conference in Maine containing three NCAA Division III and NESCAC schools, Colby College, Bates College, and Bowdoin College. These colleges have competed against each other in athletic contests since the 1870s. Bates, Colby and Bowdoin have one of the top...
, and Little Ivy colleges in
New England
New England
New England is a region in the northeastern corner of the United States consisting of the six states of Maine, New Hampshire, Vermont, Massachusetts, Rhode Island, and Connecticut...
and the surviving, predominantly female Seven Sisters colleges along the northeastern seaboard, but similar institutions are found all over the country.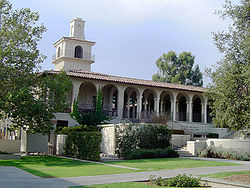 Liberal arts colleges are found in all parts of the world. Examples of such colleges are
Bishop's University
Bishop's University
Bishop's University is a predominantly undergraduate university in Lennoxville, Sherbrooke, Quebec, Canada. Bishop's is one of three universities in the province of Quebec that teach primarily in the English language...
in Canada,
Concordia University
Concordia University
Concordia University is a comprehensive Canadian public university located in Montreal, Quebec, one of the two universities in the city where English is the primary language of instruction...
in Montreal, Canada,
John Cabot University
John Cabot University
John Cabot University is a private American liberal arts university located in Rome, Italy. Founded in 1972, it was named after the Italian explorer Giovanni Caboto.-Location:...
in Rome, Italy,
European College of Liberal Arts
European College of Liberal Arts
The European College of Liberal Arts is a private, non-profit institution of higher education in Berlin, Germany. It was founded as a non-profit association in 1999 under the leadership of Stephan Gutzeit. The founding dean was Erika Anita Kiss. Since 2003, Peter Hajnal and Thomas Norgaard have...
in Germany,
University College Utrecht
University College Utrecht
University College Utrecht is an international Honors College of Utrecht University . UCU is a selective liberal arts, undergraduate college of 700 students within Utrecht University. Located between the two UU sites, Uithof and City Center, it has its own residential campus in the city of...
in the Netherlands, Foundation for Liberal and Management Education in Pune, India and
Campion College
Campion College
Campion College is an Australian Roman Catholic dedicated Liberal Arts college. It is a located at Austin Woodbury Place, Old Toongabbie in the western suburbs of Sydney, approximately 45 minutes from the central business district of Sydney, Australia. It is the first tertiary educational Liberal...
in Sydney, Australia. However, especially in Europe, many topics covered in the general education conveyed at American liberal arts colleges are also addressed in specialized secondary schools.
The "liberal arts college experience" in the US is characterized by three main aspects that demarcate it from undergraduate experiences in other countries:
smaller size than universities, which usually means more individual attention is given to each student;
residential, which means students live and learn away from home, often for the first time, and learn to live well with others. Additionally, the residential experience of living on campus brings a wide variety of cultural, political, and intellectual events to students who might not otherwise seek them out in a non-residential setting (though not every college has such strict residency requirements); and
a typically two-year exploration of the liberal arts or general knowledge before declaring a major.
Lists of schools
See also
College of Arts and Sciences

College of Arts and Sciences

A College of Arts and Sciences or School of Arts and Sciences is most commonly a unit within a university which focuses on instruction of the liberal arts and pure sciences, especially in North America and the Philippines, although they frequently include programs and faculty in fine arts, social...



Great Books Program
Liberal arts colleges in the United States

Liberal arts colleges in the United States

Liberal arts colleges in the United States are certain undergraduate institutions of higher education in the United States. The Encyclopædia Britannica Concise offers a definition of the liberal arts as a "college or university curriculum aimed at imparting general knowledge and developing general...



Further reading
External links