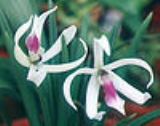 Leptotes bicolor
Leptotes bicolor
is a species of orchid native to
Paraguay
Paraguay
Paraguay , officially the Republic of Paraguay , is a landlocked country in South America. It is bordered by Argentina to the south and southwest, Brazil to the east and northeast, and Bolivia to the northwest. Paraguay lies on both banks of the Paraguay River, which runs through the center of the...
and southern
Brazil
Brazil
Brazil , officially the Federative Republic of Brazil , is the largest country in South America. It is the world's fifth largest country, both by geographical area and by population with over 192 million people...
. It is the
type species
Type species
In biological nomenclature, a type species is both a concept and a practical system which is used in the classification and nomenclature of animals and plants. The value of a "type species" lies in the fact that it makes clear what is meant by a particular genus name. A type species is the species...
of the genus
Leptotes
Leptotes (orchid)
Leptotes, abbreviated Lpt in horticultural trade, is a genus of orchids formed by nine small species that grow in the dry jungles of south and southeast Brazil, and also in Paraguay or Argentina...
.
Its flowers and fruits are used as a substitute for
vanilla
Vanilla
Vanilla is a flavoring derived from orchids of the genus Vanilla, primarily from the Mexican species, Flat-leaved Vanilla . The word vanilla derives from the Spanish word "", little pod...
in milk and ice cream.
It grows in cooler climates than vanilla, as its distribution occupies more distant regions to the equator. It contains
vanillin
Vanillin
Vanillin is a phenolic aldehyde, an organic compound with the molecular formula C8H8O3. Its functional groups include aldehyde, ether, and phenol. It is the primary component of the extract of the vanilla bean. It is also found in Leptotes bicolor, roasted coffee and the Chinese red pine...
, the main compound of the extract of the vanilla. It is grown as an
ornamental plant
Ornamental plant
Ornamental plants are plants that are grown for decorative purposes in gardens and landscape design projects, as house plants, for cut flowers and specimen display...
.