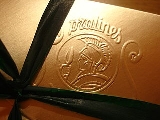 Leonidas (chocolate maker)
Leonidas
Confiserie SA is a
chocolate
Chocolate
Chocolate is a raw or processed food produced from the seed of the tropical Theobroma cacao tree. Cacao has been cultivated for at least three millennia in Mexico, Central and South America. Its earliest documented use is around 1100 BC...
producer with an international presence, based in
Belgium
Belgium
Belgium , officially the Kingdom of Belgium, is a federal state in Western Europe. It is a founding member of the European Union and hosts the EU's headquarters, and those of several other major international organisations such as NATO.Belgium is also a member of, or affiliated to, many...
. The company's focus is
praline
Praline
Praline is a family of confections made from nuts and sugar syrup.-Europe:As originally inspired in France at the Château of Vaux-le-Vicomte by the cook of the 17th-century sugar industrialist Marshal du Plessis-Praslin , early pralines were whole almonds individually coated in caramelized sugar,...
s (chocolate shells with soft fillings, called
Belgian Chocolate
in English-speaking countries); it also sells
marzipan
Marzipan
Marzipan is a confection consisting primarily of sugar and almond meal. Persipan is a similar, yet less expensive product, in which the almonds are replaced by apricot or peach kernels...
, solid chocolates, and other confections. The company is named after its
Greek
Greeks
The Greeks, also known as the Hellenes , are a nation and ethnic group native to Greece, Cyprus and neighboring regions. They also form a significant diaspora, with Greek communities established around the world....
founder, Leonidas Kestekides, a confectioner who moved from
Anatolia
Anatolia
Anatolia is a geographic and historical term denoting the westernmost protrusion of Asia, comprising the majority of the Republic of Turkey...
to the
United States
United States
The United States of America is a federal constitutional republic comprising fifty states and a federal district...
in the late 19th century. The logo used on Leonidas chocolates shows an
effigy
Effigy
An effigy is a representation of a person, especially in the form of sculpture or some other three-dimensional form.The term is usually associated with full-length figures of a deceased person depicted in stone or wood on church monuments. These most often lie supine with hands together in prayer,...
of the Greek warrior
Leonidas, King of Sparta
Leonidas I
Leonidas I was a hero-king of Sparta, the 17th of the Agiad line, one of the sons of King Anaxandridas II of Sparta, who was believed in mythology to be a descendant of Heracles, possessing much of the latter's strength and bravery...
.
In 1900, Leonidas Kestekides travelled for the first time to
France
France
The French Republic , The French Republic , The French Republic , (commonly known as France , is a unitary semi-presidential republic in Western Europe with several overseas territories and islands located on other continents and in the Indian, Pacific, and Atlantic oceans. Metropolitan France...
to attend the international food fair as an exhibitor. In the 1910
World Fair
World fair
World Fair can refer to:* Expo , a large public exhibition* This World Fair, an American rock band...
in
Brussels
Brussels
Brussels , officially the Brussels Region or Brussels-Capital Region , is the capital of Belgium and the de facto capital of the European Union...
as a member of the Greek delegation from the United States, he was awarded the bronze medal for his chocolate confectionery and the gold medal for his
patisserie
Pâtisserie
A pâtisserie is the type of French or Belgian bakery that specializes in pastries and sweets. In both countries it is a legally controlled title that may only be used by bakeries that employ a licensed maître pâtissier ....
/ tea room located at the Veldstraat in
Ghent
Ghent
Ghent is a city and a municipality located in the Flemish region of Belgium. It is the capital and biggest city of the East Flanders province. The city started as a settlement at the confluence of the Rivers Scheldt and Lys and in the Middle Ages became one of the largest and richest cities of...
. In the
1913 World Fair in Ghent
Exposition universelle et internationale (1913)
The Exposition universelle et internationale of 1913 was a World's Fair held in Ghent from 6 April to October.-Background:A number of buildings were completed for the occasion. Notably, Gent-Sint-Pieters railway station was completed in 1912 in time for the exposition, and was situated opposite the...
, he had the idea of
enrobing
Enrober
An enrober is a machine used in the confectionery industry to coat a food item with a coating medium, typically chocolate. Foods coated by enrobers include nuts, ice cream, toffee and other miscellaneous candy items, biscuits and cookies. Enrobing is essentially a mechanized form of hand-dipping...
with dark chocolate
fruits confit
Confit
Confit is a generic term for various kinds of food that have been immersed in a substance for both flavor and preservation. Sealed and stored in a cool place, confit can last for several months...
from Anatolia.
During his visit, Leonidas Kestekides met a young woman from Brussels and settled permanently in Belgium. He opened tea-rooms in Brussels, Ghent and
Blankenberge
Blankenberge
Blankenberge is a town and a municipality in the Belgian province of West Flanders. The municipality comprises the town of Blankenberge proper and the settlement of Uitkerke.On 1 January 2010 Blankenberge had a total population of 18,907...
. In 1922 he was joined by his nephew Basile, niece Efthalia and her husband Prodromos Daskalides who moved from
Istanbul
Istanbul
Istanbul , historically known as Byzantium and Constantinople , is the largest city of Turkey. Istanbul metropolitan province had 13.26 million people living in it as of December, 2010, which is 18% of Turkey's population and the 3rd largest metropolitan area in Europe after London and...
to Ghent and who was importing in collaboration with his eldest brother Dimitrios Kestekides, also located in Istanbul, delicate ingredients including almonds from the family plantation in
Nigde
Nigde
Niğde is a small city and the capital of Niğde Province in the Central Anatolia region of Turkey. The population is 109,724 per the 2010 statistics...
(
Cappadocia
Cappadocia
Cappadocia is a historical region in Central Anatolia, largely in Nevşehir Province.In the time of Herodotus, the Cappadocians were reported as occupying the whole region from Mount Taurus to the vicinity of the Euxine...
) and other sweets such as
Loukoum
Turkish Delight
Turkish delight or lokum is a family of confections based on a gel of starch and sugar. Premium varieties consist largely of chopped dates, pistachios and hazelnuts or walnuts bound by the gel; the cheapest are mostly gel, generally flavored with rosewater, mastic, or lemon...
and fruits confit.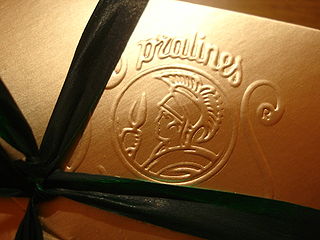 In 1934, at the Blankenberghe Tea Room, his nephew Basile Kestekides had the idea to dip some excess coffee butter cream made for pastries into white chocolate instead of the traditional
fondant
Fondant
Fondant is one of several kinds of icing-like substance used to decorate or sculpt pastries. The word, in French, means "melting", coming from the same root as "foundry" in English....
sugar. Basile sent his young nephew Jean Daskalides to try to sell them on the street. It was an immediate success.
In 1935, Basile Kestekides moved from Ghent to Brussels. At first, he marketed his innovative idea (called
Manon
) with additional walnuts and hazelnuts on a street cart at the corner of the
Boulevard Anspach
Boulevard Anspach
Boulevard Anspach or Anspachlaan is a major boulevard in the city centre of Brussels, Belgium, connecting the Place de Brouckère to the Place Fontainas. It is named after Jules Anspach, a former mayor of Brussels. It was built over the river Senne, covering it up, although the river no longer...
and the
Brussels Stock Exchange
Brussels Stock Exchange
The Brussels Stock Exchange was founded in Brussels, Belgium, by Napoleonic decree in 1801. On September 22, 2000, the BSE merged with Paris Bourse, Lisbon Stock Exchange and the stock exchanges of Amsterdam, to form Euronext N.V., the first pan-European exchange for equities and derivatives,...
in downtown Brussels near the famous Grand place and the office of the mayor.
In 1938, the popular mayor
Adolphe Max
Adolphe Max
Adolphe Eugène Jean Henri Max was a Belgian liberal politician and Mayor of Brussels from 1909 until his death....
, a devoted client, bought a
Manon
every morning while walking his dog. He helped Basile to find a store front on Anspach Boulevard, one of the most prestigious streets at the time. Basile incorporated the logo of an effigy of the king of
Sparta
Sparta
Sparta or Lacedaemon, was a prominent city-state in ancient Greece, situated on the banks of the River Eurotas in Laconia, in south-eastern Peloponnese. It emerged as a political entity around the 10th century BC, when the invading Dorians subjugated the local, non-Dorian population. From c...
, Leonidas, in honour of his uncle. He also created the famous concept "Guillotine windows" (selling out of an open window to the street). Freshness and affordable pricing were the key of his incredible success.
Dr Alexandros Kestekides, came to Brussels in 1940 to help his brother Basile Kestekides by adding new flavours to the chocolates and the pralines. With him came his beloved wife Helen Kestekides who was the artistic mind of the family. She decorated all the shops in Belgium and gave them a more elegant look. With profound love, Dr Alexandros Kestekides and Helen Kestekidou continued helping and improving the family company until late 1998, leaving their only daughter Vasiliki Kestekidou in their place.
Dr Alexandros Kestekides was president of the family company from 1970 until 1998.
From 1986 until 1992 Vasiliki Kestekidou was assigned to inspect and administer the family business.
The company was administered by Dr Jean Daskalides from 1970 until 1992 when he quit his position and was replaced by Vasiliki Kestekidou.
In 1985, Yanis Kestekoglou due to a severe illness had to step down and be replaced by his eldest daughter Maria Kestekoglou and his son Dimitrios Kestekoglou.
The last decade the administration of the company is assigned to other than family members who are selected by the Board of Directors.
Leonidas has over 1400 retail outlets all over the world.
External links