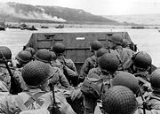 Landing craft
Landing craft
are
boat
Boat
A boat is a watercraft of any size designed to float or plane, to provide passage across water. Usually this water will be inland or in protected coastal areas. However, boats such as the whaleboat were designed to be operated from a ship in an offshore environment. In naval terms, a boat is a...
s and seagoing vessels used to convey a landing force (
infantry
Infantry
Infantrymen are soldiers who are specifically trained for the role of fighting on foot to engage the enemy face to face and have historically borne the brunt of the casualties of combat in wars. As the oldest branch of combat arms, they are the backbone of armies...
and vehicles) from the sea to the shore during an
amphibious assault
Amphibious warfare
Amphibious warfare is the use of naval firepower, logistics and strategy to project military power ashore. In previous eras it stood as the primary method of delivering troops to non-contiguous enemy-held terrain...
. Most renowned are those used to storm the beaches of
Normandy
Normandy
Normandy is a geographical region corresponding to the former Duchy of Normandy. It is in France.The continental territory covers 30,627 km² and forms the preponderant part of Normandy and roughly 5% of the territory of France. It is divided for administrative purposes into two régions:...
, the Mediterranean, and many
Pacific islands
Pacific Islands
The Pacific Islands comprise 20,000 to 30,000 islands in the Pacific Ocean. The islands are also sometimes collectively called Oceania, although Oceania is sometimes defined as also including Australasia and the Malay Archipelago....
during
WWII
World War II
World War II, or the Second World War , was a global conflict lasting from 1939 to 1945, involving most of the world's nations—including all of the great powers—eventually forming two opposing military alliances: the Allies and the Axis...
. This was the high point of the landing craft, with a significant number of different designs produced in large quantities by the
United Kingdom
United Kingdom
The United Kingdom of Great Britain and Northern IrelandIn the United Kingdom and Dependencies, other languages have been officially recognised as legitimate autochthonous languages under the European Charter for Regional or Minority Languages...
and
United States
United States
The United States of America is a federal constitutional republic comprising fifty states and a federal district...
.
Because of the need to run up onto a suitable beach, WWII landing craft were flat-bottomed, and many designs had a flat front, often with a lowerable ramp, rather than a normal
bow
Bow (ship)
The bow is a nautical term that refers to the forward part of the hull of a ship or boat, the point that is most forward when the vessel is underway. Both of the adjectives fore and forward mean towards the bow...
.