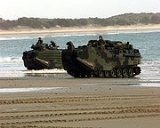 Amphibious warfare
Amphibious warfare
is the use of naval firepower, logistics and strategy to project military power ashore. In previous eras it stood as the primary method of delivering troops to non-contiguous enemy-held terrain. In this modern era amphibious warfare persists in the form of commando insertion by fast
patrol boat
Patrol boat
A patrol boat is a relatively small naval vessel generally designed for coastal defense duties.There have been many designs for patrol boats. They may be operated by a nation's navy, coast guard, or police force, and may be intended for marine and/or estuarine or river environments...
s,
zodiacs
Zodiac Group
Zodiac, which became Zodiac Aerospace in 2007, is a French corporation, specialized in the production and development of on-board systems, safety systems and cabin interiors...
and
mini-submersibles
Midget submarine
A midget submarine is any submarine under 150 tons, typically operated by a crew of one or two but sometimes up to 6 or 8, with little or no on-board living accommodation...
.
In the modern era of warfare, an amphibious landing of infantry troops on a
beachhead
Beachhead
Beachhead is a military term used to describe the line created when a unit reaches a beach, and begins to defend that area of beach, while other reinforcements help out, until a unit large enough to begin advancing has arrived. It is sometimes used interchangeably with Bridgehead and Lodgement...
is the most complex of all military maneuvers.