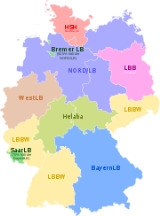 Landesbank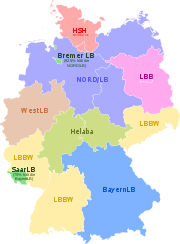 The Landesbanken in Germany are a group of state owned banks of a type unique to Germany. They are regionally organised and their business is predominantly wholesale banking. They are also the head banking institution of the local and regional bases
Sparkassen
(= saving banks).
Bayerische Landesbank

BayernLB

BayernLB or Bayerische Landesbank is a publicly regulated bank based in Munich, Germany and one of the eight Landesbanken. It is 94% owned by the free state of Bavaria and 6% owned by the Sparkassenverband Bayern, the umbrella organization of Bavarian Sparkassen...


(BayernLB), Bavaria

Bavaria

Bavaria, formally the Free State of Bavaria is a state of Germany, located in the southeast of Germany. With an area of , it is the largest state by area, forming almost 20% of the total land area of Germany...



Bremer Landesbank Kreditanstalt Oldenburg-Girozentrale (Bremer Landesbank), Bremen

Bremen (state)

The Free Hanseatic City of Bremen is the smallest of Germany's 16 states. A more informal name, but used in some official contexts, is Land Bremen .-Geography:...



92,5 % owned by NORD/LB

NORD/LB

The Norddeutsche Landesbank is a German landesbank and one of the largest commercial banks in Germany. It is a public corporation owned by the federal states of Lower Saxony and Saxony-Anhalt with its head office in Hanover and branches in Braunschweig and Magdeburg.Nord/LB was established in 1765...




HSH Nordbank

HSH Nordbank

HSH Nordbank is a commercial bank in northern Europe with headquarters in Hamburg as well as Kiel, Germany. It is active in corporate and private banking. HSHs main focus is on shipping, transportation, real estate and renewable energy....


, Hamburg

Hamburg

-History:The first historic name for the city was, according to Claudius Ptolemy's reports, Treva.But the city takes its modern name, Hamburg, from the first permanent building on the site, a castle whose construction was ordered by the Emperor Charlemagne in AD 808...


+ Schleswig-Holstein

Schleswig-Holstein

Schleswig-Holstein is the northernmost of the sixteen states of Germany, comprising most of the historical duchy of Holstein and the southern part of the former Duchy of Schleswig...



Landesbank Baden-Württemberg

Landesbank Baden-Württemberg

Landesbank Baden-Württemberg is a parent company of three commercial bank and the Landesbank for some Federal States of Germany.-History:...


(LBBW),

BW-Bank - Baden-Württemberg Bank (Baden-Württemberg

Baden-Württemberg

Baden-Württemberg is one of the 16 states of Germany. Baden-Württemberg is in the southwestern part of the country to the east of the Upper Rhine, and is the third largest in both area and population of Germany's sixteen states, with an area of and 10.7 million inhabitants...


)
Sachsen-Bank (since April 2008) (Saxony

Saxony

The Free State of Saxony is a landlocked state of Germany, contingent with Brandenburg, Saxony Anhalt, Thuringia, Bavaria, the Czech Republic and Poland. It is the tenth-largest German state in area, with of Germany's sixteen states....


)
Rheinland-Pfalz Bank (since April 2008) (Rhineland-Palatinate

Rhineland-Palatinate

Rhineland-Palatinate is one of the 16 states of the Federal Republic of Germany. It has an area of and about four million inhabitants. The capital is Mainz. English speakers also commonly refer to the state by its German name, Rheinland-Pfalz ....


)

Norddeutsche Landesbank - Girozentrale (NORD/LB

NORD/LB

The Norddeutsche Landesbank is a German landesbank and one of the largest commercial banks in Germany. It is a public corporation owned by the federal states of Lower Saxony and Saxony-Anhalt with its head office in Hanover and branches in Braunschweig and Magdeburg.Nord/LB was established in 1765...


),

Lower Saxony

Lower Saxony

Lower Saxony is a German state situated in north-western Germany and is second in area and fourth in population among the sixteen states of Germany...


, Mecklenburg-Vorpommern and Saxony-Anhalt

Saxony-Anhalt

Saxony-Anhalt is a landlocked state of Germany. Its capital is Magdeburg and it is surrounded by the German states of Lower Saxony, Brandenburg, Saxony, and Thuringia.Saxony-Anhalt covers an area of...




Landesbank Saar (SaarLB), Saarland

Saarland

Saarland is one of the sixteen states of Germany. The capital is Saarbrücken. It has an area of 2570 km² and 1,045,000 inhabitants. In both area and population, it is the smallest state in Germany other than the city-states...




75,1 % owned by BayernLB

BayernLB

BayernLB or Bayerische Landesbank is a publicly regulated bank based in Munich, Germany and one of the eight Landesbanken. It is 94% owned by the free state of Bavaria and 6% owned by the Sparkassenverband Bayern, the umbrella organization of Bavarian Sparkassen...




Landesbank Hessen-Thüringen (Helaba

Helaba

Helaba short for Hessische Landesbank Landesbank Hessen-Thüringen is a commercial bank with core regions in Hesse and Thuringia, Germany...


)

Hessen and Thuringia

Thuringia

The Free State of Thuringia is a state of Germany, located in the central part of the country.It has an area of and 2.29 million inhabitants, making it the sixth smallest by area and the fifth smallest by population of Germany's sixteen states....




NRW.BANK, North Rhine-Westphalia

North Rhine-Westphalia

North Rhine-Westphalia is the most populous state of Germany, with four of the country's ten largest cities. The state was formed in 1946 as a merger of the northern Rhineland and Westphalia, both formerly part of Prussia. Its capital is Düsseldorf. The state is currently run by a coalition of the...




former Landesbank of North Rhine-Westphalia was the WestLB

WestLB

WestLB AG is a European commercial bank based in Düsseldorf in Germany which is partly owned by the German state of North Rhine-Westphalia. The letters LB in the name stand for Landesbank. The Landesbanken are a group of state owned banks unique to Germany...




Landesbank Berlin (LBB), Berlin

Berlin

Berlin is the capital city of Germany and is one of the 16 states of Germany. With a population of 3.45 million people, Berlin is Germany's largest city. It is the second most populous city proper and the seventh most populous urban area in the European Union...




owned by Landesbank Berlin Holding
Weblinks
http://www.faz.net (Bilanzsummen minus 1.809.100.000.000 Euro) (Stand September 2010) (Schuldenbremse Grundgesetz)