 Label printer
A
label printer
is a
computer printer
Computer printer
In computing, a printer is a peripheral which produces a text or graphics of documents stored in electronic form, usually on physical print media such as paper or transparencies. Many printers are primarily used as local peripherals, and are attached by a printer cable or, in most new printers, a...
that prints on self-
adhesive
Adhesive
An adhesive, or glue, is a mixture in a liquid or semi-liquid state that adheres or bonds items together. Adhesives may come from either natural or synthetic sources. The types of materials that can be bonded are vast but they are especially useful for bonding thin materials...
label
Label
A label is a piece of paper, polymer, cloth, metal, or other material affixed to a container or article, on which is printed a legend, information concerning the product, addresses, etc. A label may also be printed directly on the container or article....
material and/or
card-stock
Card stock
Card stock, also called cover stock or pasteboard, is a paper stock that is thicker and more durable than normal writing or printing paper, but thinner and more flexible than other forms of paperboard. Card stock is often used for business cards, postcards, playing cards, catalog covers,...
(tags). Label printers with built-in keyboards and displays, for stand-alone use (without a computer), are often called
label makers
. Label printers are different from ordinary printers because they need to have special feed mechanisms to handle rolled stock, or tear sheet (fanfold) stock. Common connectivity for label printers include
RS-232
RS-232
In telecommunications, RS-232 is the traditional name for a series of standards for serial binary single-ended data and control signals connecting between a DTE and a DCE . It is commonly used in computer serial ports...
serial
Serial communication
In telecommunication and computer science, serial communication is the process of sending data one bit at a time, sequentially, over a communication channel or computer bus. This is in contrast to parallel communication, where several bits are sent as a whole, on a link with several parallel channels...
,
Universal Serial Bus
Universal Serial Bus
USB is an industry standard developed in the mid-1990s that defines the cables, connectors and protocols used in a bus for connection, communication and power supply between computers and electronic devices....
(USB),
parallel
Parallel port
A parallel port is a type of interface found on computers for connecting various peripherals. In computing, a parallel port is a parallel communication physical interface. It is also known as a printer port or Centronics port...
,
Ethernet
Ethernet
Ethernet is a family of computer networking technologies for local area networks commercially introduced in 1980. Standardized in IEEE 802.3, Ethernet has largely replaced competing wired LAN technologies....
and various kinds of
wireless
Wireless
Wireless telecommunications is the transfer of information between two or more points that are not physically connected. Distances can be short, such as a few meters for television remote control, or as far as thousands or even millions of kilometers for deep-space radio communications...
.
Label printers have a wide variety of applications, including
supply chain management
Supply chain management
Supply chain management is the management of a network of interconnected businesses involved in the ultimate provision of product and service packages required by end customers...
,
retail
Retail
Retail consists of the sale of physical goods or merchandise from a fixed location, such as a department store, boutique or kiosk, or by mail, in small or individual lots for direct consumption by the purchaser. Retailing may include subordinated services, such as delivery. Purchasers may be...
price marking, packaging labels, blood and laboratory specimen marking, and
fixed assets management
Fixed assets management
Fixed assets management is an accounting process that seeks to track fixed assets for the purposes of financial accounting, preventive maintenance, and theft deterrence....
.
Mechanisms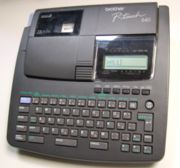 Label printers use a wide range of label materials, including paper and synthetic polymer ("plastic") materials. Several types of print mechanisms are also used, including
laser
Laser printer
A laser printer is a common type of computer printer that rapidly produces high quality text and graphics on plain paper. As with digital photocopiers and multifunction printers , laser printers employ a xerographic printing process, but differ from analog photocopiers in that the image is produced...
and impact, but
thermal printer
Thermal printer
A thermal printer produces a printed image by selectively heating coated thermochromic paper, or thermal paper as it is commonly known, when the paper passes over the thermal print head. The coating turns black in the areas where it is heated, producing an image...
mechanisms are probably the most common. Two types of thermal printer are seen:
Direct Thermal - Uses heat sensitive paper (similar to thermal fax

Fax

Fax , sometimes called telecopying, is the telephonic transmission of scanned printed material , normally to a telephone number connected to a printer or other output device...


paper). Direct thermal labels tend to fade over time (typically 6 to 12 months); if exposed to heat, direct sunlight or chemical vapors, the life is shortened. Therefore, direct thermal labels are primarily used for short duration applications, such as shipping labels.
Thermal Transfer - Uses heat to transfer ink from ribbon onto the label for a permanent print. Some thermal transfer printers are also capable of direct thermal printing.
There are three grades of ribbon for use with a thermal transfer printers:
Wax is the most popular with some smudge resistance, and is suitable for matte and semi-gloss paper labels.
Wax / Resin is smudge resistant, suitable for semi-gloss paper and some synthetic labels.
Resin is scratch and chemical resistant, suitable for coated synthetic labels.
When printing on continuous label stock, there is a tendency for the print location to shift slightly from label to label. To ensure registration of the print area with the target media, many label printers use a sensor that detects a gap, notch, line or perforation between labels. This allows the printer to adjust the intake of label stock so that the print aligns correctly with the media.
Types of label printers
Desktop label printers are usually designed for light- to medium-duty use with a roll of stock up to 4" wide. They are quiet and inexpensive.
Commercial label printers can typically hold a larger roll of stock (up to 8" wide) and are geared for medium-volume printing.
Industrial label printers are designed for heavy-duty, continuous operation in warehouses, distribution centers and factories.
Industrial portable label printers are designed for heavy-duty operation on location. Examples of applications are labeling for electrical installations, construction sites, production floors where there are no computers.
RFID readers are specialized label printers that print and encode at the same time on RFID transponders (tags) enclosed in paper or printable synthetic materials. RFID tags need to have printed information for backwards compatibility with barcode

Barcode

A barcode is an optical machine-readable representation of data, which shows data about the object to which it attaches. Originally barcodes represented data by varying the widths and spacings of parallel lines, and may be referred to as linear or 1 dimensional . Later they evolved into rectangles,...


systems, so humans can identify the tag.
Label printer applicators are designed to automate the labeling process. These systems are common in manufacturing and warehousing facilities that require cases and pallets to be labeled for shipping.
Label software is computer software

Computer software

Computer software, or just software, is a collection of computer programs and related data that provide the instructions for telling a computer what to do and how to do it....


which runs on a general-purpose personal computer

Personal computer

A personal computer is any general-purpose computer whose size, capabilities, and original sales price make it useful for individuals, and which is intended to be operated directly by an end-user with no intervening computer operator...


, and is designed to create and/or format labels for printing. The software can use native OS printer driver

Printer driver

In computers, a printer driver or a print processor is a piece of software that converts the data to be printed to the form specific to a printer...


s, or embed drivers in the software, bypassing the OS print subsystem. It may work with dedicated label printers as described in this article, or use sheet- or continuous-fed labels in a general-purpose computer printer.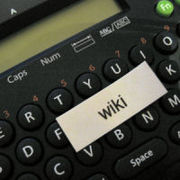 Personal label printers or label makers are handheld or small desktop devices. They are intended for home office, small office, or small business use. The cost of the printers is generally very low, making them popular with low volume users; but they print on special tapes, often thermal

Thermal printer

A thermal printer produces a printed image by selectively heating coated thermochromic paper, or thermal paper as it is commonly known, when the paper passes over the thermal print head. The coating turns black in the areas where it is heated, producing an image...


, which are usually expensive. In the past, mechanical systems which worked by embossing a colored plastic tape, called embossing tape

Embossing tape

Embossing tape is a labelling medium usually of hard plastic. Embossing tape is used with embossing machines, often handheld.- Method :The machine features a wheel with raised characters, similar to a daisy wheel. The user turns the wheel to align the desired character with the tape and presses a...


, were common. A hammer in the shape of the letter caused a letter-shaped extrusion on the opposite side of the tape. The raised plastic would discolor, providing visual contrast. Today, this type has been almost completely displaced by electronic thermal transfer devices with built-in keyboard and display, and an integrated cartridge containing the label material (and print ribbon, if used).
See also
Computer printer

Computer printer

In computing, a printer is a peripheral which produces a text or graphics of documents stored in electronic form, usually on physical print media such as paper or transparencies. Many printers are primarily used as local peripherals, and are attached by a printer cable or, in most new printers, a...



Barcode printer

Barcode printer

A barcode printer is a computer peripheral for printing barcode labels or tags that can be attached to physical objects. Barcode printers are commonly used to label cartons before shipment, or to label retail items with UPCs or EANs....



Barcode

Barcode

A barcode is an optical machine-readable representation of data, which shows data about the object to which it attaches. Originally barcodes represented data by varying the widths and spacings of parallel lines, and may be referred to as linear or 1 dimensional . Later they evolved into rectangles,...



Embossing tape

Embossing tape

Embossing tape is a labelling medium usually of hard plastic. Embossing tape is used with embossing machines, often handheld.- Method :The machine features a wheel with raised characters, similar to a daisy wheel. The user turns the wheel to align the desired character with the tape and presses a...



Label

Label

A label is a piece of paper, polymer, cloth, metal, or other material affixed to a container or article, on which is printed a legend, information concerning the product, addresses, etc. A label may also be printed directly on the container or article....



RFID