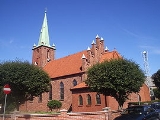 Kuznica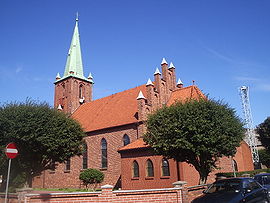 Kuźnica
is a popular
Polish
Poland
Poland , officially the Republic of Poland , is a country in Central Europe bordered by Germany to the west; the Czech Republic and Slovakia to the south; Ukraine, Belarus and Lithuania to the east; and the Baltic Sea and Kaliningrad Oblast, a Russian exclave, to the north...
sea side resort, a part of the town of
Jastarnia
Jastarnia
Jastarnia is a small town in Puck County, Pomeranian Voivodship, northern Poland. It is located on the Hel Peninsula on the Baltic Sea. Popular Polish seaside resort and small fishing port....
. Located between Chałupy and Jastarnia on the
Hel Peninsula
Hel Peninsula
Hel Peninsula |Nehrung]]) is a 35-km-long sand bar peninsula in northern Poland separating the Bay of Puck from the open Baltic Sea. It is located in Puck County of the Pomeranian Voivodeship.- Geography :...
on the southern
Baltic Sea
Baltic Sea
The Baltic Sea is a brackish mediterranean sea located in Northern Europe, from 53°N to 66°N latitude and from 20°E to 26°E longitude. It is bounded by the Scandinavian Peninsula, the mainland of Europe, and the Danish islands. It drains into the Kattegat by way of the Øresund, the Great Belt and...
in
Puck County
Puck County
Puck County is a unit of territorial administration and local government in Pomeranian Voivodeship, northern Poland, on the Baltic coast. It came into being on January 1, 1999, as a result of the Polish local government reforms passed in 1998. Its administrative seat is the town of Puck, which...
,
Pomeranian Voivodeship
Pomeranian Voivodeship
Pomeranian Voivodeship, or Pomerania Province , is a voivodeship, or province, in north-central Poland. It comprises most of Pomerelia , as well as an area east of the Vistula River...
, northern Poland.
Inhabited predominantly by
Kashubians
Kashubians
Kashubians/Kaszubians , also called Kashubs, Kashubes, Kaszubians, Kassubians or Cassubians, are a West Slavic ethnic group in Pomerelia, north-central Poland. Their settlement area is referred to as Kashubia ....
.
Fishery
Fishery
Generally, a fishery is an entity engaged in raising or harvesting fish which is determined by some authority to be a fishery. According to the FAO, a fishery is typically defined in terms of the "people involved, species or type of fish, area of water or seabed, method of fishing, class of boats,...
and
tourism
Tourism
Tourism is travel for recreational, leisure or business purposes. The World Tourism Organization defines tourists as people "traveling to and staying in places outside their usual environment for not more than one consecutive year for leisure, business and other purposes".Tourism has become a...
are main occupations of inhabitants.
External links